American Growth, Chinese Roots
Frank J. Oteri: When articles first appeared about both of you and the other two most prominent composers who were originally from China—Tan Dun and Bright Sheng—you were sometimes collectively called the "Gang of Four," which seemed an odd way to describe people who had suffered under the Cultural Revolution.
Chen Yi: It's very late for me to pay attention to this name because I compose on my own. I never talk to other people. In terms of style, thinking, school. When I saw this I thought, that's joking. And then further I thought that maybe we four composers had the same cultural background because the four of us are of similar age and similar studying background. When we graduated from conservatories after the Cultural Revolution, the training and the experience, cultural roots and the society behind us may be very similar. So I think there is no problem for us being associated although there are also a lot of other composers who have the same cultural roots. But I don't think the label is favorable. It is pretty scary for me. I have gone through this dark period of time. I did hard labor. We had to pull one hundred pounds with sand and stones and concrete up to the top of a mountain twenty-two times a day. Sometimes you got up at 4:00 because you had to beat the sun, and you had to get things done in one day. This was so-called re-education; it was a kind of brainwash. But it taught me a lot. It gave me an education. It was the first time I touched the earth and really got to know what the farmers were thinking, what non-educated people's reactions were to everything, and to find my own native language.
Zhou Long: Gang of Four is a nightmare. To call us Gang of Four is just a nickname; I don't think it was meant to be negative. But is it four or five or six? We have many Chinese composers who've come here, and now there's a younger generation, too.
FJO: Is there something that connects all of you? Is there a school of Chinese-American composers?
ZL: Well, we have a lot of camaraderie, and we come from similar backgrounds. Our generation lived through the Cultural Revolution. Most of us were sent to the countryside. Some stayed longer. Some stayed for just a couple of years. I stayed in a state farm in Northeastern China for five years after middle school. I was 16 years old. I worked to grow wheat, beans, and corn. And I drove a tractor. We have similar backgrounds although the musical style, what we're working on today, is quite different. But it is a kind of a group, I would agree.
CY: We do share techniques in common, or metaphors, but when I compose I don't think of anybody else. Among the composers of my generation, we all learned Chinese traditional music—its language, instruments, repertoire, and particularly the thinking and philosophy behind the music and the culture. And we had similar thinking that we would use natural language to put into compositions. That output may be similar although the styles are different: each one is unique. You grow up in your own village; you grow up in your own city. While we share this common knowledge, we use different media. We aim in different directions.
FJO: Would you say that as you continue to develop and work in the United States do you feel that you and the other Chinese composers still share a common ground?
ZL: Tan Dun, Bright Sheng, Ge Gan Ru, Chen Yi, and I were all classmates at Columbia. So not only in China, but in the States we had the same background because we all stuck together at the same institute and got similar training. But the direction, I have to say, is very different. Some people pay more attention to multimedia, soundtracks, musicals, orchestral writing. I do a lot of chamber works and some orchestral works. The direction is quite different, I think, but the common ground is very strong.
FJO: What is the level of communication among all of you nowadays? Do you still spend time together? Do you continue to influence each other?
ZL: Today I'm not so sure. We have different goals and directions. We used to talk to each other and discuss our pieces. If we had a performance of one of our pieces at Columbia, we'd have a gathering. All of us used to gather and be very honest. Everyone's busy now.
CY: We used to go to each other's concerts, particularly me. I go to Tan Dun's concerts as much as possible when I'm in town. And I went to Bright Sheng's opera when it was at Lincoln Center. Also, some of my old classmates from China, when they are presented, I go to their concerts. But I also go to all kinds of concerts: jazz, rap, dance. I even stop by in the subway to watch guys playing Mexican flutes. And I follow all styles of contemporary music: I love going to ACO's concerts no matter what style [of music they're playing].
FJO: So how did you both come to write the music you are now writing?
CY: I grew up playing Beethoven, Mozart, and Bach.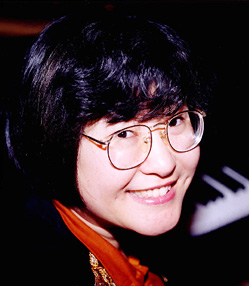 Chen Yi
Photo courtesy Theodore Presser Co.
I started playing piano when I was three and then violin when I was four and learned all the repertoire of Western classical music. My father then took me to many concerts: Japanese music and African dancing, any symphony orchestra from a Western country as well as the local orchestra, the Guangzhou Symphony. They did a weekly program of Western classical repertoire. At that point, I also started learning Chinese folk songs. I thought the music was so closely related to the language itself. It was not like what I had been playing. That's when I started to seek my own voice.
But I didn't reject anything. I try to learn from everything. I have played through all the Paganini Caprices, and I have memorized so much symphony music in the Western repertoire, like all Tchaikovsky, all Beethoven, all Brahms. I played all their concertos. My dad was a huge classical music fan, so we had a big record collection. When I was little my dad played those records every night at dinner. During the Cultural Revolution, our home was searched and everything was taken away. But before the Red Guards came, my mom said, nothing can be treasured except for the knowledge in your brain. I tried to shut down my windows and listen to the records every day except for sleeping time, and for two years I memorized all the textures.
FJO: So Western classical music is inside your soul?
CY: I think so. When you handle the technique, when you know the sounds that come out of an orchestra, you have those sounds in your mind. Also, I have absolute pitch so when I hear something I remember the fixed pitches on the fixed instruments. I don't treat this as a formula from a book. I studied at the Central Conservatory in Beijing for eight years: for five years getting a B.A. and for another three getting a Master's Degree. I studied with those professors and they taught me all about repertoire and how to treat elements taken from folk music. You not only have arrangements; you also have your own voice based on those styles and then you also have the abstract style of thinking. And those things are the big combination for me. I also didn't think I should follow any formula because I learned those things in order to jump out from there. Schoenberg was really great in traditional Western music, and he also wrote all those books on harmony and counterpoint, but he jumped out from that frame and created the atonal system and all of its theory. We have this kind of inspiration.
ZL: My mother is a soprano, and she taught German lied, French art song, and some opera repertoire. And from my childhood I heard a lot of recordings. My childhood was really Western music, but since then I worked in the countryside and later I worked with a song-and-dance troupe in Zhang Jia Kou, a small city near Beijing. I also went to the countryside to collect folk songs, and I started to love the folk songs. I was in Mongolia, and everyone from the age of five years old was riding horses and sang songs that were really moving and touching to me. I worked in a junction of three provinces. That city near Beijing is in Hubei [Province] and is also near Shangxi Province and Mongolia. So I really had access to different styles. And the local opera was in different dialects. And, also in the Conservatory, our class all signed up to go south to collect folk songs during summer vacation. Also, I paid more attention to Chinese traditional instruments which might make my music sound more Chinese. But my influences come from 20th-century Western composers, whom I had already started looking at in China. Respighi is a strong influence on my orchestration. Of course, I studied Bartók and Stravinsky. They have the same method we do, using folk songs as material into our composition. I don't know. Chinese composers all have some Chinese style. Maybe I pay more attention to the traditional influences.
FJO: You've both been in America for over twenty years now, and Chinese themes continue to inspire almost all of what you do. What has been the impact of America on your music?
CY: I think the Chinese cultural roots are implanted. My language will not be changed totally, although I absorb new information, resources, and technology. Everything is developing but also inter-reacting. It's a great network, and it's ongoing, but my root is not going to be changed. I think the cultural impact is important. My third symphony is called My Musical Journey to America. In the first movement, "From the Dragon Culture," I used a Chinese tune from a motive based on folk-ensemble music. The second movement I call "The Melting Pot," and I brought in hip-hop and jazz elements although they are not very obvious. But still you can feel it. The third movement, which I call "Global Village," goes away to a further area, a wider spectrum. I don't limit myself to the past, the future is wider.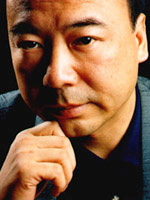 Zhou Long
Photo courtesy Oxford University Press
ZL: Most of my work relates to something Chinese. But in my two recent orchestral works—The Immortal and The Enlightened—the language is more abstract. I didn't really use any folk tunes in these two works. And there is no Chinese background behind The Enlightened.
FJO: Really? I assumed it had something to do with Buddhism.
ZL: Kind of. I have some chanting in it. But chanting can be from any religion.
FJO: But for you wouldn't the inspiration have been Chinese Buddhist chanting?
ZL: I am not a religious person. I share some thoughts with Buddhism and also different Western religions about morals and meditation. But I don't practice.
FJO: In a way what you have done with Western instruments has brought Western instruments into Chinese practice in a similar spirit to the way that Buddhism in China, which was originally from India, incorporated Chinese elements to become a Chinese practice. So I would argue that there's still some Chinese spark behind The Enlightened.
ZL: Of course. Yes, it is. I have a very dynamic section in the piece which expresses optimism toward the world today. But behind there is some meditative feeling. There are no pentatonic melodies or folk tunes, but the feeling is still Chinese.
CY: It's possible to absorb more, but your roots cannot be changed. And we want to share Chinese ideas with the world. I think it is helpful in order for us all to know each other better. That's why I keep doing this.
FJO: So at this point in time is it fair to say that you still perceive of yourselves as Chinese composers or would being described as Chinese-American composers be more accurate?
ZL: I don't really mind what label I'm given. I've lived here in the States for more than 20 years, but some people still like to call me a Chinese composer and others insist on calling me a Chinese-American composer or an American composer; Chinese-American composer is the most common.
CY: I am in America. I write music inspired by the culture around me. My cultural root is Chinese, and now my inspiration is a combination. This is what makes me have my own voice. I do honor both cultures and even more cultures because America is a multicultural society; you have influence from many different resources.
FJO: Do you think it would have been possible for you to create the body of repertoire that you have created since coming to America anywhere else in the world?
ZL: I have lived most of the time in New York, 17 years. Now I spend more time in Kansas City because I am teaching there. In New York you hear everything. You hear African drums even in the subway. You don't pay attention, but you take it in. My compositions rhythmically changed a lot. Originally ancient Chinese music didn't pay attention to rhythm, so most Chinese composers don't really use rhythm. When you hear a jazz drummer, you experience a different kind of rhythm: swing; and you even hear rock-and-roll and Indian drumming. A lot of international multicultural music happens in New York. But most of the background still stays. When I moved here I was already over 30 years old. I was raised and trained in China and everything I heard there is hard to erase. Now this all melts together and combines.
FJO: So the root will always be Chinese.
ZL: For us, yes.
CY: My root does not change even though my style can grow richer. As you grow you can be more inclusive, but you can never get rid of the blood.