Here and There
Frank J. Oteri: When you travel to other cities either here in the U.S. or abroad and you go out to eat, do you always look for a Chinese restaurant or do you also try to eat the local cuisine?
Chen Yi: Both, if we're there for more than one day.
Zhou Long: In Germany, the Chinese food is not that good.
CY: New York's Chinatown is still the best, because we are used to it. San Francisco is very good, too, but we don't go too often except for the three years I lived there.
FJO: Here we are in a very authentic Chinese restaurant in New York City. Does eating at a place like this help you continue being Chinese in America?
CY: Being in Chinatown is just like being in my home town. I can find everything I had when I was a child. When I first came to New York, already I felt the same the first day. I really feel that I'm at home.
FJO: So when you eat these meals does it ever make you feel homesick for China?
CY: I am used to it because I travel a lot. I left home when I was 25 for Beijing, which is more than 2000 miles away. I used to write letters to my parents every week. In the beginning I felt homesick. But I got used to it. I go everywhere and feel everywhere is my home.
ZL: I don't really feel homesick. But after six years, this summer I will go home to Beijing for the Beijing Modern Music Festival.
CY: This year they have invited both of us there. He is the honored guest composer, and I am a visiting professor for the next three years. Every year they invite 100 professors to come back to China to teach.
ZL: But this is the first time it has ever been given for art.
CY: The others are all scientists.
FJO: When you go back to China are you considered American composers?
CY: Every time we come back they say Chinese young composer. We said to them we are no longer young, but still that label is there.
ZL: But the Chinese have started to call us Chinese-American.
CY: Not until recently. They even gave a concert considering me American, including my music in a concert of American symphonic works. In 2001, the Chinese National Symphony gave me a whole evening concert. It was only the second time. The first time was in 1986 when I left China. Then I really was a Chinese young composer. This second time they said Chinese-American. And last year, at the Beijing Modern Festival, they included my piece Momentum in an American concert.
ZL: The whole concert was American music.
FJO: So how much American music is getting played in China?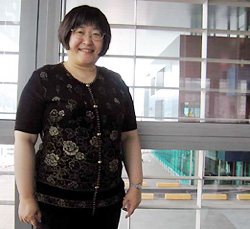 Chen Yi
Photo courtesy Theodore Presser Co.
CY: Not much. They did Corigliano's First Symphony and Red Violin and Philip Glass. John came and gave a lecture at the conservatory mentioning our names. And also a John Adams piece was played as well. Last year, Present Music from Wisconsin came over and played a program of American composers. I will try to introduce more because I became visiting professor in this prestigious program. Also I will join the programming committee for the festival from next year on. But I have to work fast because three years will be gone very soon.
FJO: So you will be able to invite other composers to China?
CY: Yes.
ZL: They have some budget. But usually they do not cover international airfare.
CY: There are a lot of organizations here where you can apply for funding like the Asian Cultural Council, which supports American artists in Asian countries, and also Arts International.
FJO: And now Meet the Composer also has a program.
CY: Global Connections. And now the Chinese have started to pay international airfare if you are there a long time. And, actually, American music is really welcome there no matter what style. They are curious.
FJO: So can you hear the music of Elliott Carter in China?
CY: Yes, we have heard it. The Audubon Quartet was there in the 1980s, and they played Elliott Carter.
FJO: How about John Cage or Morton Feldman?
CY: Not yet.
FJO: What about the minimalists?
CY: When I give lectures I talk about these concepts and these works so through lectures, yes; but through actual performances, not yet. Also, I have done radio programs on women composers' works for the Central Broadcasting Station covers the whole China, 1.2 billion people: Joan Tower, Ellen Zwilich, and Libby Larsen, because those CDs are available. Joanna Lee has done a lot to introduce American composers on the radio in Hong Kong. If there can be an exchange of those programs to mainland China, it would be great because her mind is quite open, and she is quite knowledgeable.
FJO: Are there possibilities for American composers to get commissions from groups in China?
CY: It is possible.
ZL: This young composer Eli Marshall is working at the Central Conservatory, and they asked him to write something. They didn't pay him much money, but it's a commission.
CY: It was a piece for orchestra and was done last year at the Beijing Modern Music Festival.
FJO: Have either of you been commissioned by the Chinese?
CY: Several times but no money. It was a long time ago.
ZL: I'm going to write a piece for ruan…
CY: …Round-faced guitar…
ZL: …A concerto
CY: It was commissioned by a professor in the Central Conservatory of Music, and it's a paid commission. And actually, the Chinese-instrument orchestra in Hong Kong has commissioned both of us in the '80s.
FJO: But Hong Kong's economy is totally different from mainland China.
ZL: But they all pay the same rate that they do here.
FJO: So is it possible to be a composer in China and live on commissions?
ZL: It is possible.
CY: We have classmates who are doing that now, but they are professors.
FJO: So they still have to teach.
CY: They don't have to. These commissions can be 10 times more than a salary. Before we came here we were commissioned by the radio station and the record companies. We wrote a lot of pop orchestration, even disco music.
FJO: I want to hear that!
ZL: Not really.
FJO: Were your names on this music?
ZL: It was kind of a work for hire. No names.
CY: We didn't know.
ZL: We didn't want to.