Married to Another Composer
Frank J. Oteri: Having a life partner who is also a composer who shares your background and interests but is a different individual must be challenging. Is it really possible to live as a composer with another composer?
Chen Yi: It's possible because we live together right now. We both teach at UMKC. Zhou Long is now a full-time visiting professor there. After teaching, we may have time to compose, but we're in two parts far away. We have two apartments joined. So we are on other ends. He can't hear me. But most of my works are written when I am away. We are not together. When I was in San Francisco as the resident composer for the Women's Philharmonic, Chanticleer, and the Aptos Middle School as part of Meet The Composer's New Residencies Program, I lived there for three years and wrote all the major works out there alone. He came out three months a year, and we relaxed and had fun. And when he came out he also didn't compose; he wrote his works in New York. When I moved to Baltimore—I taught at the Peabody Conservatory—I was also alone. When I was awarded the Ives Living Award, I felt so lucky because I could compose more. And I thought this time maybe we could live together. But Zhou Long replaced me at UMKC. He said, "Now you can come here to compose. Take one more room." But then somehow I came back to New York because I had many things to take care of here.
Zhou Long: I think two composers living together have more frequent criticism than any other composers. Most people like to say, "Great piece, beautiful music!" after a concert, and you like to hear it. But if two composers are together and are honest, you give a lot of hard words. And, actually, it helps. That will really make you stimulate each other. Because you know the criticism is honest, so you will take it.
FJO: So do you influence each other?
ZL: Definitely. We give comments. We have more chance to criticize each other. Sometimes she's not happy, but sometimes she listens.
CY: One time we were in Italy together and I finished a flute concerto on the plane coming back. He read my score, and he criticized it and said, "You are not going to turn this in tomorrow. The structure has problems and the timing is not right."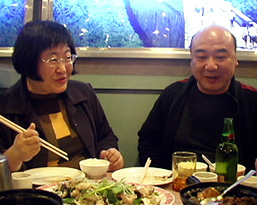 Dinner at Hoy Wong
Photo by Randy Nordschow
ZL: I wouldn't expect this from another composer, but Chen Yi and I…
CY: …He is very rude. Straight…
ZL: …Because I feel if the music is not good, I will feel shame…
CY: …Insulting…
ZL: I must say something.
CY: We do that all the time, since we were classmates.
ZL: But at first when I said something harsh, she got very angry.
CY: I fight back!
ZL: She said there is only one day left and to do this huge revision is impossible. But I said whatever it costs you have to change it.
CY: "Otherwise you are not going to turn that in!" So then I fixed it.
FJO: You listened to him.
CY: I did.
ZL: [laughs]
FJO: So, was he right?
CY: Yeah.
FJO: Would you ever turn around and say, "You're wrong; this piece is fine the way it is"?
CY: No. Sometimes we argue if we don't like the things we wrote. But he's not going to change it if I said I don't like it. He would take the advice if it was technical. I am very good at fixing people's music technically because I am a professional string player. So if he asks me to read his score, if I have time I look through it and will point things out.
FJO: Now, you're both so successful, and it's interesting the way it has bounced back and forth. You've both gotten the Alpert Award. Then you got then Ives Living Award, and he then received some other award from the American Academy. Then you got the Roche Commission, and he had three CDs come out in one year on three different labels. And now you were a finalist for the Pulitzer. So is there any kind of competition between you?
CY: I think that Zhou Long is very nice to me. And also when we hear about our friends getting big things, we're both happy. Each year with the Pulitzer Prize winner, some of them we know and some of them we don't know. But for those we know, we jump up and down. It's such an honor. This year [when I was a finalist for the Pulitzer], he jumped up and down like he got it. We never thought about it being a competition. Zhou Long got all these things before me. I got the Alpert Award first, I guess.
FJO: He didn't get the Ives Living or a Pulitzer nomination.
CY: [laughs] Yesterday I told him, "I got the nomination and how about you?" He had written that big piece for the Kansas City Symphony, and the piece that was also repeated by the Juilliard Symphony. And he said. "Oh, I had never dreamed of it; it's not my turn."
But I also think that when I get prizes, I don't think it's something extreme. It's just one more step in a process. In Chinese philosophy, you look at things from different aspects. Everything could be encouraging. But if you don't treat this honor correctly or comfortably, you may not take something positive away [from it]. We don't believe in such jumps where all of a sudden you're a hero. Hard work makes everything. You have to work hard for years, and you have to be honest. So I'm very grateful, particularly when I know the panelists. Usually I've known their music before they've met me. I've bought their CDs and researched, listened to, and studied their scores, and I admire them. So when they've given me prizes, I'm so happy.
ZL: That's true. When Chen Yi got more awards and commissions, I was happy for her. I'm slow; I can't take that much work. But this is American culture; you have to give more positive words than criticism to encourage. If you never get criticism, you can't grow.
FJO: In traditional Chinese culture, it's all criticism: you never can do anything right even if it's good.
ZL: [laughs] That's the way.
FJO: Many of the musicians you have each worked with are people that both of you have worked with. How does that happen? Does one of you work with someone and then say, "You have to hear music by my husband or my wife?"
CY: Yes.
ZL: It could happen. But for me it's rare because not many people ask me.
CY: The Pacific Symphony first came to me for the American New Music Festival. They wanted to feature me. When I was in Singapore I got the email. And then they brought me to Santa Ana, and I mentioned Zhou Long's name and also Bright Sheng and Tan Dun, and then we programmed a whole festival of their music.
FJO: So you mention other people too?
CY: I recommend Asian composers to many places when people come to me for ideas for programming. It's normal for me. And not only Chinese, also many women composers when I was at the Women's Philharmonic.
FJO: Well, you couldn't suggest that the Women's Philharmonic should play Zhou Long.
CY: They did!
ZL: It was the first commission for a male composer.
FJO: Well, you're married to a woman composer!
CY: It was because they wanted to feature Wu Man, who is a female soloist, so they really needed that piece. It was her first orchestral appearance. She also played with Kronos Quartet.
FJO: In Tan Dun's piece.
CY: Zhou Long was commissioned first. David [Harrington] came to our home at Columbia University to pick up Zhou Long's quartet parts and said, "David, don't go way." And I showed him a video of Wu Man playing my solo piece The Points. And he said, "That is interesting, we want to play with her." But I was writing a new piece for the New Music Consort so I said, this month I don't have time, how about him because he has written so many pieces for pipa so then David said they would commission him. That was Wu Man's first piece with Kronos.
ZL: And they paid me very little. Five hundred dollars.
CY: But I think that was very good because we were students.
ZL: I was very happy.
CY: We don't have a problem with commissioning fees when we are passionate about writing something. We were so honored when David said he loved this and wanted to play with her.
FJO: So with two composers in the household, if one of you is too busy, the other one can do it.
ZL: I write pretty slowly. Three or four pieces a year.
CY: His work is more polished than mine. I write fast. That's why I listen to his criticism.
FJO: Has it always been like this?
ZL: Always.
CY: Actually no. He recently finished a piece for Ensemble Modern, and he didn't sleep for a whole week. And every morning he had to go to school to teach so I didn't see him for days, and one day he said, "For two days I didn't take a shower." We always do that when we compose because we can't tell the days, we just work. He didn't know that two days passed. This semester he wrote that piece.
FJO: So with all this composing and teaching and traveling, how to find time to spend with each other?
CY: Last summer we were at a festival, and we took a walk around the lake for more than half an hour. I really enjoyed it. We hadn't done that for a long time.
ZL: Two years ago Chen Yi had something in Oregon, and I did not need to go anywhere, so I just went with her.
CY: I used to teach in summer workshops and he went with me. He drove me. And we enjoyed the sunset every day and also somewhere else recently. One year I taught at Tanglewood, and they gave me a house and a car. And the car was parked in front of the house. I don't drive.
FJO: You've also told me a story that sometimes when she gets so busy you bring food to her because otherwise she doesn't eat.
CY: He does that all the time. He is an expert. He will peel an apple or a pear and just put it in my mouth. [laughs]
ZL: [laughs]