Ned McGowan is a sponge. Although born and raised in the United States, he has now lived in Amsterdam for a third of his life. "Sometimes my grammar starts to be Dutch, and maybe that will creep in," McGowan warns as the interview starts. Not only is his sentence structure affected, the guttural consonants and lilting vowels of the Dutch language begin to slip into his speech with greater frequency as the interview progresses. What's more, he seems to be completely unaware of it, as though the random mixing of accents were completely natural.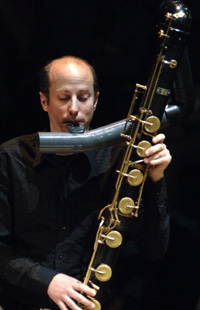 Ned McGowan
Photo by Aldo Allessie
---
Tune in to Counterstream Radio and catch a full hour of talk and music with composer Ned McGowan on May 22 at 9 p.m. If you miss the show, catch the recap on May 25 at 3 p.m.

Check out a sample of the interview right now.


---
This assimilative tendency helps define McGowan as a musician as well. Once in Amsterdam, McGowan says that "I found myself saying, 'What am I going to do?' We live in this age of specialization it seems like, but I'm just getting broader, not more specific." But this broadness has been his boon, turning him into a musical polymath whose diversity of interests is perhaps his greatest asset. Trained as a classical flutist, he now also has considerable facility on both the Indian bamboo and the contrabass flutes. He organizes the Karnatic Lab, a concert series in the Netherlands which also supplies the name of his record label. He has taught at the Djam School for Jazz and the Conservatory of Amsterdam. He is a founding member of the savage and often comic ensemble Hexnut, with its covers of Meshuggah, Tom Waits, and the Flintstones. He also participates in the Balkan folk-tinged group Messing with PVC, whose name is a reference to the polymer construction of the contrabass flute he plays. He is at home with Indian, jazz, folk, and modern avant-garde styles. Oh, and he also composes.
McGowan, however, was no Jay Greenberg. He didn't start writing his own music until after he moved to Amsterdam at age 26, although he became so immersed that he was soon back in school getting a degree from the Royal Conservatory in the Hague. "It just naturally came together that I could bring together all my influences into composition," he explains. "As a musician, I've always been taking on new things. And I think that has really helped contribute to me as a composer, and given me lots of ideas and inspiration to choose from."
His music has grown not only to have breadth of influence, but also breadth of expression. The emotive ends of his works run the full gamut: the blistering and humorous Tools; the darkly affective Second City; the ambiguous and introspective Moonrise; and the space age ecstasy of Alap. But it's McGowan's desire for exploration that drives him forward, forging his unique syntheses. "Composing for me is a discovery process, as much as it is a composing process. In a way, there's a universality to composing. There is a way that music works, and I'm trying to discover that."