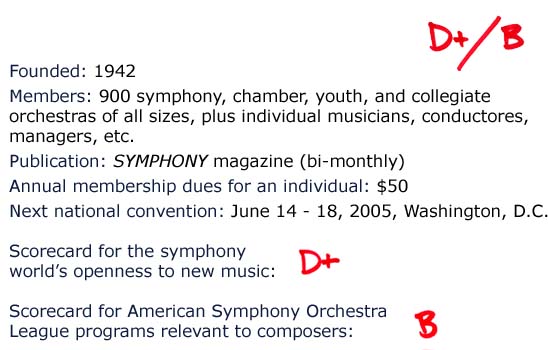 "I got the impression they're very intimidated," says composer Cody Wright. "They refer to (new music) with the brussels sprouts mentality—'You're not going to like this but it's good for you.' Barber, Copland, and Varèse are what they consider modern music."
Okay, it's a given that orchestras are conservative and seldom hot beds of new music. At the convention, the only orchestra session that dealt directly with music was "They Don't Play 'Em Like They Used To," a discussion of the changing interpretations of the orchestral canon.
But consider that according to the American Symphony Orchestra League's annual repertoire surveys, American orchestras gave more than 200 world premieres and national premieres of new works in each of the last three seasons. Not bad. The pieces are all listed on the ASOL website, which also includes the annual ASCAP Awards for Adventurous Programming.
Perhaps it's because of all those managers' fondness for spreadsheets that the League surveys and analyzes repertoire with such numerical precision. Its complete Orchestra Repertoire Report for 2003-04 runs to 349 pages. Here are some of its facts: Of the 1,752 compositions played during the recently completed season, 373 were by U.S. composers, which equals 21.3%, and 346 were composed after 1978, which equals 19.7%. Of the 478 composers, living and dead, whose music was performed, 176 were U.S. composers, which works out to 36.8%. The survey goes on to list the most widely played composer (Beethoven), the most widely played piece (his Symphony No. 5), and other unsurprising bits of trivia. But it also spells out the most popular works written during the last 25 years; John Corigliano's Concerto for Violin and Orchestra (The Red Violin) comes in first with 14 performances. Osvaldo Golijov, Aaron Jay Kernis, Jennifer Higdon plus Adams, Harbison, and Rouse all have pieces on that list.
More than counting pieces, the ASOL also runs a variety of programs to foster contemporary music.
The newest is "Made in America," in which a consortium of the small-budget professional orchestras are banding together to jointly commission a new work. Leading the group is Robert Rosoff, the executive director of the Glens Falls Symphony in New York state, whose orchestra will premiere a new 15-minute piece by Joan Tower in October 2005. The goal is to have at least one performance in all 50 states. Twenty-seven orchestras have signed on so far. The cost per ensembles is about $1,000. With coordination from Meet The Composer, a national promotional campaign is planned to give prominence to the effort. It sounds like a fine plan and an especially great opportunity for Tower. But one has to wonder, what will be so special for an orchestra signed on to give the 15th or 30th or 49th performance of the pieces? There are, after all, dozens of fine orchestra pieces from recent years that need a second, third, or fourth performance.
Another program administered in collaboration with Meet The Composer are the annual Music Alive Composer Residencies. These fund ongoing associations of composers with professional and youth orchestras. Some residencies last for a few weeks in a single season, while others are spread over several seasons. The activities include the commissioning and premiering of new works, and interaction between the composers and the orchestral community including musicians, administrators and the public. Nine new residencies were recently announced for the coming season including Christopher Brubeck with the Stockton Symphony of California, Edward Green with the InterSchool Orchestras of New York, and Philip Rothman with the Eugene Symphony Orchestra Association.
From I Am Curious—Yellow
Navigating Composers through the National Performing Arts Convention
by Joseph Dalton
© 2004 NewMusicBox