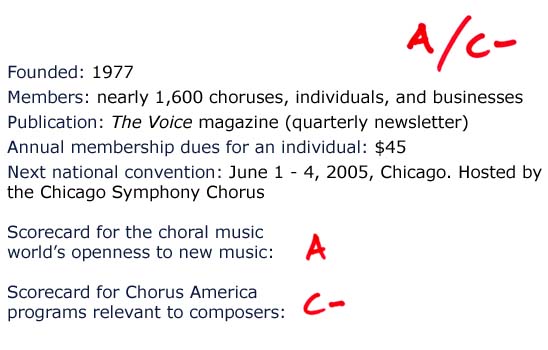 "(New music is) taken for granted—in a good way," says Daniel Brewbaker. "(Choruses) like composers and are open to composers."
Of the four convention hosts, Chorus America certainly represents the constituency most attuned to contemporary music and working with living composers, but the organization's convention sessions had nothing about the mechanics of commissioning new works or related topics. On the other hand, composers were featured prominently—the keynote addresses were by composers Libby Larsen and John Rutter.
From Chorus America as a whole, there's a similarly ironic lack of programs about contemporary music. But Robin Perry Allen, the organization's director of communications, makes a good case for why Chorus America is a place where composers can make connections, especially through its conventions.
"Choruses span such a diversity of repertoire and eras that already you're dealing with a huge variety of genres," says Allen. "But partly because of that they're very open to new music as well and they tend to do a lot of commissioning,"
"Even though we don't have a specific category of membership for composers, we know that many composers do become members of our organization," she continues, "They're so integrated into our most basic activities—many of our most prominent choruses commission on a regular basis and have composers in residence."
Last year's Chorus America conference in Kansas had an attendance of about 400 and featured composer showcases to introduce new repertoire. Allen says that all of the performing groups that year performed recent repertoire and the host chorus, the Kansas City Chorale, only performed American works.
Besides its annual convention, Chorus America has a number of conducting workshops in which contemporary music is regularly featured, often with composers on hand.
And the quarterly newsletter The Voice, which Allen edits, is more akin to a magazine with feature articles that deal with artistic as well as administrative matters. There's also a sizeable run-down of choral activity around the country. (The most recent issue features an article by Tom Hall that contrasts Mel Gibson's depiction of Jesus' crucifixion in The Passion of the Christ with Bach's treatment of it in his Passions.)
Membership in Chorus America, says Allen, would be good for composers "just to stay in touch with what choruses are doing. Many (composers) come to the annual conference and meet people."
From I Am Curious—Yellow
Navigating Composers through the National Performing Arts Convention
by Joseph Dalton
© 2004 NewMusicBox