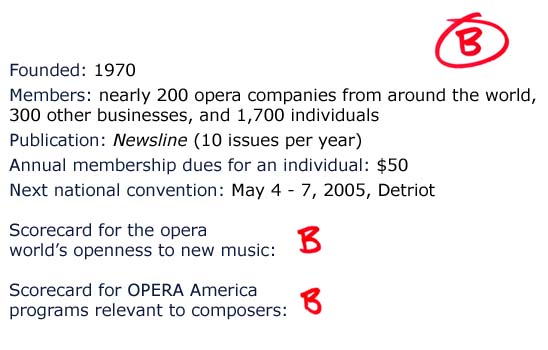 OPERA America was the only convention group to offer substantial sessions dedicated to hearing and discussing new works. This speaks to how the field is being enlivened by new works. Of course, producing new opera can be even more expensive than symphonic undertakings. Children's opera, though, is a less risky way to get started.
"In opera, it feels like things are going really well… they're proud of doing new work," says composer Cody Wright.
To wit: In 2000-2001, there were seven world premieres in North America. Since 1990, over 170 new operatic works have been produced by professional opera companies in North America. The top four most often performed American operas are: Menotti's Amahl and the Night Visitors, Douglas Moore's The Ballad of Baby Doe, Bernstein's Candide, and Gershwin's Porgy and Bess.
Beyond the broad outline of these facts, OPERA America is keeping rather close track of contemporary works. Its "In the Works" is an online listing of 245 new or recent operas, many of which have been performed, but some of which are not even yet completed. A remarkable guide that includes production requirements and contact data, it's updated twice a year but only with works that are related to members of OPERA America (whether individual or organizational members).
A similar effort is "Encore" which collects and disseminates information on works that have received few, if any, subsequent productions by professional opera companies since their premiere.
This past fall, U.S. and Canadian opera companies had the opportunity to apply to OPERA America's Opera Fund program, which provided grants for the development and presentation of new operas. During the 2002-03 round, the Opera Fund provided 21 different companies with grants for a variety of activities, including Music Theatre Group, Glimmerglass Opera, Opera Omaha, and the Utah Symphony Orchestra. Also last year, four Canadian composers received development grants: Dean Burry, Andréa Hiestand, Timothy Sullivan and Neil Weisensel.
From I Am Curious—Yellow
Navigating Composers through the National Performing Arts Convention
by Joseph Dalton
© 2004 NewMusicBox