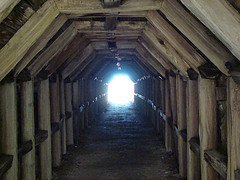 This post expands a bit on another from almost exactly one year ago entitled "It Gets Better," but I have some new things to add. I recently had lunch with a younger composer, during which I was peppered with all sorts of questions, mostly pertaining to career-related topics. We were chatting away when I suddenly realized—based on the path his inquiries were taking—that he thinks a time will come when all this work will end. That is, there will be a point of "arrival" at a level of success that will allow him to sit back and let the opportunities swirl around him.
Uh-oh.
The reality is, of course, that although over the years, with patience, tenacity (LOTS of it), and (oh yeah!) the continued production of good music, career things can become easier and flow a bit more freely, the hustle is never really over. In fact, I would argue that very "successful" composers work even harder than those moving up the ranks! For example, Pulitzer Prize winners—the David Langs, the Jennifer Higdons, the John Harbisons, and so on—still have to work it to make things happen. They have to get on the phone, they have to organize, they have to attend events, they have to schmooze, and they have to keep, you know, composing fantastic stuff, mostly on strict deadlines. While the nature of the work might shift slightly, in that there may be greater resources at hand and/or support systems in place to help, they still have to do so much work. Okay, there might be the occasional bathtub filled with champagne, but they still have to get up in the morning and get 'er done.
Many years ago I overheard a successful composer say, "If the act of writing music doesn't PULL you to your desk in the morning, then you shouldn't do it." Now I understand even more fully what he meant—that being excited about the process of composing has to be the motivating force behind the work. Rather than looking for a light at the end of the tunnel, it is perhaps more helpful to see the tunnel as already illuminated, with no clear ending in sight.