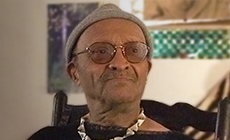 Jazz pianist Cecil Taylor is among the three 2013 Kyoto Prize Laureates announced by the Inamori Foundation during a press conference at Kyoto University.
(Recorded ustream footage of the event is available here.)
In outlining the accomplishments of the winners, the foundation website notes, "One of the most original pianists in the history of free jazz, Mr. Cecil Taylor has developed his innovative improvisation departing from conventional idioms through distinctive musical constructions and percussive renditions, thereby opening new possibilities in jazz. His unsurpassed virtuosity and strong will inject an intense, vital force into his music, which has exerted a profound influence on a broad range of musical genres."
The Kyoto Prize is an international award honoring those who have contributed significantly to the scientific, cultural, and spiritual betterment of mankind. The prize is presented annually in each of the following three categories: Advanced Technology, Basic Sciences, and Arts and Philosophy. Each laureate is presented with a diploma, a 20K gold Kyoto Prize medal, and prize money of 50 million yen (about $515,000 USD) per category.
The Kyoto Prize presentation ceremony and related events are held in Kyoto, Japan, each November.
Additional details about the award and this year's winners are available on the prize website.