In last week's post about names, I mentioned a book, Jazz: A Century of Change by Dr. Lewis Porter. Its first chapter, "Where Did the Word Jazz Come From?" is a brief, but a very thorough, examination of the most popular theories about the term's origin. I hope it becomes a stand-alone document that anyone can access online. At the moment, one must buy the book to read it, but I believe that a carefully redacted version of the chapter could be an excellent "teaser" for generating sales of the book and a wider interest in the phenomenon, jazz. I supplied a link to the post to Dr. Porter's students (who just started reading the book for this year's round of "Historiography I" courses), in the hopes of generating comments. I was thrilled to get a response from Dr. Porter on the message board where I posted the link that corrected some of the information I had supplied in my post by bringing in more up-to-date information that has come to light since the publication of his book. This is what he sent to me:
Hey Ratzo,

A great blog as always. Sorry to say the "Chas" story about the origin of the word "jazz" has been totally discredited many many years ago, besides the fact that it is set in the wrong part of the country (remember, the word has been traced to California). Also that contest to find a use of the word prior to 1913 was won in 2003 when another researcher found a use in Los Angeles baseball writing in 1912, as reported on that very same Wikipedia page (someone should fix that error).

You might want to check out my updated report on the word "jazz":
https://www.wbgo.org/blog/origins-word-jazz

All the best!

Lewis

P.S. I tried to post this comment on your blog but I'm not sure it went through.
The URL included in Dr. Porter's comment links to his blog, "You Don't Know Jazz," at the website for WBGO—the National Public Radio affiliate based in Newark, New Jersey, that began broadcasting jazz 24-hours a day in 1980, when New York City's all-day jazz station, WRVR, switched to playing country & western music. The article includes, along with an image of the 1912 article, images of the title page and first page of the sheet music of "That Funny Jas Band From Dixieland" by Henry I. Marshall and Gus Kahn. The song was published in 1916 by Jerome H. Remick & Co., a name that can be seen on the central building in the photograph of Tin Pan Alley that was included in my post of last week. Porter's article also includes a link to a sound file of the song recorded on December 1, 1916, by the Edison Phonograph Company. This means that the version of the history of jazz I learned while attending Dr. Porter's program at Rutgers is now amended; jazz will not be 100 years old in 2017, when the Original Dixieland Jass Band was recorded by the Victor Talking Machine Company, but rather in 2016.
While I was researching this issue, I came across a reference to a few other "jass" bands that predated the 1917 juncture. While I was looking for information about Ephraham's Jazzbo Band (also called "Ephraham's Jazbo Band" and "Ephraham's Jasbo Band") I came across a reference to an article, "Our Word Jazz," by Dick Holbrook published in Storyville in 1973:
Vaudeville. It seems clear that by 1915 the term jazz was part of the vernacular of the theater. See, for example, the citations from Sam Kahl above. But there's some theatrical testimony from a few years earlier. In 1968 vaudevillian and eventually television actor William Demarest (1892-1983) wrote to Richard Holbrook that he had learned the word from his older brother George when they worked as a double act at the Portola Theater, San Francisco, in May 1910. In that context it meant to put some pep or energy into the music they were playing on stage. Holbrook is not as careful as one might wish: he appears to identify the attested uses of the verb jazz with the noun jazz, meaning a kind of music.
The quote, taken from Pioneers of Jazz: The Story of the Creole Band by Lawrence Gushee (I haven't accessed the actual article yet), caught my attention because of the name William Demarest, which played a part in last week's post (besides playing Uncle Charley on the television show My Three Sons, Demarest also played the role of my father's namesake, William Harris, in Love and Marriage, a show about a fictitious music publishing company at the end of the era of Tin Pan Alley). Gushee is also the author of an article that chronicled the life of Ferdinand Joseph Lemothe (a. k. a. Jelly Roll Morton), who claimed to have "invented jazz" in the year 1902. While Gushee's research discredits this (based on his belief that Morton was actually born in 1890 and not 1885), it is generally accepted that his piece, "The Jelly Roll Blues," was the first jazz composition to be published.
While researching Holbrook's article, I came across an article by Daniel Cassidy in the July 14, 2006, issue of Counterpunch called "How the Irish Invented Jazz." The article is a well-researched explanation of jazz as the phonetic spelling of teas (in Gaelic, te is pronounced like the j in "jay"), which means "heat" or "warmth." This could explain the subtitle, "That Teasin' Rag," on the 1917 recording of "Dixie Jass Band One-Step" by the Original Dixieland Jass Band. The article goes on to mention that by 1913, the term was in widespread use in San Francisco and had begun to appear in other cities in the United States as well. It might be of some interest that Jelly Roll Morton's brother-in-law, Bill Johnson, is reported to have brought The Creole Band to the Bay Area as early as 1908. (Trumpeter Freddie Keppard, who turned down the offer to record for Victor before the Original Dixieland Jass Band was given the date, became a member of this group ca. 1914.) So the "Music of Morton" may have been labeled by music aficionados among the Gaelic speaking Irish communities of the San Francisco Bay Area. Porter's observation about Wikipedia's "Jazz (word)" needing editorial attention would seem to be spot-on, if only because it lacks yet another theory about the origin of the word jazz, albeit a much stronger one than what I, in a not-so-obvious attempt at levity, sided with last week.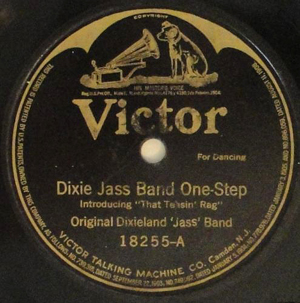 While the word jazz is shrouded in mystery, less so is the music; at least to my thinking. The notion that improvisation is an essential element to the music has been dispelled by research involving alternate takes of Louis Armstrong's Hot Five recordings as being so close as to be composed. Indeed, Armstrong's "Cornet Chop Suey" part was copyrighted two years before its recording. Alternate takes of the recordings with the Count Basie group that produced "Shoe Shine Boy" (with Lester Young's landmark solo) shows that spontaneity was not the order of the day. And even though the assemblage of percussion instruments that has become the modern drum set evolved out of the music, seminal recordings of groups led by Jimmy Giuffre as well as by Nat King Cole show that the "kit" is dispensable. The same goes for the bass, as demonstrated by The Original Dixieland Jazz Band and more recently by drummers Paul Motian and Tom Rainey. Unevenly performed eighth notes (swing) aren't the key either (Coltrane) nor is a motorically pulsating quarter-note accompaniment (Bill Evans, Cecil Taylor). One thing, though, that I believe is essential to jazz: the use of performance techniques not standard in the performance of Western art music. This is not only demonstrated, but explained in the recording of "That Funny Jas Band From Dixieland" mentioned above. Even if the argument of original documentation is taken from the 1917 juncture, it's clear from the recordings of "Dixie Jass Band One-Step" and "Livery Stable Blues" that bending notes and growling on wind instruments is part of the music's identity. In more certain terms, jazz is about applying non-Western performance practice to Western musical instruments.
This doesn't mean that the use of non-Western instruments is not part of jazz performance. It is very arguable that the banjo and electric guitar are not Western musical instruments (I hear the non-Demarestean William Harris agreeing with the latter example—after laying emphasis on "musical"), nor is the drum set. Also a question of whether or not to include the human voice as an "instrument" can be raised. Clearly, though, jazz performance is very inclusive of the voice. But this is possibly where techniques not used in Western art music are the most obvious. I can't think of any delivery of a song with a "classical" interpretation that is uniformly accepted as part of a jazz tradition. Jazz singers use a different kind of vibrato, articulation of words, and resonate in a different part of the body than "legitimate" singers. I have the honor of performing with two singers in Manhattan next week: Fay Victor at the 55 Bar on Thursday and Judi Silvano at The Stone on Friday. They both use a wide variety of vocal and improvisational techniques in their performances, yet remain rooted to the jazz tradition. Victor will be exploring the music of Herbie Nichols, an iconic pianist-composer ("Lady Sings the Blues") and contemporary of Thelonious Monk who went largely ignored until decades after his death. Silvano will be presenting her original compositions that include elements of spoken word poetry. I know that not everyone reading this can attend these concerts because of geographical considerations; one can but hope that similar events are happening in other locales. It's important to, as much as possible, put live music before recorded music. Recorded music can be a way to bring music performed in public to a wider audience, but the converse position also exists, that live performance can be a recreation of what one has already recorded. Improvised music, though (and, despite improvisation being inessential to jazz historically, jazz today is largely improvised) shifts the emphasis towards the former, where each performance is unique to a degree that lacks subtlety, an audience can usually rest assured that they won't be able to predict what is played next. The "novelty" factor that led to jazz's popularity is programmed into its performance.
This is where jazz comes from, a tradition of performance to live audiences. I sincerely hope that it's also where jazz is going!