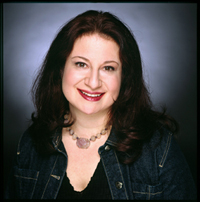 Jennifer Bilfield
Photo by Robin Holland
Last Thursday, Jennifer Bilfield was named president of Boosey & Hawkes, Inc. Since the fall of 2001, Bilfield served as the company's general manager. The promotion, which was initiated by Managing Director of Boosey & Hawkes Music Publishing, Ltd. John Minch, acts more as an endorsement of Bilfield's accomplishments than as a change in job responsibilities. Minch explains that, "Jenny has been a driving force in the promotion and marketing of our music since she joined the company in 1994."
Although the promotion does not mean a completely new role for Bilfield, she does believe that the new title will allow her a more "visible, tactile connection" between business development, operational activities, and the creative end of publishing. "In this role my perspective is broadened to encompass marketing, sales and distribution as well as the financial underpinnings and tie with C&R [Composers and Repertoire Division]."
With eighteen months in a general managerial role and a new title under her belt, Bilfield has nothing but enthusiasm about the coming year with Boosey. One of her main focuses is to continue to develop what she calls "value-added promotion," a concept that has been driving many of Boosey's recent projects included the much lauded Copland 2000 project and the more recent Stravinsky Project. "A key priority early on in my stewardship role, was creating a more unified template that blended promotional and marketing activities – under the best of circumstances a seamless representation of our composers." Instead of simply recommending a piece for someone to play, Bilfield wants Boosey to be able to recommend a whole concept that encourages collaboration and a more profound understanding of the music at hand. Under her direction, Boosey has taken on a "coordinating and curatorial role" in addition to the regular publishing duties of renting parts and licensing performances.
As the head of the Composers and Repertoire division, a position which she held prior to her tenure as general manager, Bilfield was an instrumental part of the Copland 2000 project that honored the centennial of Aaron Copland's birth through a multimedia retrospective of his life and work, a completely annotated guide to his music by Vivian Perlis, and dozens of concerts featuring his pieces. She is excited to follow-up the success of this value-added campaign with the Stravinsky Project, an endeavor which attempts to do for Stravinsky what Copland 2000 did for Copland. It is founded on a detailed, annotated guide of Stravinsky's works by Joseph Horowitz, a sampler CD, and thematic programming ideas. Also during Bilfield's time as general manager, Boosey launched the Windependence series, a collection of original compositions and transcriptions for wind band organized into three difficulty levels. "Projects such as these interest me because they redefine the role of publisher, adding depth in the way we serve our composers, our catalog, and the music industry."
In general, Bilfield drives to make Boosey's catalog more appealing to presenters and performers by doing the creative leg-work for programs that approach contemporary music with ingenuity and depth, helping audiences to situate themselves when faced with new works. Bilfield acknowledges the absolute necessity of a staff comprised almost 90% of musicians to make such a promotional system work, saying "it would be almost criminal not to tap into the talent and knowledge base at B&H and encourage latitude in developing new ideas and make connections between arts organizations."
Trained as a composer herself, Bilfield sites her own ability to identify and empathize with the composer's constant toil over music as one of the main reasons that she has been able to excel iat Boosey. Ultimately, though, it was not writing music but rather bringing a new work to performance that excited her the most. "I stopped composing in my early 20s because as I began working closely with composers I saw what it truly entailed –solitary, inward work was required to do it well. Ultimately I was more interested in completing my work and getting it on stage: more externally-driven. In fact I found I could do more for music by producing and bringing other composers' pieces to life."
Jennifer Bilfield's Career at Boosey & Hawkes
1994: Hired as Director of Promotion for the North American offices
1999: Promoted to Director of Serious Music (later revised to the Director of Composers and Repertoire)
2001: Promoted to General Manager of Boosey & Hawkes, Inc.
2002: Named President of Boosey & Hawkes, Inc.

Certainly this passion for seeing music grow from the composer's initial idea to a full performance has been the impetus for many of her past accomplishments. Her work on the National Orchestra Association's New Music Orchestral Project, a program that was dedicated to the reading, recording, and performance of works by American composers, won her an ASCAP Adventurous Programming Award as well as the American Symphony Orchestra League's 1991 Helen M. Thompson Award, a biennial honor recognizing outstanding achievement in orchestra management. Outside of her duties at Boosey & Hawkes, she also serves on the boards of several musical organizations including the American Music Center, Music Publishers' Association, and MATA (Music at the Anthology) and is a member of ASCAP's Symphony and Concert Committee and the Board of Review.
Bilfield equates her role in the creation of music to having a secret. "You know that something great is evolving…you can't wait to share it with everyone. Hearing and experiencing the new work as it's unveiled to the public is thrilling. You savor this moment because of its potential to transform how people write and listen to music for years to come. I can't imagine anything more exciting than this, and it's this sense of renewal and creativity that drives my work."