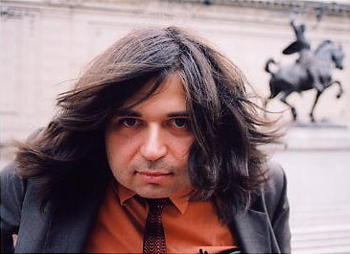 Frank J. Oteri
Photo by Jeffrey Herman
Do you remember all the brouhaha in the music community last year when the Pulitzer board announced that they were revising the guidelines for the music award? After their watershed June 1, 2004 statement, with the bewildering headline "It's Time to Alter and Affirm" (which one-time Pulitzer jurist Stephen Hartke deemed "worthy of the Bush administration"), the political lines were clearly drawn. But, perhaps, as with other things that really seemed changeable in 2004, we all got a little bit carried away.
Last year, in one camp, there were the folks who decried the dumbing down of the Pulitzer. Some even feared that someone like Bob Dylan could now qualify for the prize. Or worse, gasp, Justin Timberlake (whose big hits are created by a whole team of producers) might win. All because the board proposed opening up the admissions process to "the full range of distinguished American musical compositions – from the contemporary classical symphony to jazz, opera, choral, musical theater, movie scores and other forms of musical excellence." Those ambiguous words, "other forms of musical excellence" could, alas, be defined many different ways in today's pluralistic society.
As Hartke so succinctly wrote in an essay for NewMusicBox at the time, "it seems highly misguided for the Board to broaden the category rather than to create new categories that would allow for the recognition of a greater variety of types of musical creation." Others were less diplomatic, such as 1987 Pulitzer winner John Harbison, who on the very day of the board's announcement told Richard Dyer in the Boston Globe, "If you were to impose a comparable standard on fiction you would be soliciting entries from the authors of airport novels."
However, others claimed that opening up the old boys club was long overdue. Greg Sandow, in another essay for this site, countered Harbison's polemic by suggesting that, "if Quincy Porter [whose Concerto Concertante for two pianos and orchestra received the award in 1954] was any kind of reasonable choice, then how about Sly Stone, Sun Ra, Pete Seeger, Frank Loesser, R.E.M…" (I'm abbreviating, but you can read the original). In fact, even Gunther Schuller, who has frequently chaired the Pulitzer jury and who has himself been accused of being one of those old boys, was quoted in that same Boston Globe article as saying, "This is a long overdue sea change in the whole attitude as to what can be considered for the prize." He went on to clarify his position, however, by pointing out that "it is an opening up to different styles and not at all to different levels of quality." But of course, quality, like beauty, is in the eyes and ears of the beholders, which is at the heart of the problem here.
Many in both camps, looking for reasons the Pulitzer board issued the June 1 statement, cited comments made by John Adams shortly after he won the Pulitzer in which he chastised the prize for never honoring most of America's maverick composers—people like John Cage and Harry Partch—or any of the jazz greats such as John Coltrane, Thelonious Monk, or even Duke Ellington. Ellington was given a posthumous Pulitzer citation years after being denied an award during his lifetime, a debacle further elaborated in an essay by Gary Giddins for the Village Voice titled "The Academy's Pulitzer." Kyle Gann, as usual striking out on his own path, was neither overjoyed at the award's larger purview nor upset that it was losing its focus, claiming that the award rarely honored our most original composers anyway and now certainly never would. Gann put the ultimate blame for this on the Pulitzer's jury selection, claiming they have always come from a "very narrow stylistic range." When I mentioned the Pulitzer in my conversation with John Corigliano a few months ago, he seemed equally resigned: "The Pulitzer doomed itself sometime ago. It got narrower and narrower and narrower and narrower to the point where the pieces that have won really don't get performed that much." Once again, he blamed it on "a kind of political problem that happens when people, very often the same people, run a jury too often."
The flaw in this line of reasoning, however, is somehow thinking that the Pulitzer Prize even could or should be able to tell us what the greatest pieces of music are. Sure, the prize was awarded to Appalachian Spring, a work almost all of us can now agree is a timeless classic of American music. And most of us also acknowledge that Elliott Carter's String Quartets (of which the second and third won Pulitzers), George Perle's wind quintets (of which the fourth won), and Mario Davidovsky's Synchronisms for solo instruments with electronic sounds (of which the sixth won), are very noteworthy chamber compositions of the 20th century. Similarly, Samuel Barber's Vanessa, another winner, is widely hailed as one of our great operas. Among more recently honored works, John Adams's On The Transmigration of Souls, created in response to our sorrow and confusion over the events of September 11, 2001, has moved many people and was also a triple winner at the Grammy Awards this year.
But, cynics will say, what about all those Pulitzer winners that nobody performs anymore? What's so important about John La Montaine's Piano Concerto No. 1, Richard Wernick's Visions of Terror and Wonder, or even the very first winner, William Schuman's Secular Cantata No. 2 – A Free Song, a work that has never even been available on a commercially released recording?
I would say that asking such questions puts an impossible burden on anyone adjudicating such an award. How could anyone know what piece of music receiving its world premiere in a given year will get played a second time, let alone get recorded and enter into the greater cultural consciousness? History ultimately decides what music has a lasting impact and the historians then try to sort it out. They can't agree either. Asking a jury to predict what piece of music from a given year might be relevant decades later assumes a level of clairvoyance and omniscience that no one could have.
Castigating the Pulitzer Prize for "not getting it right" also misunderstands the real value of winning it—the prize actually has the potential for spreading the word about a piece of new American music and its composer. Last year's winner, Paul Moravec, after winning the Pulitzer, suddenly got catapulted into the spotlight. The piece for which he won, Tempest Fantasy, scored for a quartet of clarinet, violin, cello, and piano, was written for players who truly believed in the piece, the Trio Solisti, and after he won they continued to play it all over the country as well as record it. The attention helped them, too. It was a win-win situation.
I've never heard the Wernick or the Schuman pieces that won Pulitzers, but knowing that John La Montaine's Piano Concerto won the prize made me seek out a recording of the piece, which is worthy of a revival. It also led me to seek out more of his work, something I might never have done had I not discovered his name on that list. The Pulitzer's seal of approval can and does evoke the same curiosity for other listeners. No, it might not be the best American composition of 1959 in my opinion, but that's just it. There is no objective way to determine the best American composition of 1959. Anyone's answer is just an opinion. But that's O.K. In fact, if the prize is a way to shine light on a piece of music that is worth hearing, it's a light that needs to shine even brighter. The nice thing about the Pulitzer Prize is that since it is essentially an award for journalists from journalists, every newspaper covers it. While other musical awards offer greater financial benefits—the Grawemeyer, the Polar—it's the Pulitzer that gets the media exposure.
But I do think in some ways, we music folk are a little too obsessed with other people determining for us what the best is—residue from Beethoven and the gang, which is the same "masterpiece syndrome" that keeps so many in the classical community from ever paying attention to any new music in the first place. I sincerely wonder if novelists and poets scratch their heads in dismay every year when their favorite writer fails to win a Pulitzer.
So then, what to make of the results of the 2005 Pulitzer jury? When we cheekily asked Marc Geelhoed last month to query actual clairvoyants about who might win after all this back and forth, one of them thought that the choice would ultimately be "about the future of the award, more than about the music. The piece is being chosen more for what it represents and says about the award than for its own merits."
Should we be relieved that the award continued to go to a substantial composition written for symphony orchestra and that the other two finalists—Elliott Carter and Steve Reich—were two of the most well-known and revered contemporary classical music composers, and both mavericks in their own right, albeit on seemingly opposite ends of the compositional spectrum? For some reason, even though I really respect Steven Stucky's Second Concerto for Orchestra, and admire his orchestration skills, particularly in the subtly shifting opening movement, I feel something of a malaise.
After years of feeling completely baffled by the way the Pulitzer Prize has been awarded, this year I actually went to the official announcement at Columbia University. A few days earlier, I asked if I could attend. Much to my surprise, my request was granted by a seemingly befuddled Sig Gissler, the man who administers the prizes whom I met on a panel last year. His befuddlement made sense upon my arrival in the World Room of the journalism school where the awards are annually announced. Promptly at 3 p.m., Gissler, facing two video cameras, stood on a small podium with a microphone and stated simply that in about 20 minutes all the information would be posted to the Pulitzer website and that he would be available at that time for any questions via phone or email. After he left the podium, a group of Columbia journalism students, all female, then distributed folders taken from a locked closet containing information about all the 2005 winners.
There was something strangely arcane and anachronistic about the whole proceeding, as if the information age had somehow not completely happened. Why even distribute a hard copy announcement at 3 p.m. and then wait nearly half an hour to post the information online? The New York Times sent a staffer to pick up the folder and she returned downtown, delivering a packet containing press releases, photos, and background information that would already be online by the time she got back to the office despite the speed of the IRT.
The few people in attendance grabbed the folders and rushed out the door, presumably to scoop less connected reporters who weren't invited or who didn't know that they could just show up. I ran outside and called Molly Sheridan on my cellphone, making sure we were the first people with news of the award. Despite their now clockwork adherence to their website, a singular concession to the means of 21st century communication, the Pulitzer committee still informs the winners by Western Union telegram sent out promptly after 3 p.m. Thanks to cellular technology, I reached Stucky's publisher before Western Union did, and even after the telegram had arrived Stucky still did not know. At this point, our story announcing his win was already posted on NewMusicBox.
That was the adrenaline rush. But then the memories of last year's debates came back to me, and I grew more and more perplexed. On the one hand, I was happy for Steven Stucky and was also happy to see Reich and Carter cited for pieces I have heard and liked a great deal. There were a lot of other pieces I heard last year that I also thought were strong contenders, but I didn't feel too worked up about it. For all I knew, many of those other pieces were never even submitted. There are typically only about 100 submissions each year, and most are from the big publishers who have the staff and promotional wherewithal to pursue such things. The Pulitzer is the same as the lottery: "you gotta be in it to win it." (Well, almost the same. Many lottery tickets cost as little as $1 and submitting a piece for the Pulitzer costs $50.00.)
I remembered that according to the June 1 statement, the citation, which in the past was for a "distinguished musical composition of significant dimension by an American that has had its first performance in the United States during the year" was to be changed. Now it was to read, "For a distinguished musical composition by an American that has had its first performance or recording in the United States during the year." The change eliminates the potentially exclusionary description "of significant dimension." Yet, in the Pulitzer announcement yesterday, the music award was still described as being for a "distinguished musical composition of significant dimension." The citation also eschewed the phrase "first performance or recording," simply stating "first performance." In so doing, the citation seemingly does not acknowledge the newly announced openness to the possibility that the public release of a recording would be considered as the equivalent of a public performance, which, according to the June 1 statement, would "widen the prize's reach." Stucky's Second Concerto for Orchestra, and indeed the other two finalists as well, have unfortunately not yet been issued on commercial recordings. It often takes years for a recording to come out and sometimes it never does. Yet opportunities for the greater public to hear and appreciate the Prize-winning music are minimal until there is a recording.
According to Sig Gissler, leaving in the words "significant dimension" was a mistake and was "boilerplate probably just picked up on the press release." And, in fact, those words were subsequently eliminated from the citation by the time it went live on the Pulitzer website. But what to make of the fact that all three finalists came from the world of contemporary classical music? (All were fully notated scores requiring a live performance for their realization.) Why didn't a single jazz, film, or other kind of work make the final cut?
According to Gissler, there was "a more diverse body of works submitted" and submissions went up from the usual 100 to a total of 135 entries, which included four jazz works as well as seven operas. No film scores, however, were submitted this year. "We see this as an evolutionary process," said Gissler. "It takes a while for this to reach awareness, and then there has to be action taken."
He firmly stated, however, that this evolutionary process in no way diminishes the significance of the compositions by Stucky and the other two finalists. In the Music Jury Report, submitted along with the names of the three finalists, the jury unequivocally stated that they were endorsing work by "three of America's most noticeable composers who were all working at the top of their form." They went on to say that the decision was not easy. One of the works considered was a jazz setting of Lyndon Johnson's speech "The American Promise" by Jimmy Heath and performed by Wynton Marsalis's Lincoln Center Jazz Orchestra at the opening of the new Jazz at Lincoln Center concert hall complex. This submission "convinced the jury that material of considerable merit is being created in many genres."
The jury this year consisted of former Pulitzer Prize winner Christopher Rouse, conductor David Zinman, Los Angeles Times music critic Mark Swed, jazz composer Muhal Richard Abrams, and Gunther Schuller (according to Gissler, "a guy who has quite a range of taste"), who once again served as the jury's chair. So, the jury was chaired by a frequent participant who is a composer and conductor of so-called contemporary classical music, and there was another composer of contemporary classical music (Rouse), another conductor of classical music (Zinman), and a critic whose primary job is reviewing classical music performances (Swed)—in fact, two of the works that were finalists were premiered in Los Angeles. The fifth member of the jury, Muhal Richard Abrams, while based in the jazz world, has composed a substantial body of work that could also be considered contemporary classical music.
Mind you, none of this is necessarily a bad thing. And, yes, I know that Gunther Schuller was deeply involved with jazz and wrote the definitive histories of both early jazz and the swing era, and that Chris Rouse loves Led Zeppelin, Moby Grape, and all sorts of other music that exists beyond the 18-line orchestral score page. No one is one dimensional, but the primarily professional focus of most of the members of the jury is contemporary classical music.
This category of music itself is a wide-ranging genre that is also not one dimensional. When someone from the jazz world, the rock world, or even the country-western world creates a work with the trappings of classical music—e.g. a large-scale multi-movement work requiring the participation of a large group of musicians reading from notated scores—can it legitimately still be called jazz, rock, or country? Who is the potential audience for this music? Our world does in fact embrace many such efforts, but those might be the only kinds of efforts it would typically embrace. Wynton Marsalis's "oratorio" Blood on the Fields was in fact awarded a Pulitzer. However, I'm not sure it fully counts as the first jazz Pulitzer though. Could Marsalis's equally significant Citi Movement or his extremely impressive week of concerts at the Village Vanguard, which were subsequently collected on a 7-CD set, have garnered a Pulitzer? Probably not.
Perhaps for good reason. No one is ever upset that the Country Music Awards neglect the greatest hip-hop album. In fact, a country song that incorporates elements of hip-hop, like the work of last year's controversial Big and Rich, makes traditional country fans very uneasy. As complex as contemporary classical music is, it too is a musical genre. As such, it is as worthy as any other of having its own awards. Perhaps we should celebrate that this award acknowledges such music and not pretend that it is an all-encompassing award. It never was and perhaps it doesn't need to be. The problem is that within contemporary classical music, there are still numerous subgenres that do not acknowledge each other. The Pulitzer jury has typically come from certain subgenres and not others.
But, of course, this jury doesn't ultimately determine the winner, the Pulitzer Board does. The jury simply recommends three finalists and the board makes a choice. So, the jury did not bypass Steve Reich three years in a row, the Board did. And that Board of 17 consists of 10 newspaper editors or administrators and 7 academics. None of them are composers or even music critics. Arguably, this music, which matters so much to all of us, does not matter quite as much to them.
I remember before the award thinking that it really made logistical sense for Steve Reich to get it. Honoring him would send out a message about inclusiveness without getting too far afield from the music this award has traditionally honored, at least not in terms of its genre. And Reich had been a finalist for the last two years. It made no sense for him to be bypassed three years in a row, especially for a piece as solid and as important as You Are (Variations). But does Steve Reich really need a Pulitzer? He is one of the most popular and treasured composers of our time. We already know he's great. Why do we need our opinions to be validated by the Pulitzer board?
Secretly (or maybe not too secretly, since I tend to be loud), I was rooting for Elliott Carter. Carter, of course, already received the award twice, so he also definitely doesn't need it. But there was something about having him win a third time (no one ever has) as a still-active and extremely relevant composer at the age of 96 that I found really compelling and heart-warming. And, though he won twice, both prizes were for chamber works. We all know how respected he is in that community. Might a Pulitzer for an orchestral composition finally be what gets Carter played by orchestras across the country? Sure, he has strong advocates in Barenboim with the Chicago Symphony and now James Levine in Boston, but on his 95th birthday not a note of his music was played by the New York Philharmonic, and Carter lives in New York. No one lets us forget when Mozart's birthday is, or Beethoven's.
But, hey, Stucky needs this award more than either Reich or Carter, both of whose compositions are known around the world and whose discographies are bursting with multiple recordings of the same pieces at this point. Their music is as close as we come to having a standard repertoire of contemporary American music. Stucky, on the other hand, has proven himself with effective compositions in many different settings, but he is still not known to many people even within the concert-going audience. There are only a handful of recordings of his music, predominantly on small labels. And his First Concerto for Orchestra was a finalist in 1989, so it really was his turn.
See, despite my malaise, I'm caught up in this whole thing once again after all…
But, please, let's not try to make the prize something more than it is. It's unrealistic and unfair to assume that any jury can determine what the "best" piece of the year is. And, more importantly, calling something the best is unfair to anyone who wins the Prize as well as anyone who doesn't. Be happy that we still have a way of calling attention to music that is being created by members of our community, pace Justin Timberlake, but it's only one way. It just happens to be a particularly public one for reasons outside our community and beyond its control. Perhaps we ultimately need better ways to shine light on artistic endeavors we care about than these endless awards, but that's a discussion for another time. So, for now, cheers for Steven Stucky and for the 2005 Pulitzer Prize!