Counterstream OnDemand: Keeril Makan, broadcast 12/18/08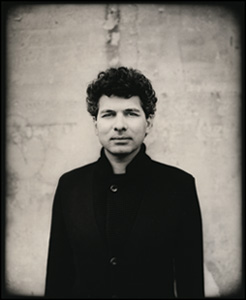 Keeril Makan
Keeril Makan contains multitudes. This was obvious enough back in 1998 when he wrote his duo for violin and percussion, 2. Contained within this Frankensteinian piece are the seeds of what he has explored throughout his career as a composer: pulsating rhythmic gestures, noise and abstraction, beauteous slow-moving harmonies, and long-breathed modal melodies. In the years that followed, these ideas would be dispersed, growing each of their own accord when Makan chose to explore them.
The seminal germinating event really occurred three years later with the composition of his second string quartet, tear. After years of using sequencers to help create his Bang on a Can-influenced works, he found that he missed the tactile feel of an instrument in the composition process. Makan explains, "It was really having the violin in hand that generated tear. After 11 years of not playing I had no technique anymore, but had a very trained ear and a lot of different ideas of how to approach the instrument in new ways… It was very much about how to place my hands on the instruments and the sounds that would be produced." The change was radical—gone was the pulsing rhythmic interplay, replaced by chaos and noise. Makan has referred to it as a study for his later works—and indeed it doesn't do much other than get louder as the piece progresses—but it helped him escape from the impasse he felt he had come to with his previous music.
After a few years of exploring the noisier end of the musical spectrum, Makan began to reintroduce more traditional notions of beauty into his music—exhibited in his 2006 work for chamber ensemble with violin and viola soloists, Still, a piece clearly and frankly indebted to Mozart's Sinfonia Concertante. The music is still undeniably Makan's, and undeniably contemporary, but exhibits a rarely seen ease with its musical forbearers. In this sense, the acknowledgment of influences from the past paradoxically leads to greater compositional freedom and originality. Makan suggests that "the beauty that may arise in the music has to do with a certain honesty about this particular question of, 'Am I aware of how the music relates to the past, both my own and otherwise? Am I exploring the idea as fully as I can, and not being lazy?'"
Soon thereafter, Makan wrote Washed by Fire for string quartet, a sort of full-circle return to form. The harmonic beauty he had been exhibiting since Still remains, along with the reintroduction of the strong rhythmic elements he had neglected after tear. In a way, it makes linear sense: after coming to terms with Mozart, Makan sought to come to terms with his own previous works. About the quartet he explains that "at that point in my life actually writing that was a very scary experience for me. It was really very challenging for me to get back into that world. It was more a question of personal perspective than anything more global." Before tear, he had grown too comfortable with his compositional style; now six years removed from it, he could return with the same uncertainty that proved so creatively fecund when he first explored it.
The pieces since Washed by Fire have been more diffuse than ever, freely exploring past sound worlds as well as new ones. Yet, despite all the variety, there remains something very intrinsically Makanian about all his work. "I do think there is something of a voice that connects all of these pieces, and I don't think that people are ever really surprised when they hear a piece of mine," he says. "It's not totally out of left field, there is some sort of connection. And it has to do partly with everything is coming out of my connection to my body. How I'm connected to it changes over time, but it still is my body. And there's a certain history there, and I think that as I explore it there is a continuity that exists between the pieces as a result of having the starting point always be with my body, whether it was more rhythmic or more sonic."