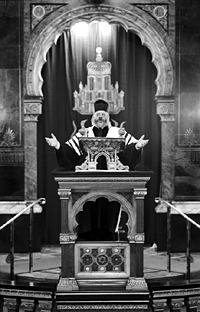 Cantor Benzion Miller at an Archive recording session
© 2003 Milken Family Foundation
Since the arrival of the first Jews to the North American continent in 1654, American music has boasted numerous Jewish voices, from the Yiddish theatre songs that came to define modern American Musical Theatre to the cantorial masterpieces of American synagogues and works by major Jewish composers like Leonard Bernstein, Ernst Toch, Lukas Foss, and Osvaldo Golijov. While many of these works have become part of the standard repertoire of American music, many more are in danger of being lost to current and future generations. The Milken Archive of American Jewish Music aims to preserve this dynamic musical heritage, and, since its founding in 1990, has been engaged in extensive documentation projects. On Monday, at a reception held at the Jewish Museum in New York City, the Milken Archive announced its collaboration with Naxos American Classics that will yield 50 CDs over the next 3 years.
The entire recording collection will include more than 600 original compositions, over 500 of which have never been previously recorded for commercial release. Represented on the CDs will be approximately 200 American composers, almost half of who are still living. The discs have been 13 years in the making and were recorded in 15 cities around the world. Many of the works, such as the 1944 Genesis Suite composed jointly by Nathaniel Shilkret, Mario Castelnuovo-Tedesco, Darius Milhaud, Alexandre Tansman, Ernst Toch, Arnold Schoenberg, and Igor Stravinsky, required significant restorative work, and others needed new orchestrations and arrangements. In addition to the recordings, the Milken Archive also hopes to become a distributor of these new scores and arrangements.
Performers include:
Academy of St. Martin-in-the-Fields
Barcelona Symphony/National Orchestra of Catalonia
Rundfunk-Sinfonieorchester Berlin
Czech Philharmonic Orchestra
Seattle Symphony
Dave Brubeck Trio
Eliot Fisk
Juilliard String Quartet
David Krakauer
Elmar Oliveira
Richard Stoltzman
John Aler
Phyllis Bryn-Julson
James Maddalena
Ana Maria Martinez
Erie Milles
BBC Singers
The London Choral Society
The Ernest Senff Choir
The Vienna Boys' Choir
Theodore Bikel
Tovah Feldshuh
Fritz Weaver
Richard Sandler, executive vice-president of the Milken Family Foundation (known primarily for their work in education and medical research), introduced the Milken Archive recording project with enthusiasm. "I'd like to believe that nothing we are doing at the Foundation—and we are doing quite a bit—will have a longer lasting effect than the Milken Archive," he began. "The music of this archive encompasses numerous genres, from classical to jazz, from choir music to theatre. There are many compositions that have never before been recorded and may never have been heard if it wasn't for this project."
Defining both Jewish music and American music is a sticky situation. Selecting the works to be included in the Archive was a difficult task carried out by a distinguished panel of musicologists, conductors, performers, cantors, and scholars, spearheaded by Archive Artistic Director and Jewish music scholar Neil W. Levin. "The Milken Archive addresses a wide variety of expression that pertains directly to or has arisen from the nearly 350-year old Jewish experience in America," explained Levin. "That experience may be secular or sacred or both. Mostly the music that we address concerns music that has been conceived or written in this country by composers who have been part of the overall American environment and influence, whether as natives or as immigrants."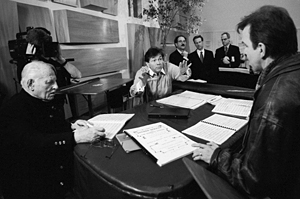 At Berlin rehearsal of Berlinski's Avodat Shabbat (l to r) Herman Berlinski, Gerard Schwarz, Neil Levin, Lowell Milken, Richard Sandler, and Robert Brubaker
© 2003 Milken Family Foundation
The recordings included in the Archive contain both sacred and secular work by both Jews and Non-Jews. Compositions were considered for the series if they were based upon either Jewish textual content, Jewish languages, use of traditional Jewish modes or melodies, Jewish social or sacred functions, inspiration from Jewish themes, or historical context. But as Levin points out, "the overriding criteria for selection remain aesthetic quality within each category and authenticity."
On Monday, shortly before the official announcement, the Milken Archive signed a formal agreement with Naxos, who will aid in the production and distribution of the entire Archive catalogue through their American Classics series. "It is really an honor for Naxos to take our imprint and our brand and have it associated with such wonderful musicians and works and heritage," Naxos USA President Jim Sturgeon stated. "In my 6 years at Naxos, it's the most important and significant partnership that I've been a part of."
The first five discs: September 2003
Kurt Weill: The Eternal Road, highlights
"Klezmer" concertos and encores
Music of Mario Castelnuovo-Tedesco
Great Songs of the American Yiddish Stage, Vol. 1
Highlights from the Milken Archive: Sampler CD
Since its inception 5 years ago, the American Classics series has become Naxos's best-selling set, with over 100 recordings made to date and over half a million units sold. Sturgeon explains that Naxos is "excited that we can take the Milken Archive recordings and bring them together with our co-brand and …take this music to the world." The first five recordings will be released in September 2003, followed by monthly releases.
Thematic Categories of the Archive
Liturgical music for the synagogue
Music for Jewish Life-Cycle Celebrations and Home Rituals
Dramatic Works: Operas, Oratorios, and Cantatas
Large-Scale Orchestral works inspired by Jewish Themes
Solo instrumental and chamber works
The Great Cantorial Tradition: Sacred Masterpieces
Popular Music from the Heyday of Yiddish Theater, Vaudeville and Radio (re-creating the "ideal" sound as it would have been heard in the 20s, 30s and 40s)
Works inspired by the "klezmer" and Hasidic traditions
Choral Works and Solo Vocal Music
Music of Zionist Inspiration and Social Activism
Works of Sephardic Inspiration
But the individually released recordings are only one part of the larger Milken Archive vision. Once all of the recordings have been released, they will become available in a comprehensive box set, containing 20 thematic volumes. The box set will include at least 35% more music and include supplementary materials such as DVDs, expanded liner notes, and a separate volume of essays. The massive collection is primarily marketed for libraries and educational institutions and is one part of the part of the multi-level curriculum that the Milken Archive is designing for use in high schools, colleges, and adult education programs. In addition, the Milken Archive has been documenting major figures in Jewish American music for the past decade in a series of videotaped oral histories. Currently, over 800 hours of video footage exist as part of the oral history project. All of these parts will serve as in-depth resources for future scholarly work.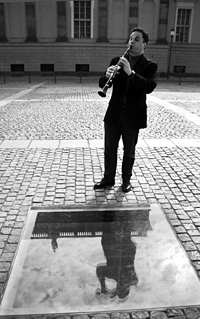 David Krakauer plays at Berlin memorial to authors whose works were banished during the Third Reich
© 2003 Milken Family Foundation
In addition, the Milken Archive will be co-sponsoring an international conference festival on American Jewish Music with the Jewish Theological Seminary of America called Only in America—Jewish Music in a Land of Freedom. This five-day event will be structured around panel discussions and seminars with leading academic and musical personalities, and musical performances. It is scheduled to take place in New York City, November 7-11, 2003.
"American Jewish Music!" Levin summed up. "American because it represents a genuine part of our diverse and symbiotic American culture. Jewish, as an expression of Jewish tradition and life that has only been enhanced by the American experience in the American environment. And above all, it is music. Simply music. It is music that transcends ethnic or religious boundaries and invites sharing. And it is music that has the power to speak to all of us as Americans, as Jews, as human beings, and I think most importantly of all, as universal lovers of good music."