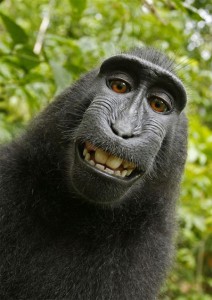 The other day composer Raphael Mostel forwarded me a fascinating story about a macaque monkey in Indonesia who ran off with a camera that belonged to British nature photographer David Slater and proceeded to take a few self-portraits with it. The image you see here is one of the photos taken by that monkey.
Believe it or not, that article is a must read for anyone interested in new music. It turns out that the photos have provoked a serious intellectual property debate. The news agency that David Slater works for attempted to put their copyright on the images but legally cannot since the photographs were not taken by a human being and are therefore not capable of being protected under copyright law. Legally the photos belong to the monkey and she's probably not going to register them. Obviously this has wide ranging implications for all the music that has been created by and with animals. It also calls into question the curatorial role that copyright holders have in disseminating content. Indeed if this image cannot have copyright protection, it can be reproduced freely by anyone anywhere. This is something which advocates of completely free information will delight in, however advocates of copyright protection will be quick to point out that there is no incentive to make sure this image is available to anyone anywhere.
Rather than getting mired in complex legal questions for which there frequently seem to be no middle ground, I'm more interested in the aesthetic questions the monkey photographer raises. I think the self-portrait I've included herein is an amazingly vivid shot, one of the most memorable shots of a non-human I have ever seen. Before I read the article about the monkey I linked to above, I read another shorter article about the same story (Raphael Mostel generously sent multiple links). I felt immediately drawn to read it as soon as I saw that photo (the same one featured here) and before I even knew what the story was all about since I found the image so aesthetically satisfying. In a way it's kind of like the abstract painting-like advertisement residue I've been so smitten with on NYC subway platforms. While some people might think the lack of human agency makes things like accidental abstraction and monkey self-portraiture less artistically compelling, I don't see why it makes a difference in our perception. Much as I am inclined to be persuaded by Noah S. Weber's humanistic arguments (in "Emily Doesn't Care If You Listen") that the world might be a worse place if we let machines compose all our music for us, I have to believe that the ultimate determination of beauty in fact comes from the beholder. Ironically, that is why I also distrust just about any definition of beauty.
However, I have to confess to having an almost perverse pleasure in appreciating works created by forces that are not concerned with how those works are perceived. And I wonder if their manner of creation might artificially makes me like them more than I ought to because they sometimes so totally outperform my own expectations for them. E.g. a random mess left by scratching away an ad can't possibly yield an astonishing image, yet it constantly does; a monkey can't possibly take a memorable self-portrait, but one did.
I always enjoy an experience so much more when I go into it not expecting much or when it makes me see or hear something in a way I hadn't considered before. Last week I briefly alluded to my visit to a supermarket in Sunset Park where I briefly listened to some extremely loud music performed by a Dominican tipico meringue band. It was so much more satisfying than hearing the same Katy Perry and Rihanna songs (which is my typical supermarket listening experience). In that context any music that was not recorded and was not Katy Perry or Rihanna would probably have been interesting. Last night I picked up a bottle of Shiraz wine that was made in India and made sure to have it with dinner rather than save it for a future occasion since it was such a curiosity item. My wife and I as well as the friend we shared the bottle with over a meal all found it to be extraordinary. But did we like it even more because it came from a region that is not known internationally for producing wine? I suppose I could submit myself to a blindfold tasting test with this wine against other producers' bottles of Shiraz in order to find out, but I'm still not sure that as a result I'd be able to arrive at anything resembling an objective judgment since there would then be other elements at play which would affect whatever decision I made. Decisions are never arrived at in a vacuum. Such is judgment.