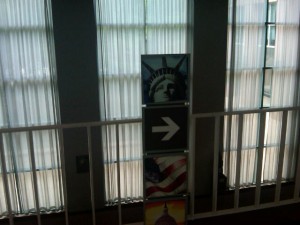 Last week, along with colleagues from other national arts service organizations, I had the honor of visiting the United States Department of State in Washington, D.C. for a meeting with the staff of the Cultural Programs Division. I also audited three sessions of a new advanced cultural diplomacy course for foreign affairs personnel offered at the George P. Shultz National Foreign Affairs Training Center in Arlington, Virginia. Who knew these things existed?
Pretty much the only story emanating from D.C. these days is the debt ceiling stalemate, which as of this writing has still not been resolved. Most people concerned about the arts are keeping a close eye on what a possible resolution would mean for NEA and NEH funding as 31 of 50 states have significantly cut state arts budgets for this fiscal year, with some states completely eliminating arts funding altogether. Indeed we are living in uncertain financial times, but even when things don't seem so grim most of us probably assume that the denizens of Capitol Hill are less than completely attuned to the arts than we would like them to be. The reality is a bit more complex than that.
At least within the State Department and at the Foreign Affairs Training Center, there is an understanding that the arts send out a positive message about the United States abroad, and that positive message is key to our foreign policy goals around the world. While the State Department personnel clearly acknowledge—and are, in fact, proud—that the United States does not have a ministry of culture, since being in a position of deciding which artists get officially sanctioned would be contrary to the spirit of our democracy, they are very interested in having a greater engagement with the arts community and working with us to build new paradigms that promise to be mutually beneficial. Of course anything that gets developed will have to be done within existing financial resources; once again the lesson of the internet age is that a lot can be done with relatively little. They have already established a social media site at http://connect.state.gov and are hoping to involve individual artists and arts organizations in a more arts-focused component of that site which is currently in development. Hopefully the site will be simultaneously a place to convene and engage in important discussions, as well as to develop ties with each other and become a marketplace for the artistic community both here and abroad. For example, they are hoping that such a site can serve as a portal for matchmaking folks who want to work in exchanges overseas. As they pointed out, people-to-people relationships are invaluable to diplomacy.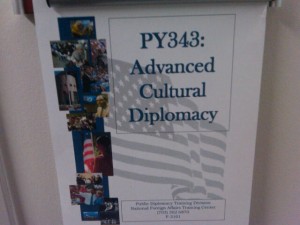 There were a total of 11 diplomats attending the advanced cultural diplomacy course on the two days that I was permitted to audit sessions. Most had worked in the field between five and ten years. Pretty much every one of the participants was in agreement that performances by Americans in the countries in which they were stationed were an extremely effective means of sending out a positive message about the United States. During the sessions I observed, there was a lot of talk about how theatre can help to create empathy despite the inherent language barriers. As guest speaker Ari Roth, a playwright and the artistic director of the D.C.-area Theatre J, pointed out, unlike politics, theatre does not proscribe a specific outcome and the performance space is a safe gathering place where contentious issues can be discussed and debated. Anecdotes were shared by Chris Jennings from the Shakespeare Theatre about a theatre troupe touring Afghanistan, and Emilya Cachapero from Theatre Communications Group described bringing a hip-hop performer to Tunisia, which attracted audience members who lived more than eight hours away. It was particularly reassuring to hear several people advocate for the importance of listening; one person there even described it as the most important thing you can do.
Steve Lebens, who served as the instructor of the advanced cultural diplomacy course, reminded all of us that the United States Government has initiated arts exchanges abroad since the 1950s—he even recounted a story of how jazz legend Buddy Rich broke the ice at a summit between Ronald Reagan and Mikhail Gorbachev back in the 1980s—but we're now in a different environment. In order to be able to justify cultural programming we have to be clear about how it supports our foreign policy goals. Of course it is extraordinarily difficult to quantify the impact of the arts. Ironically, its elusiveness is arguably what allows the arts to cross cultural boundaries that can often be otherwise impenetrable, but that same elusiveness is what makes the arts such an easy target for the bean counters. So getting out the message of why the arts are a viable cultural diplomacy investment is a never-ending job, both externally and internally.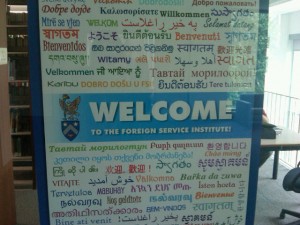 But as one of the diplomats enrolled in the class astutely declared, the more understanding you have of a people, the less likely there will be a threat to our national security. Artistic exchanges help build bridges that ultimately bring us all closer together. Another attendee pointed out that all over the globe we often get accused of shoving American music and film down everyone's throats, yet foreign TV networks choose to air our programs and our music is what people around the world want to hear. As a result, this cultural capital has a lot of power. On the final day I was there, Paul Gordon Emerson, the founder and artistic director of the D.C.-based film and dance troupe Company E, opined that the breadth of talent in this country is astounding, but it is not known abroad, not even Paul Taylor. Yet if someone from the USA gives a performance in almost any country in the world, the seats will fill up. An important question for the new music community is how the music that we are all writing can be part of this international equation.