To hear Nick Mazzarella play the alto saxophone is to hear a well-honed connection between his creative impulse and the horn that becomes an extension of his musical identity.  It is a creative instinct steeped in jazz history and brimming over with a passion for free improvisation.  In Chicago's community of aggressively original talent and dedicated musicianship, his ability stands out. His trio has become an important vehicle for realizing his musical ideas, and it has become a significant presence in the local jazz circuit.
The Nick Mazzarella Trio performs often in Chicago and has achieved a rare level of near telepathic interplay between three deeply accomplished musicians that translates into sets where the trio simmers and frequently catches fire.
Nick Mazzarella's alto saxophone playing consistently takes on the vocal and intervallic qualities of Ornette Coleman in ways that are startling when performing with his trio.  His music is not an emulation of the free jazz master as much as it is an ability to channel the energy and magnetic excitement that was present with Coleman's trios in the 1960s,  a comparison completed by the harmolodic interplay between Anton Hatwich on bass and Frank Rosaly on drums.  It's an influence that Mazzarella acknowledges via email correspondence:
What I find inspiring about Ornette is his genuine creative impulse. He arrived on the scene with a fully formed concept that was innovative and completely honest, playing the way he did because that was just how he heard music. The integrity of that approach, let alone the nature of the content of his art, is something I think all creative people aspire towards in some way. I'm influenced by Ornette as a saxophone player and an improviser coming from the jazz tradition, but I'm not really interested in sounding just like him or recreating what he's already done. The truth Ornette's sound and concept represents to me has helped me to identify what's true within myself. If my music bears some resemblance to Ornette's for some people, I think it can be attributed to my working through these external truths that have validated and unlocked some internal ones that are distinctly mine. As time goes on, I hear myself developing my own style, and the process of working on music like this is a lifelong pursuit.
Mazzarella has managed to make his way into the heart of that tradition and found plenty of room to develop his own identity as an up-and-coming jazz musician.  While the roots in Coleman's music are strong, Mazzarella also cites Eric Dolphy, Henry Threadgill, Julius Hemphill, and John Coltrane as equally significant influences.  These aren't just names for Mazzarella: the resonance with this tradition is tangible in his music.  His performances frequently draw upon the sonic language of these composers while offering an evolutionary counterpoint to the free jazz movement of the 1960s.  It is possible to close one's eyes during a live Mazzarella performance and be transported to the same energetic sound that marked Henry Threadgill's Air trio.  His resonance with Eric Dolphy's harmonic approach is striking.  His ability to aurally reference these giants without laboring to emulate them is what sets him apart.  This is a living tradition and he is breathing fire into it.
Mazzarella earned his master's in jazz composition at DePaul University in 2009, though he brings an approach to composition that transcends his academic bona fides.  He primarily composes the music for his trio on the saxophone and occasionally at the piano, working out rough sketches and refining ideas while also leaving space for ideas to flow when they require less "working out."  He then takes relatively fixed versions of his pieces to the trio and further refines his ideas through rehearsal, often relying on the group's collective sensibility.
"I asked these particular people to be in my band because I want them to sound like themselves," Mazzarella explains, noting that Hatwich and Rosaly each bring strong individual sensibilities to the music.  "They sound great individually as soloists, and they sound great together as a rhythm section. Over time, I think we three have built a unique and recognizable collective sound. The written material I provide is really just a vehicle for that collaborative effort to take place."  Hatwich and Rosaly have developed into a creative pair that have set a new standard for rhythm sections in the Chicago scene.
The trio's debut recording: Aviary, released in 2010 on Thought to Sound Records, offers a glimpse into the melodic constructions of Mazzarella's pieces.  "Pistachio (for my bird)" in particular is a catchy tune that is practically an ear worm that doesn't wear out its welcome.  Its Latin beat and circular melodic phrases that resolve into short repetitions over an understated harmonic progression become a launching pad for an approach to improvisation that balances delicately between restraint and blistering freedom.  The collaborative interaction and refined approach to this music is recorded with remarkable clarity on this studio effort.  At just over half an hour, it's a tantalizing set that merely hints at where this trio can go.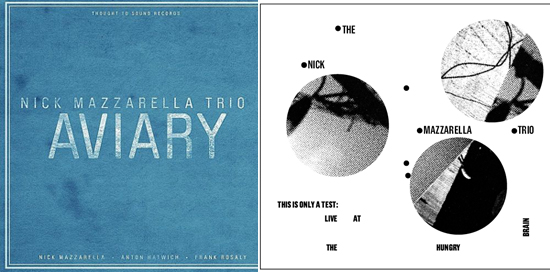 The follow up release, 2011's This Is Only A Test: Live at the Hungry Brain, explodes with a full set that reveals the electricity this group brings to their live performances.  The trio was at the top of their game for this particular performance (I was one of the lucky ones present) and their energy is remarkably well documented.  The searing, plaintive wails that make up the melodic line of "For Henry" is a particularly rewarding listening that shows off Mazzarella's ability to channel a soulful approach to his material along with improvisations that deftly explore the extremes of register and emotional range.
Both of these recordings are highly recommended, even if they are just a hint of what's in store as Mazzarella continues to develop his personal style and further refine his materials.  The collaborative role of his excellent rhythm section pushes this music up several creative notches, and shows The Nick Mazzarella Trio to be a creative force that should leave a lasting impression for some time to come.