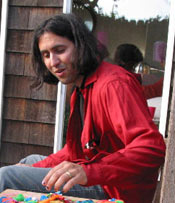 Matthew Sperry
Matthew Sperry, a bassist, composer, and beloved member of the Bay Area new music community, was killed on the morning of June 5th when he was hit by a truck near the border of Oakland and Emeryville. Sperry was on his way to work on his bike and struck around 9:00 AM. He died shortly there after. The only witness is the 46-year old woman who was driving the truck, but the investigators continue to search for additional sources.
While improvised music was his main focus, Sperry also engaged his talents in everything from klezmer and jazz to pop and experimental chamber music. Born on November 6, 1968, in Redondo Beach, California, Sperry became enamored with improvised musical forms during his undergraduate days at Florida State University, where he met and worked with Wadada Leo Smith. It was also at FSU that he made the acquaintance of Phil Gelb, a shakuhachi player with whom he collaborated for the rest of his life.
Sperry's post-college career began in Seattle, where he became a major force in the free improvised scene, performing with such groups as The Long String Instrument Band, Seattle Experimental Opera, and Gamelan Pacifica. While working with Seattle-based ensembles The Black Cat Orchestra and iv bricoleurs, he composed scores to over 20 silent films. In fact, much of his compositional output was created for film and dance. In 1999, Sperry was recognized with a Meet The Composer grant for solo bass improvisations. Sperry recently made the move to the San Francisco Bay Area. He appeared on the last two Tom Waits albums, recorded with Anthony Braxton and David Byrne, and was a member of the San Francisco cast and band of John Cameron Mitchell and Stephen Trask's musical Hedwig and the Angry Inch.
n every location he called home, Sperry was immediately embraced for his musicality as well as his endearing personality. "Matthew gave and meant so much to the music through his playing," writes saxophonist/composer Phillip Greenlief, who had played with him in Pauline Oliveros's Sounding the Margins Orchestra and many small ensembles. "And his great attitude toward music and life in general made it easy to meet him, to hang with him, to hear him and to love him. Although he lived here and was a part of our local community, his history and life as a musician spread to many places around the world." Greenlief's statement is not hyperbole. Logging on to http://matthewsperry.org, a memorial site for Sperry, ushers us into a network of friends, family, and fans that share their memories of Sperry and express condolences for his family. Sperry is survived by his wife, Stacia Biltekoff, and their 2-year old daughter, Lila Simone. The site includes instructions on how to contribute to the Matthew Sperry Memorial Fund, the Lila Simone Sperry College Fund, and to Stacia Biltekoff, Custodian for Lila Sperry.
A memorial concert will be held Thursday, June 19 at 8 PM at Oakland's 21 Club and will feature performances by his friends and colleagues. Memorial events are also being planned in Seattle and New York City.
For more information on Matthew Sperry's death and memorial events, click here to read a beautifully written article that appeared this week in the Oakland Tribune.