New York Times music writer Steve Smith reportedly "leaned on" his editors and got them to fly him out to Chicago this weekend, where he caught the (Re)New Amsterdam benefit show at the Empty Bottle and Anna Clyne's new Double Concerto at Symphony Center. At the Empty Bottle, members of Chicago's musical community nursed their beers and politely waited to shake his hand. Okay, maybe that was just us.
*
The morning after (Re)New Amsterdam–which was amazing–event co-curator Marcos Balter was effusive, saying: "I am incredibly touched by the generosity and camaraderie displayed by the Chicago new music scene yesterday. The fact that many of our highest bidders and donors were musicians themselves only solidifies what I already knew: we are indeed a family, and we are better artists and individuals for supporting one another."
*
In other (Re)New Amsterdam news, we'd like to share that during the event we spent perhaps fifteen minutes in the Empty Bottle green room. The green room couches carry the alarming scent of two decades of legal, indoor Chicago smoking. Upon our return home, our spouse declared that we smelled "like my granddad." #rockstarlife
*
Veteran journalist Michael Miner–best known for tackling Chicago's plentiful political and journalistic scandals–turned his attention to the horn section of the Chicago Symphony this week. His article about the mounting criticism of 71-year-old principal horn Dale Clevenger contained some heart-wrenching anecdotes. Apparently, critic Andrew Patner has not spoken to Clevenger–a former friend–since he made his first critical statement about Clevenger in the Sun-Times in February 2010.
*
In a review in the Telegraph, British theater critic Charles Spencer valiantly resisted comparing an all-female production of Julius Caesar to "dogs walking on their hind legs"–while still managing to use that exact phrase in his review. Bad-ass British violist Jennifer Stumm called the article "sexist drivel" on Twitter. You go, girl!
*
High-level nerds celebrated the auspicious date 12/12/12 by turning the day into a tribute to twelve-tone serialism. It was also our Dad's birthday. Happy birthday Dad!
*
Beck's long-awaited album of sheet music, Song Reader, has arrived. For composers, whose music usually exists in printed form before it exists in sonic form, this is a revealing moment about the state of sheet music in our digital society. These are the top comments over at The Atlantic: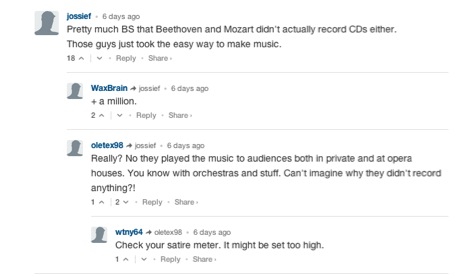 Scratch That will return in January after a holiday hiatus.