Cold Spring is something that I hope has resonance outside the spectacle of its performance. At its core, the piece is an attempt to bring museums and archives together with performing institutions and local artists for mutual self-reflection and appreciation of each other as cultural thinkers. Hopefully the work initiates and empowers an active interpretation of our lives as they relate to science and our notion of what constitutes meaningful progress. Because the opera involves so many technical and stagecraft elements, I encourage the reader to view this video before proceeding:
In 2008, I had a quasi-theatrical work, Buffalo '70, played as part of the MATA Festival. That was also where I met Micah Silver, who also had a work in the festival and was a curator for a new space in Troy, New York, called EMPAC. I had never heard of Troy, but Micah invited me to conduct a series of residencies there; first to produce a concert of my percussion theater music and an exhibition of my video installation collaborations with artist Catherine Sullivan. Later, Micah and EMPAC commissioned and produced Cold Spring, the large-scale opera described in this article.
When I was asked to create a work for EMPAC, I immediately thought of the curious region of upstate New York where EMPAC is located. In my mind, such an advanced arts and technology center placed in this relatively sparsely populated region called for a site-specific piece. I conceived of the entire theater, with its three levels of balconies, as a giant instrument comprised of local objects, performers, and narratives. This mixture of actors, athletes, musicians, lights, and video elements would be set in motion by rhythm and with automated cue lights that would initiate actions. This would be the basis for a composition in time, space, and image. Ultimately, Cold Spring is an intermedia statement about how we experience information, evidence, old science, and belief, and about how our illusory notions of scientific objectivity form our haunted personal experiences. I tell this story through the re-interpretation of three main elements:
1. A theatrical and musical interpretation of the actual 1965 hypnosis transcripts from the 1961 New Hampshire alien abduction memories of Betty and Barney Hill, a young suburban, interracial couple. This is mixed with three songs from Robert Schumann's Liederkreis Op. 39 song cycle with texts by Joseph Eichendorff.
2. An archive filled with deeply flawed scientific research into race and heredity based on bodily measurements, family trees, and extremely vague statistics housed at the Cold Spring Laboratory located in Cold Spring Harbor, New York. This research was once used to construct the now discredited science of eugenics that was used to shape America's most unethical social policies of forced sterilization, lobotomies, and anti-miscegenation laws of the 20th century, and to bolster Nazi Germany's master race agenda. In Cold Spring, this archive is haunted by two Norse-like under gods: Ernst Haeckel, who leads us through the strange allegorical and conceptual gymnastics required to understand eugenics, and his sister, Else Caucasia Blankenhorn, who abducts Betty Hill with her voice.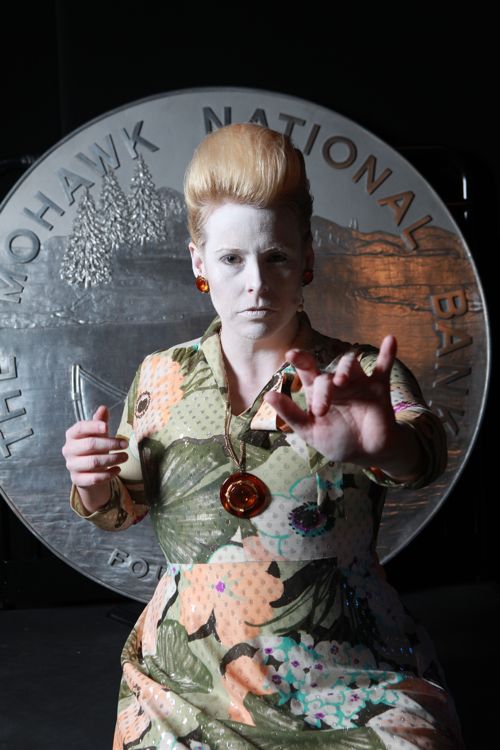 Collaborator Juliana Snapper as Else Caucasia Blankenhorn.
Photo by Kris Qua, courtesy of EMPAC.
3. Two truckloads of objects, museum-quality technological artifacts, and corporate portraiture on loan from the amazingly extensive and inspiring collection at the Schenectady Museum that I selected and used as sets and props. Through their evocative design and appropriation as sets, these scientific objects propose themselves as cultural objects that dot the "floating in space" set and lighting design, reinforcing the notions behind the piece; that science is inextricably intertwined with our emotional imagination.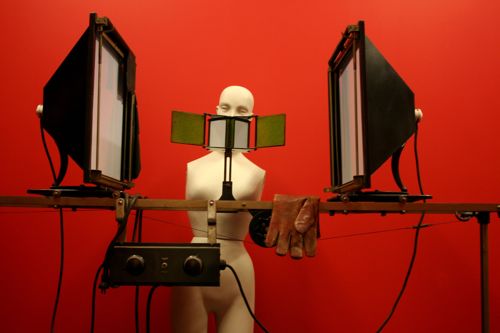 Technology and design artifacts from the Capital Region on loan from the archives of the Schenectady Museum. Seen here: Stereo X-Ray viewer manufactured by the Wappler Electric Company of New York in the 1920s. This was an early attempt at three-dimensional medical imaging. Photo by Sean Griffin.
More practically, Cold Spring is an evening-length composition for a cast of 32 performers. Composed for the full forces of the EMPAC Theater (there are four venues at EMPAC with different capabilities), it featured among other things a 24-foot-long, 16-foot-high interactive forced-perspective sculpture embedded with actors and dancers, multiple collaborators, two truck loads of museum artifacts and portraits, staged video projections, a roller derby team, flying actors, an ensemble of some of the best musicians I could find, extensive lighting plots, costumes and makeup, multiple theater companies, and composite video portraits that literally spoke to the audience.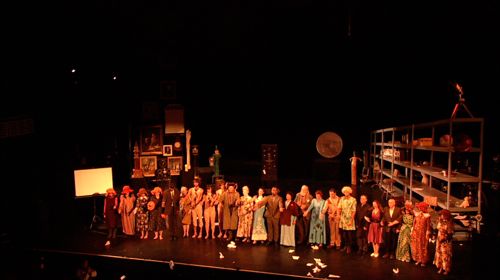 Cold Spring Curtain Call. Video still courtesy of the artist.
Sean Griffin and Micah Silver Discuss Griffin's Epic Intermedia Opera
Micah Silver: This is an oblique way to start, but I want to ask you about compositional style. In Cold Spring and Triangle of Need, for example, I feel you do not have a style in the usual sense of the word. Instead you are sourcing materials from the history of style and leveraging their associated value systems for effect, as if these gestures were musical in and of themselves. There is a history of this in instrumental music to some extent, especially in electronic music and the visual arts—but I find what you are doing to be somehow different from these more common examples. Your gestures, strategies, and stylistic extractions take place simultaneously in sound, movement, video, lighting, set pieces, characters—it's hard to differentiate the musical "composing" from the other compositional elements in the work. To me this somehow reflects in a radical way on the idea of "style" which composers still think a lot about, I find. What can you say about your relationship to this idea? What was the music for Cold Spring? How does composing function in the context of a vast intermedia project like Cold Spring?
Sean Griffin: In Cold Spring, there is an anachronistic setting of visual, spatial, and sonic performance structures that act as a kind of machine propelling the materials forward. It relies on spreadsheets organizing the physical language and behaviors of the performers; charts, rhythm patterns, baroque court dance diagrams, video cues, choreography by Justin Jones, musical scores, and entire plays reduced to just a few lines. So with this kind of density of material, a clear temporal structure in the form of a flow chart was used, much in the way a time-coded storyboard might be used. This system allowed the imagination to work on how these disparate elements exist in space and in relation to each other. Many of the performers inhabit different realities and time periods simultaneously and, therefore, unique behaviors related to notions of style emerge, encountering each other in a kind of timeless netherworld staged throughout the theater. Many different styles proposed by these dramatic and historic materials are set in motion and contrasted through what we called the "big chart."
I hope that the expressive semantic messages in the work function as partially materialized poltergeists of unresolved historical self-expression pondering their liminal existence. Maybe that is a style? What I hope in large-scale projects like this is for a kind of imaginary stylistic "culture" to develop between the musicians in a fashion that is similar to what is at stake for the ensemble actors as they take the stage. By this, I mean an agreed upon interpretation that informs the performer's choices. With the fantastic musicians I worked with—Ari Streisfeld, violin; John Richards, viola; Lauren Radnovsky, cello; Aiyun Huang, percussion; Greg Oh pno; and Damon Holtzborn, laptop—that did happen.
MS: You included these Liederkreis Schumann/Eichendorf references. How was this piece imported or abducted into Cold Spring?
SG: I originally wanted to include the music of Schumann because of his physical and mental health problems (as they related to eugenics' selection criteria for "undesirables"), but also because of his unusual harmonic treatments in those lingering dream-like songs. There is a unique quality of retrospection (sometimes chord successions in tonally ambiguous keys that end with an unresolved dominant chord) that animates nostalgia, and this 19th-century German sense of an all-knowing, mystical Nature. I experience those harmonies as a warmly backlit, subjective tonality he uses to color repetitions. For me they imply visual and theatrical settings.
Schumann/Eichendorffs's Mondnacht reference is the most identifiable in the piece, and it is worth a closer analysis. I wanted to stage Betty Hill's alien abduction, that I read about in the book Interrupted Journey, as a form of ascendance into the reality implied by her interpretation of her experiences. In the clip below, at the beginning of her abduction, Betty willingly submits as she is dragged across the stage and we hear passages from three local community theater productions that are staged in the balconies. It's as if her life's fading epiphanic moments (as characterized by 20th-century American theatrical subjectivity) are melting away as she is slowly sucked from her drab, suburban life into a strange form of celebrity. The phenomenal singer Juliana Snapper's Else Blankenhorn climaxes with text describing "the heavens coming down to kiss the earth." Conceptually, I'm just shifting the light source in Eichendorff's poem from a mystical full moon to a descending alien tractor beam.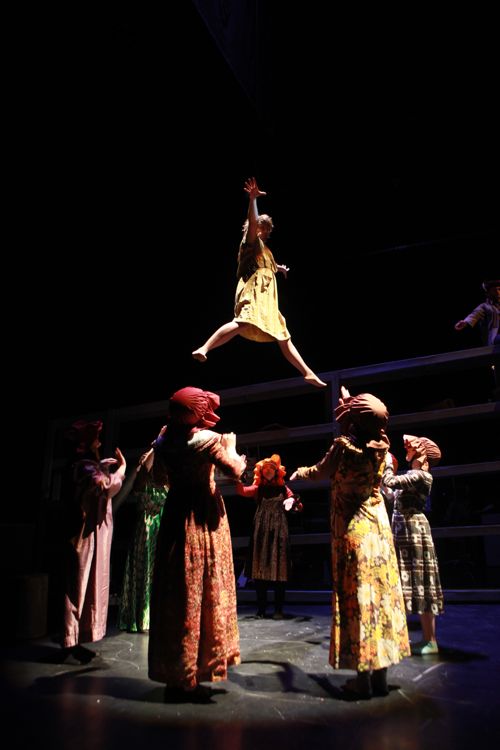 Betty Hill tractor beam with Holly Hobby Dustbowl Derby Girls. Photo by Kris Qua, courtesy of EMPAC.
As this happens, we hear Barney's text moving into future tense. He is left behind in her transformation. So, while she flies off with transcendent Romantic German poetry into her own future "…as a bird flying home," Barney moves backwards into the formulation of the story. Eventually he becomes trapped in a hypnotic state, lost among a strange balletic greeting committee who communicate with a mystical sign language written down by Betty while in a trance. This is brilliantly translated into a semaphore passage by choreographer Justin Jones. She claimed these symbols were the alien civilization's alphabet, and they become a central element in both the choreography and the video projections used in this scene.
In dramatic terms, this moment represents the spiritual separation of the couple; Betty goes into herself as she leaves the galaxy. The music is abducted by a romantic style as the scene culminates in her final ascendance at the end of Act II. So there is a lot going on conceptually, but I think one can simply enjoy this as a kind of procession, ascendance, or ritual. The abduction scene begins at Act Two, Scene Four—4:11 in the video.
MS: During the production I felt you became embedded in a hyper-symbolic decision-making space that was very much taking place through spoken language. For those walking into a rehearsal two weeks into production, it felt insane—but for the actors who had been part of the entire process, decisions and directions would seem like the only logical choice. One of the things I found to be most powerful about Cold Spring was that there was a transfer from this nuanced meta-space to the audience. I don't think it happened with the possibility of a 1:1 decoding, but on a feeling-basis it was there. Cold Spring for me had the odd power of being emotionally clear but linguistically pretty opaque. What kinds and how much symbolic transference are necessary for you to feel like the work has been received?
SG: I put contrasting elements in dialogue and this is very clear in Cold Spring. You have a map of how things relate to each other. You can see and hear these counterpoints. But it is important to realize that the source material I'm working with is hyper-theoretical about notions of reality itself. There are a lot of grotesque images and xenophobic paranoia running through all of the eugenics material as it projects its twisted views of evolution into the future; trauma, hypnotic manipulation and possible exploitation in the Hill's material. Additionally, styles of representation and expression move in and out like shifting lighting schemes in a kaleidoscopic fashion. We move in and out of competing realities and this can be viewed as an attempt to disorient our narrative expectations.
I would like to unpack another, more complex scene. It's called the "Eugenics Roundtable" and stages an oblique discussion of the 1924 Immigration Act. It is worth dissecting this short clip because, like the other clip, you can see and hear what is going on. It is a composition based on the incongruity between the notion of a theatrical beat (a dramatic pause) and a musical one.
In this scene, almost every pitch of Ravel's "Le Gibet" from Gaspar de la Nuit "happens" out of context. You can hear "Le Gibet" emerge as its musical depiction of light is obscured by Schumann's depiction of moonlight. It is fully scored, but the coordination of the separate scores is negotiated through a pre-set density level of interaction between the performers.
There are four separate scores in-play on stage and two scores for the instruments.
On Stage:
1. Betty and Barney Hill move through 90 beats of rhythmic gesture patterns at 40 beats per minute.
2. Else Blankenhorn and Ernst Haeckel are in a slow spinning structure between two unmeasured scores based on imaginary rotating magnets floating on stage in what we called a "sleep-walking" tempo.
3. The other four actors are seated and are moving at about 20 beats per minute through a score that cycles through seven aspects of their multiple characters called "Attitudes."
4. The dancers move through a collection of actions with suspended geometries that push and suck back through the seated dinner guests in the space. The actor's movements infect them through an improvisational mimicry.
From the orchestra pit:
1. We hear an example of extreme foreshadowing by means of the rhythmically unmotivated Liederkreis Mondnacht harmonies in the strings. The piano and percussion play through a score comprised of the re-composed cold, foggy, harmonic death-imagery from Ravel's "Le Gibet" ("The Gallows," with all the swinging corpse associations included). One can hear the harmonic structures of the dark "Le Gibet" competing with the full-moon brightness of the optimistic Mondnacht accompaniment as Betty intones "Oooo Dejavu!" There are also pre-programmed, shifting light-scores that create moving points of momentary visual emphasis.
The interaction of all these elements and the perception of them do take time and some effort to establish, but eventually an emergent complex notion of beat sets in and everyone moves together—not in unison but in an interwoven flow. It is akin to moments in which symbolic political meaning emerges through the interaction of disparate elements. This is something many artists working in time-based forms can relate to; that of creating multiple temporal ideology-flows and trying to balance them as they encounter and ride the discursive boundary between things people can clearly define and those wonderful dives into mystery. This is what Cold Spring attempts to do, and why directing it was such a pleasure.
I feel that interpreting this particular excerpt as a viewer isn't dependent upon exact meanings. Rather, I feel this temporal macramé-like contraption animated something unique, and I enjoyed watching it for extended periods of time in rehearsals very much. I think that if one is given the right context, this collision of several scores—musical, spatial and physical—can be very interesting to contemplate as the layers unfold in time.
MS: It's refreshing to think about opera as a contraption for contemplation rather than a culture delivery vehicle. For you, these decisions are entirely clear from the perspective of the work's constellation of sources and strategies. But as you say—from this unusual kind of exactitude comes something which has properties of both extreme clarity and overwhelming multi-sensory complexity—the composite impact is both gripping and baffling. In popular culture people tend to talk about David Lynch when this type of experience comes about. As an aside, it's interesting to consider this in the context of say, Italian opera in America, where almost nobody understands the words of the productions in real-time. Perhaps people are actually very open to these kinds of language/feel splits in the context of opera? At EMPAC I felt that, regardless of how little an audience member could put their finger on the references, the intensity of your relationship to the material transferred perceptually through the actors and musicians anyway. The work provided a topography of emotion, a sense of place, a granularity of interactions. It was an abnormally intense experience.
SG: There are so many unexpected relationships between people's lives and much of the material in this work. I also feel that it is important to invite the interpretative voice of the audience, performers, and collaborators because much of the script is composed of very painful material. There is a reverence and seriousness to the interpretation that all the performers instinctively embodied, even when their materials implied something else.
MS: Yeah—I think that this magic came across in Cold Spring, and it's interesting how this very powerful experience can exist for an audience in tandem with a totally baffling sense of plot. My impression is that most members of the audience left inspired/confused, which is not the usual combination.
SG: I've had the good fortune to produce performance works internationally for the last ten years in many different languages and cultures. I've written and directed shows in Korean and Mandarin, and I speak neither. It seems to me that in "living art" like this, the "real story" is told through the details of the interpretations embodied by the performers. This, in collusion with the physical elements of space and object, creates surprising secondary references. That hopefully activates our illusive cultural sensibilities about skepticism and interpretation. I'm not interested in making definitive statements about some of the notions represented in the piece. Hopefully, there is a dream-like transformation of our narrative expectations as the different métiers re-imagine each other and start to mesh.
MS: One of the reasons I invited you to do this project at EMPAC was because I felt that your approach to theater—in particular how you think about constructing forms and how you deal with interdisciplinary content—could only have been arrived at by a composer. Is this just my prejudice, or ignorance of contemporary theater practices, or is there something to this?
SG: There is definitely something to this. I spent many years inventing systems and regimens for actors and musicians to embody together that were incorporated into all of my work with Catherine Sullivan (D-Pattern, Ice Flows, The Chittendens, Rescusutation of Uplifting, Triangle of Need). I do not think of my works as theater works exactly. The notion of acting is often the subject, but this embodiment is held in tension through the composition. I think most of the actors I've worked with would agree with that statement. They are engaged in shifting conceptions of authenticity in internal and external performance modes. I feel some contemporary choreographers have the most interesting things to say and show about the nature of large-scale structure, and about how to seed the memory.
When I started presenting my work internationally in the late '90s, there was this strange space between the arts, a strange crack in the notion of interdisciplinary art. There were these weeds of incongruity based in a prejudice against theater as a form. The traditional music festivals were not able to support this kind of work, and museums at that time were. So, for instance, my first solo CD, The Chittendens Suite, was published by the Secession in Vienna, completely off the musical map. This was during the height of the 9/11 Bush era, and the work's urgent, but unresolved political content was much more welcomed in European institutions like London's Tate Modern, the Festival d'Avignon, and Berlin's Volksbuhne.
I would say that as a composer and director, I am definitely influenced by my experiences in visual art, in experimental performance practices and the support and input that offers. These experiences have shaped the way I view political material, historical reenactment, and all of the associated notions of aesthetics engaged in Cold Spring.
MS: Although so much about the project is embedded in upstate New York, could you do Cold Spring in another city? Is there a way to keep this work alive?
SG: Cold Spring as a composition is a completed and fully designed work. The modular structures used in Cold Spring to integrate the archival materials is transportable to another set of conditions, and I am currently trying to raise funds to produce a "Cold Spring-type" work that utilizes the Prinzhorn Archive in Heidelberg. I'm also interested in the Puget Sound in Washington State.
MS: You often say to me that you will not be a "young, affluent, European composer" and I somehow know what you mean—your approach is not the most likely to yield a string of commissions from the music community in Europe that has the funding to pay professional-level commissioning fees along with the production expenses needed for your work. It would be wonderful if the major opera houses in the USA would be interested in experimental work, and they could be, but for the moment the programming has remained conservative. (Note to opera programmers: This work is important! Let's do it!!). So, in 2011, what does it mean to be a young, not affluent, American composer, making work without the ongoing support of an academic job? What do you feel is the right ecology for your work?
SG: When I came up with that saying, I was a befuddled student responding to what I saw as a curious style of professional modernism in academia with a bubble economy of expressionism. I was glad to be able to keep inventing and implementing my work within the context of large-scale intermedia experiments and my process grew organically out of years of rehearsal. This included all kinds of surprisingly musical tasks including the invention of an impossible musical language based on reconstructions of the Neanderthal vocal tract that I spent three months training actors to speak.
As an artist, my work flows from my commitment to creative research. I have found support for my work through many different means, primarily by cultivating my own methodologies at the boundaries of performance art, through working on sound and film with Catherine Sullivan, and many other collaborators. It was never a question for me whether the work would continue outside of academia, since my time in school was used to fortify my process and my creative relationship to the archive. I'm not sure where the right ecology for my work is, but I know it must involve a fantastic library. I'm always looking for the right fit. I'm taking suggestions.
*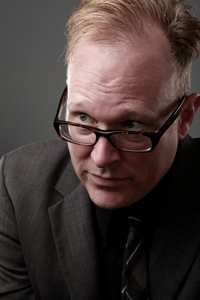 Sean Griffin
Sean Griffin lives and works in Los Angeles. Encompassing many languages, styles, media and forms, Griffin's unusual compositional works rely on interdisciplinary incongruities positioned at the intersection of sound, image, performance, and the archive. His works manifest as large and small-scale operas, collaborative installations, complex numeric choreographies and historically weighted performance works. His works have been presented internationally at venues including Los Angeles' REDCAT, Armand Hammer Museum, and LACMA, June in Buffalo, Berlin's Volksbuhne, Secession Vienna, London's Royal Academy and the Tate Modern, Festival d'Avignon, Taipei City Arts Festival, Walker Art Center, Centre Pompidou, and Festival BOM 2010 in Seoul, Korea. He recieved an MFA from CalArts and a Ph.D. from the University of California, San Diego.