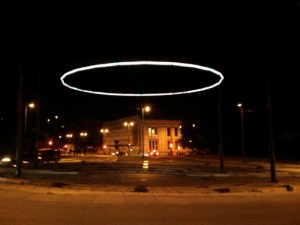 Thanks to a staff exchange program sponsored by the International Association of Music Information Centres, I spent last week in Oslo at the Norwegian Music Information Centre along with my colleague, Jonathan Grimes, from Ireland's Contemporary Music Centre. Like my IAMIC staff exchange in Germany last year, the week was a hands-on explication of how another music information center operates, as well as a complete immersion into the musical life of another country. But having someone else along at the same time made it something even more than that; it gave us both an opportunity to compare our own experiences and turned it into a three-way exchange.
It was extremely instructive to discover the ways in which our centers operate similarly, as well as the ways in which we are completely different from one another. For example, the extensive database of Norwegian repertoire maintained by the Norwegian MIC is not all that different from the one maintained by the Irish CMC and indeed our own AMC Online Library, although ours is populated directly by the composers or their publishers and contains quite a bit of rich media. Norway's center has a high profile web magazine called Ballade, which on the surface seems like it might be the Norwegian NewMusicBox except it's in Norwegian. On further inspection, however, Ballade is more geared toward music industry news which makes it more along the lines of a Norwegian Billboard. The center additionally hosts a site in English that is more advocatorial in approach. The Irish CMC does not have an independent web magazine, but Jonathan does a lot of interviews with composers that are not all that far afield from the Covers and Spotlights we offer on NewMusicBox.
While we are the only one of the three centers with a 24/7 internet radio service, the Norwegian center has an immersive webcast hosted by the encyclopedic Guttorm Andreasen, a.k.a. DJ99. (He would have finally been able to fully explain to me the difference between death metal and black metal during a Chinese meal we shared had I not had to run off to a ballet performance. What I was able to glean from what little time we had to chat is that death metal is lighter.)
To date, the Irish center has been devoted almost exclusively to the dissemination of contemporary classical Irish music. We have aspired to a broader stylistic range ourselves, but the Norwegians actually promote music in all genres and, for example, black metal bands can apply for tour support just as easily as new music groups can. And none of our centers are involved in an activity quite like Norway's Transposition, an initiative designed to build up the infrastructure for classical music performance in Vietnam involving a partnership of a group of organizations based both in Norway and Vietnam.
There's a sense of altruism to the ways these folks operate that was extraordinarily refreshing. But that's in part because things seem to be so good at home. Norway is actually approaching its goal of having 1% of all government revenue go to support the arts—everything from musical performances to translations of Norwegian poets and novelists. And there seems to be a wide spread appreciation for the arts in all their glorious variety in Norway's capital city—from quotes by local playwright Heinrich Ibsen scattered on sidewalks all over town to the greatest amount of public sculpture I've ever noticed in a city, and some of it was quite radical.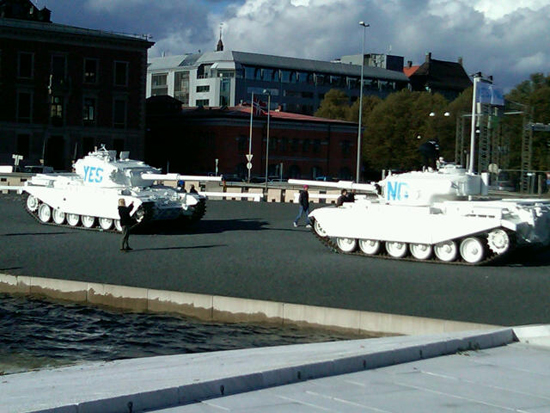 The variety of musical offerings were astounding. In three days, I heard an electronic score for a theatrical production, an orchestra accompanying a ballet, and a jazz quintet in what was possibly the most perfect performance venues I have ever been in for a jazz performance—a strange hybrid between a club and a theater where anyone could relax in a comfortable chair and keep a drink on a table, yet everyone was facing the music and was completely silent while the musicians were playing.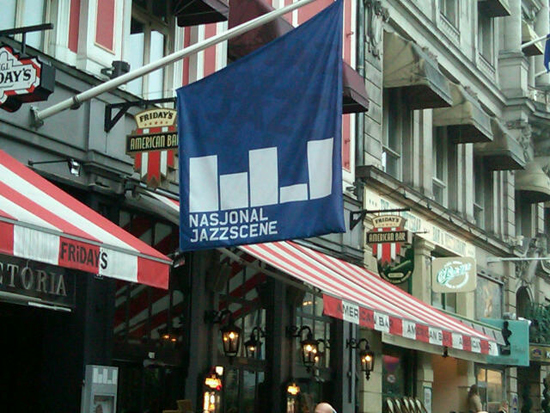 But perhaps the most unusual musical experience I had while I was there was a visit to see a microtonal organ built by 20th century Norwegian composer Eivind Groven (1901-1977) which his family still maintains in his former home workshop in a more rural neighborhood within the city limits of Oslo.
After a week, Oslo did indeed seem like a paradise for someone who wants to devote a life to music. When American composer Rob Waring first visited Norway thirty years ago, he felt much the same way as I did and wound up moving there.
But admittedly the $15 beers were a bit of a financial challenge and the $40 LPs were completely beyond my reach. Without a Norwegian salary to support my typical lifestyle, it's good to be back home.