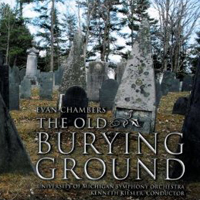 As anyone who shares composer Evan Chambers's interest in historic cemeteries knows, there is often a very rich world on display just inside the gates. A catalog of family histories, and often their tragedies, is carved into the stonework.
Chambers took his experience of these gravesites, particularly a visit to The Old Burying Ground in Jaffrey, New Hampshire, and set a collection of epitaphs and new poems reflecting the suffering and the peace he found there. The resulting composition is a nearly hour-long work for orchestra and three vocalists—one a folksinger and the other two singing in a classical style.
"The piece is folk-inspired classical done really, really right," Tim Eriksen, the folksinger featured in this recording, says of the piece in the video embedded above. "I sort of hear it as half way between Rite of Spring and Appalachian Spring."
Indeed, the classical voices travel comfortably alongside the sweeping strings, and the folksinger (American folk style/Sacred Harp) seems to stir the orchestra, the slight tension in the uncommon juxtaposition agitating the sonic field to intriguing effect. Eriksen's striking performance proves to be a disc highlight, though the University of Michigan Symphony Orchestra, Anne-Carolyn Bird, and Nicolas Phan all turn in excellent performances. There's an echo audible in the recording of the solo narrator, his voice likely left to ring through the performance hall, but the intimacy of the text might have been better served by a closer mic'ing.
Chambers's score is generally lush and sweepingly cinematic, the orchestra allowed to step forward as an equal partner with the narrators and singers. In two of the work's stand-out sections—"O Say Grim Death" and "Oh Drop On My Grave"—the ensemble shows some percussive bite, pulling the work away from its more reflective course. I found the emotional variety of these darker, sharper expressions particularly engaging.
The selected texts themselves avoid clichés, and instead illustrate a poetic sadness and stoic practicality in the face of death and the indifference of passing of time. "Whatever thoughts there may have been,/whatever worries and struggles—/are lost in the uncut grass," the narrator says, reciting a poem by Richard Tillinghast. "…The stones yield their names to the weather."