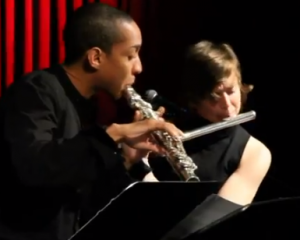 The six pieces showcased below were all performed at the kick-off event for the MTC Studio, held at 92YTribeca on October 15, 2010. The evening featured performances, videos profiling the featured composers, and on-stage conversations with each of them. Now New Music USA is going back into MTC's archive and bringing these performances out for the world to see.
These videos were shot by Jeremy Robins, Hope Hall, and Steve Taylor and the audio was recorded by Zach Herchen. They were produced and edited by Jeremy Robins.
Included in the video gallery below:
—Tim Feeney plays Binge Delirium by Yu-Hui Chang.
—Claire Chase and Eric Lamb of ICE play Edgewater by Marcos Balter.
—Wendy Richman and Tim Feeney perform Two Hand by Ken Ueno.
—Yevgeny Kutik and Tim Bozarth perform Supernatural Love by Kati Agócs.
—Glenn Kotche performing his own piece, Projections of What Might.
—Dohee Lee performs her Gut Ritual, inspired by Korean shamanism.