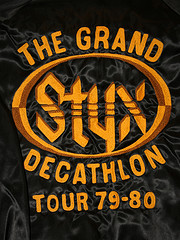 Colin Holter's recent post considers what might happen to the music industry if rock and pop acts resolved to only play and record their own established hits and other cover songs. While his point centers on the interpretative possibilities that might arise from such a scenario, it got me thinking in a different direction and I homed in on one of the post's comments, that that is pretty much what the big groups are already doing. A rock band spends a lot of time, and sometimes the majority of its time, performing and touring its own "standard repertoire" for fans who know and love those songs. This is how the band makes its money (supplemented by other aspects of a tour like swag sales and autograph sessions), and it is a fact of life. However, the bands that have been touring for decades will tell you that this in and of itself is very boring indeed, and that they do it in order to pay the bills as well as to continue writing and recording new music. Often times they will throw in a new song or two amongst the old favorites in hopes of keeping long-time fans hooked and attracting new admirers (in fact, one could argue that a lot of aging bands are just as concerned about bringing younger audiences to their music as the world of classical music is to creating a new generation of listeners). While the fervor for new material may not be as strong as for the favorites of the past, this system works well enough to keep groups like The Rolling Stones, Styx, Yes, Asia, AC/DC and plenty of others in business and touring around the world on a very regular basis.
This isn't so terribly different for successful classical composers, albeit on a much (much!) smaller scale. Composers also have "standard repertoire", that is, the compositions that are performed frequently over the years and serve in part as calling cards for that composer's work. Steve Reich's Music for 18 Musicians, Joseph Schwantner's Sparrows, Eve Beglarian's Robin Redbreast and Jennifer Higdon's blue cathedral, are all examples of such works. Repeat performances keep the work alive and the income stream (of whatever size) flowing, while the composer puts the majority of her/his energy into creating the next piece.
I think that this aspect of life as a composer—keeping the "older" pieces up and running—is one of the most difficult to keep track of, especially for those of us who are not also performers able to execute our own work. Because, just like the rock bands will tell you, it's kind of boring and doing new things is a lot more fun and interesting. However, for the bands, going on tour and playing those songs is a non-negotiable part of the job. Although we may not have binding contracts, keeping the work alive is a crucial part of the venture for all of us.
So when I'm awake in the middle of night, binding scores or printing CD inserts, I just remember that I am incredibly fortunate that people want those scores and those materials enough to pay money for them, and that this is what the gig is about. Someday there might even be a t-shirt!