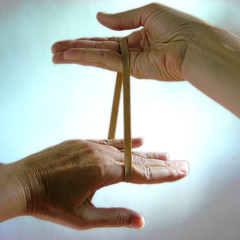 Anyone only briefly acquainted with classical concert music of any color has likely had occasion to witness one of the most ubiquitous bluffs in the concert world: presenting one or more works from many years ago as an example of "contemporary" music. I can't count the number of the times I've seen Shostakovich or Copland billed as representing contemporary (or variously, "modern") music; and I've even been to a few so-called "new music" concerts where every piece on the program was from the last century. And don't get me started about performing competitions that require performance of one "modern or 20th century work" along with the obligatories, as if the 21st century never happened.
The advantages to the perpetrators of these myths are readily evident. Often caught between fulfilling grant and trustee obligations, winning kudos from critics, and the need for programming that fills seats, major music organizations see the programming of truly contemporary works as something worth touting as much as possible and putting into practice hardly at all.
This stretching of the truth goes on both very baldly and implicitly. Most orchestral concerts featuring a lone 20th century work give the impression that the music of Bartók or Bloch or Barber represents the most adventurous flavor worth sampling. Similarly, I'm all for Pierrot Lunaire, but I can't stomach a composition composed nearly a hundred years ago being billed as part of a contemporary music concert. If we're not really going to program new music, let's at least be honest so we can see how precious little new music there really is—all the better to test the assumption that a fresh work written in the listener's own time would really be any more off-putting to closed ears than one more performance of a 20th-century masterwork.