Einstein on the Beach is not the only production celebrating a silver anniversary this year. I'll give you three clues to guess the other show that made it's pilot run in 1976: 1) Frozen silhouettes that come to life; 2) a "hi-tech" board involving flipping panels; and 3) you probably watched it with either your parents or grandparent. Show me the answer…Family Feud! Yes, this pinnacle of game show kitsch aired on ABC for the first time in the fall of 1976, right around the time when Einstein premiered at the Met (to give you a little cultural context). Family Feud, whose victors proved that they were more in-tune with the "public" than their opponents, reflected America's obsession with polls, which lives on today and is obvious each time you log on to CNN.com. This month we "surveyed" 44 recordings of new music, and we have with us two "families" who will battle it out on the sea green and pink soundstage for the honor of their family name, or -ism as it were. I won't determine who the host was because I am sure each person has a personal preference. On the left, we have the Minimalists: Grandaddy La Monte, Phil, Steve, Cousin Terry from the West Coast, and Uncle Tony, the exiled partner of Grandaddy. On the right, please welcome the Serialists: Father Schoenberg, Uncle Milty, Anton, Pierre, and Onkel Karlheinz. Minimalists and Serialists come on down…Oops! Wrong show. The topic? New recordings being released in November: name one of the top eight categories of music in this month's SoundTracks to win points. The winning team will earn a prominent place in history!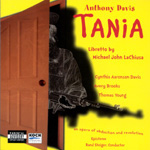 Grandaddy La Monte rings in first. "Orchestral music". Survey says…ding! Orchestral music comes in at number 5, with four recordings containing either purely orchestral or a combination of orchestral and choral music. John Williams strays from film music on a new disc featuring the Boston Symphony Orchestra with two pieces for violin and orchestra, including TreeSong, which is Williams' attempt to connect with the Chinese dawn redwood that he used to admire in the Boston Public Garden, a species that dates back to the Mesozoic period. Five women composers form the roster of A Portrait of American Women Composers, the second volume in this series featuring orchestral works by Norma Wendelburg, Marilyn Shrude, Anna Larson, Janice Misurell-Mitchell, and Paula Diehl. Two thumbs up for Paula Diehl's use of the ratchet. The text of Henri Lazarof's Choral Symphony features eight languages and the vocal lines are beautifully integrated into the dense texture of his orchestral writing. A new recording of Anthony Davis' surreal 1992 opera, Tania, addresses the mysterious kidnapping and subsequent metamorphosis of Patty Hearst into the militant, gun-toting Tania. The libretto, by prolific music theatre composer Michael John LaChiusa, pairs each character in Patty's life (including herself) with an analogous member of the Symbionese Liberation Army.
Looks like the Minimalists have control of the board. Moving down the line, Phil throws in his guess: "Philip Glass CDs?" which is met with a big red X. We did not receive one recording of Philip Glass' music this month! One strike against the Minimalist team.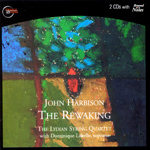 Steve shoots a look at Phil, then says quietly and slowly, "Chamber music perhaps?" Survey says…Ding! Chamber music ranks number 6. We received four CDs that included chamber music, two of which contain compositions by Dan Welcher. The Austin Chamber Soloists produced a recording of traditional chamber music by Donald Grantham, Welcher, and Kent Kennan. Furthermore, an all-Welcher CD, White Mares of the Moon, highlights his rhythmically intense story-telling abilities as he recounts scenes from Greek myths. Welcher doesn't have a complete monopoly over the category though, for the Kronos Quartet and Steve Reich paired up once again for a recording of Reich's Triple Quartet, played here with two tape parts and Kronos playing the other part live. Steve hopes that no one notices that his team had inside information guessing this one. He did know that this recording was coming out this month because it was his own, after all. While scanning the audience for suspicious figures, he thought he saw Onkel Karlheinz out of the corner of his eye whispering something to the "young" Pierre but thought nothing of it, for the Serialists had been whispering the whole duration of the game, plotting their victory. The final example of chamber music this month is John Harbison's The Rewaking, showcasing a quintet formed of 2 violins, viola, cello, and soprano.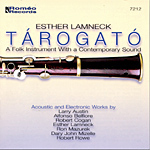 Terry, the West Coast cousin, ponders over his response, while the others on the team strategize. Finally, he comes out with "Indian raga?" Strike two. Sorry Terry. All hope now rides on Tony, for one more incorrect response relinquishes control of the board to Father Schoenberg and the Serialist family. Of course, Tony has had his issues with La Monte ever since their falling out over copyright issues in the '70s, so everyone wonders if he will be loyal to the Minimalist team. Total silence blankets the stage. Finally, he speaks. "Music for the tárogató." Obviously trying to get revenge on team leader Grandaddy La Monte by choosing music for an obscure, oboe-saxophone hybrid instrument, the rest of the team groans. But surprisingly, although not one of the top eight, we did receive one CD featuring tárogató master Esther Lamneck and compositions for the rare instrument including one by Ms. Lamneck herself involving live digital delay called Settings.
Despite the release of this recording, control of the board turns over to the Serialists who are huddled together discussing their answers. Gentlemen? Father Schoenberg clears his throat and says with a thick German accent: "Musik zat vas scored originally for sixteen player pianos." A strangely cryptic response; one can only hope that the rest of the team doesn't follow his example. By chance, a revised version of Francophile George Antheil's Ballet Mécanique was released this month along with his Serenade for String Orchestra No. 1, Symphony for Five Instruments, and Concert for Chamber Orchestra.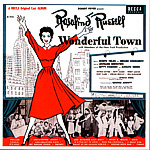 The weight of the Serialists victory now rests upon Uncle Milty, who announces calmly and confidently, "Musical theater." Ding! Having received six recordings of musicals this month, this category ranks at number 3. A re-release of the original cast recording of Bye Bye Birdie about a small town turned upside down by rock n' roll is the best known of the pickings. Bernstein makes a dual appearance in this month's collection, first with a disc of music performed by soprano Felicity Lott and pianist Graham Johnson with his beautiful and simple song "My House" that I remember fondly from my days in voice class. This disc also includes works by Cole Porter, George Gershwin, and Samuel Barber. Bernstein's second showing is a powerhouse re-released celebration of vintage New York containing all the songs from his hilarious 1953 Broadway show Wonderful Town and selections from the ever-popular On the Town. "The Bronx is up and the Battery's down…" Watch out for this one. It could lead to obsessive listening for musical lovers. Wonderful Town shares a team of lyricists with another show of the period, Two on the Aisle, that while not as catchy as the former, has a number of great lines and fun tunes. The "lovely love" of musicals reappears as its darker twin in Vincent Youmans' murder/love drama Through the Years, which was rediscovered and recorded this year. Jerome Moross's jazzy tunes also rose from the ashes this month on Windflowers, a retrospective look at his career including songs from Underworld, The Golden Apple, and Ballet Ballads.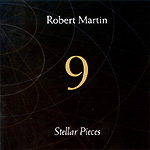 Still in control of the board, Anton comes up to bat, confident that his answer is the right one: "Music for solo instruments." Show me "Solo Instruments!"…Ding! Solo works comes in at number 7, with three discs featuring single performers. On the piano, gold medalist at the 11th Van Cliburn International Piano Competition Olga Kern plays virtuosic pieces such as Samuel Barber's Sonata for Piano and Judith Lang Zaimont's Impronta Digitale. Terry Winter Owens throws her deeply emotional, somewhat supernatural piano compositions from Exposed on the Cliffs of the Heart into the mix. And elevating his inner voice into the heavens, Robert Martin contributes Stellar Pieces, a collection of nine celestial works for various solo instruments drawing inspiration from nine different stars.
With the Serialists in the lead, we must pause for a short commercial break.
"The songs of Ben Yarmolinsky, all available now on his new disc In Lieu of Flowers. Hear favorites such as 'Lydia', 'Exercise', and 'Supermodel Goddess'. His rhyming, humorous lyrics are something else… Get your copy today."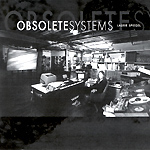 Back to the Feud, Pierre takes the mic and makes his guess about which category of music comprises the most CDs in SoundTracks this month. "I would like to guess electronic music, please." Show me "electronic!"… Ding! The number 1 answer has been found! Seven of the 44 recordings received this month contain electronic elements. Working the electro-acoustic front, Diane Thome offers up four high-energy pieces for computer-realized sounds and various acoustic instruments on Bright Air/Brilliant Fire. Her colleagues at the University of Washington put together a compilation of Music from CARTAH, including electro-acoustic works by Bret Battey, Richard Karpen, Linda Antas, and William O. Smith, as well as completely computer-realized works contributed by Ron Averill and Elizabeth Hoffman. Laurie Spiegel goes back in time on Obsolete Systems, a recording of pieces she wrote for combinations of tape, analog synths, and the now-vintage Apple II during the '70s and early '80s. Deborah Thurlow adds her horn and composition talents to creepy yet stunning new works for horn, theremin, and electronic devices on I am, which also features music by Clive Smith, Eric Ross, and Yaacov Mishori. Other artists have moved more into the realm of inventing new instruments. Chas Smith uses a variety of his self-invented instruments with names such as the copper box, mantis, majestic, and my personal favorite, Guitarzilla. His crunchy, metallic sounds are reflected in the title Aluminum Overcast. Smith also plays pedal steel guitar on Rick Cox's new release Maria Falling Away, documenting the last ten years of Cox's compositions and featuring various forms of electric guitar and acoustic instruments. Finally, check out a collection of digital music from innovator Richard Lainhart, called Ten Thousand Shades of Blue, a bow-crazy mix of digital processing with bowed tam-tam, bowed Japanese temple bells, and bowed/struck vibraphone.
With the taste of success still on the lips of the Serialists, Onkel Karlheinz is up. He is incredibly eager to please, for he has found himself rather unpopular lately, and feels the eyes of his team and opponents burning into him. But Pierre stole his answer! He gropes around for another and sputters: "Film music?" Strike two for the Serialists! Father Schoenberg shoots him a dirty look and the rest of the team mutters. Although we did receive a CD featuring Bernard Herrmann's scores of The Snows of Kiliminjaro and 5 Fingers, so if you're looking to add a little drama to your mundane life, this would make an excellent soundtrack!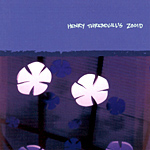 With only one chance left, the torch is passed back to Father Schoenberg, who is still reeling from Karlheinz's mistake. Arnold? "Yes. Experimental jazz." Ding! Correct! The last on the list, three experimental jazz CDs found their way onto my desk this month. Two of the discs (Everybodys Mouth's a Book and Up Popped the Two Lips) are from Henry Threadgill, whose gestural compositions create a dialogue based on the self-authored poems in the liner notes. Drummer/composer John Hollenbeck's No images compiles six pieces with a visual connection, whether it is the vision of Dr. Martin Luther King, Jr., poet Waring Cuney's imagery, or simple synthesia, where each tenor sax plays a color.
Uncle Milty lets the team down however, with his next answer of "Songs of DeSylva, Brown and Henderson," and control of the board is passed back to the Minimalists.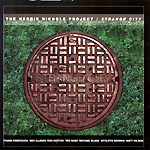 Grandaddy La Monte posits that one of the answers might be simply jazz and comes up with the number 2 answer. Apart from gestural, experimental styles, six discs of new music for jazz combo are also being released this month including an exciting new disc from the Herbie Nichols Project called Strange City, giving a new forum to the underrated compositions that Herbie used to play solo at comedy clubs and strip joints around New York. Jay Clayton's percussive vocals supported by a standard jazz quartet guide another dynamite disc dedicated to this strange city on Brooklyn 2000. Tenor saxophonist/composer David Sills' second album Bigs is playful and complex, containing songs such as Shark-eez, which mischievously quotes the theme from Jaws. Meanwhile, Sarah Jane Cion's lyrical, graceful compositions resonate with the influences of Bill Evans and Chick Corea on Summer Night. Not feeling mellow? Pop in the Dave Holland Quintet's Not for Nothin' for high-energy, highly syncopated action. Finally, start swingin' those hips when you listen to Rick Davies and Jazzismo, Latin-infused Salsa Strut, which creates complex variations on salsa, chacha, bolero, and son-montuno rhythms.
Inadvertently, Steve wonders where the blues albums are. "What about the blues?" Strike one! Apparently the host confused his question with an answer, but it is too late. The red X has been given. The only thing close to the blues is a New Orleans-style album by harmonica player and composer T-Bone Stone called I Smell Catfish, whose songs lament the loss of his love.
Despite the host's mistake, the Minimalists are still just one guess away from winning that place in history. Phil wonders if there was any Native American music featured. Strike 2! Although, there is Mahkato Wacipi, an amazing double-disc by the Lakotah and Dakotah nations commemorating the U.S.-Dakotah Conflict of 1862, which culminated in the hanging of 38 Dakotah warriors. The disc documents the events with stories, traditional music, and new works by Lakotah and Dakotah composers.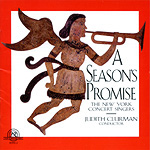 Now the pressure rests on Cousin Terry from the West Coast, and the Serialists are very nervous. Silence descends on the studio stage and finally he utters relatively nonchalantly: "Religious music." Survey says…Ding! Around the beginning of holiday season, five new recordings featuring Christmas and/or sacred music were released this month. This certainly isn't your traditional Christmas music though. A recording of Phil Kline's annual Greenwich Village musical event Unsilent Night has been released featuring the holiday soundscape of folks wandering through New York City with boomboxes playing magical electronic music. A Season's Promise is a collection of contemporary choral Christmas pieces featuring works by Ned Rorem, Stephen Paulus, Libby Larsen, Jennifer Higdon, and Dave Conner. Meanwhile, organist/composer Leonardo Ciampa meditates on the birth of Christ through a series of organ pieces dedicated to the event on the second volume of No Room at the Inn. Not necessarily associated with Christmas, but certainly Christian in inspiration, two recordings for choir and organ are also included in this category. First, We Praise Thee, O God, a retrospective of Charles Beaudrot's church music and in a similar vein, the Sacred Choral Music of Robert Evett is performed by Musikanten.
Well, it looks like the Minimalists have taken the game. They have rightly earned their…Wait! It seems as though Onkel Karlheinz is approaching the host. He whispers something… It seems as though Onkel Karlheinz finds a flaw with the fact that the Minimalists received points for guessing chamber music, when one of Steve's own discs was included on it! The host agrees that it may not have been a fair victory and turns it over to the judges. The Minimalists protest but it is of no use. The judges will be deliberating for a while and their decision is uncertain. Will just the Serialists or just the Minimalists win a place in history? Or will the judges decide that it will simply be a draw? Stay tuned.