In 1999, I wrote a piano piece (with bowed piano and Tibetan bells) for Costa Rican choreographer Sandra Torijano-DeYoung called Doble Viento (Double Wind). The piece was dark and moody. It was an extended scene depicting a mentally ill street person discovering her strength and identity. The piece needed work if it was going to stand as an independent musical score, however, so over the next year I converted it to a longer four-movement work, starting with a piano sketch and then orchestrating it out to a full symphonic score. I proceeded to exhaust my contacts at no less than 12 major orchestras around the U.S., and mailed out a MIDI version as well as a two-piano version (Does anyone else do two-piano scores anymore?)
I received one response, from the Austin Symphony, which commented that the string parts were pretty tricky. That was it. The piece lay dormant until the summer of 2007 when, while I was camping in the Upper Peninsula of Michigan and trying to start a fire with the Detroit News, I read that Leonard Slatkin was attempting some interesting approaches to programming—including a season devoted to "Latin" music. I thought that since the piece was so deeply tinged with Latino/Latina blood, I'd call it Tango Symphony and send it to him. Upon return from camping I probably procrastinated a month, then sent it in. I heard back within another month that he liked the work and would like to program it. That was it.
I procured a grant from the Composer Assistance Program at AMC, enlisted a stealthy graduate student (David Beidenbender—who was amazing), and assembled parts for a premiere during the 2010 season. Then all hell broke loose. The orchestra's management needed to make huge cuts to the DSO, proposing massive reductions in salary for one of the nation's real jewels. Then blam—the DSO is on strike and it's a national news story. This ten-year-old piece was stuck again collecting dust.
I'll be honest: During the last year, I really was truly more concerned about the DSO's solvency than the vitality of my own piece or my career. I had given up completely on orchestra music (at least for me). That part of my life was over—and not so sadly, actually.
I watched the news carefully, almost daily, hoping against hope that they'd get this fine band back on its feet. There was even a big push at the end of November 2010 to get the orchestra running in time for the holidays, when undoubtedly they'd make a nice killing on a "holiday program" and possibly recouping some horrid losses. No go.
I gave up hope, worrying that perhaps the DSO would not be rebuilt at all. My piece would be minor collateral damage. Then I got a call on April 5, asking if I was available the following week for the premiere by the DSO of my piece, Tango Symphony. They had settled the strike that morning, or at least announced it, and were scheduling their first subscription concert of the season. I said, "Sure, I'll clear my schedule," despite the fact that it was week 13 of classes, known as "hell week" at the University of Michigan where I teach.
Then I pondered, "I wonder if anybody has ever been called a week before the first rehearsal of a premiere and asked, "Hey, buddy, can you make it?" I still don't know—history is both fuzzy and a tad too clean. All I do know is that I didn't have time to get excited or nervous. The parts were already in their library and clean, marked and ready. Relatives complained about the short notice, and students wondered about my absence. The percussionists and piano player had a little surprise in the score with some "unusual needs" (whirly vacuum tubes in G and bows for the piano—both of which I drove down to Detroit myself). I attended the three extensive rehearsals the following week, and the premiere went off to an enthusiastic, yelling audience and a very supportive (and glad to be back-to-work orchestra).
The DSO was back on track, and I was part of the fun. The review was great. Whew. What a thrill ride. I hope my next symphonic premiere is a bit more glacial in its realization, but I wouldn't trade this last month for a bag of gold. Now, dammit, I'm writing another orchestra piece. I guess I'm back in that saddle again. See you in 11 years, orchestra world?
***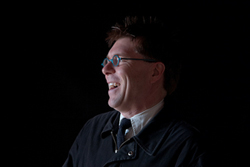 Stephen Rush
Composer Stephen Rush is a Professor at the University of Michigan, where he works with students from music, dance, art, and engineering as the director of the Digital Music Ensemble. Rush has had premieres in five continents, and released over 20 CDs, as well as a book on Jazz theology called Better Get It In Your Soul. Rush has premiered and recorded his music with major orchestras and performed with Roscoe Mitchell, Henry Grimes, Steve Swell, Eugene Chadbourne, Pauline Oliveros, "Blue" Gene Tyranny, his own band Yuganaut, and the late Peter Kowald.