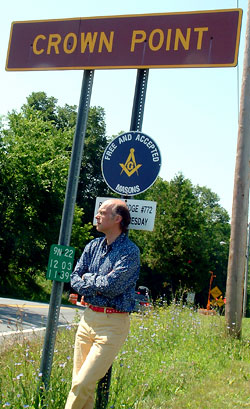 David Gunn (a.k.a. Damian)
I first heard of Kalvos & Damian in 1998 from a musician friend who was giving me suggestions on how I could promote my music. If you're a composer or new music performer looking for ways to get airplay, you've most likely come across Kalvos & Damian's New Music Bazaar, or K&D, the radio show and website that has been promoting living composers for nearly a decade. What you might not know, however, is that it will soon close shop, with its last broadcast scheduled for Saturday, September 17.
Based in Vermont, K&D is run by the dynamic duo of Dennis Báthory-Kitsz, a.k.a. Kalvos, and David Gunn, a.k.a. Damian, two zany yet dedicated composers who have sacrificed countless hours (and a great deal of money) in their tireless campaign to advocate for new music.
Kalvos and Damian are a pair to contend with. Their complimentary personalities help steer the K&D ship. Kalvos, a freelance techie when he's not composing, maintains the website and is proud that it has met accessibility standards since its inception in 1995. Although it may not win the award for graphic design, "the person with the dial-up modem and Braille Reader in a far-away country is going to be able to use our site," says Kalvos. Damian, a writer in addition to being a composer, supplied the nearly 500 essay-teasers for the show with titles ranging from "The Musical Heimlich Maneuver" to "Burrito Boy." They both split the rest of their endless duties at 100/100 each.
For those of us who have regarded K&D as an established resource for new music, it may come as a surprise to learn that K&D emerged as the result of an accident. Kalvos was called in last minute to host a 90-minute, 13-run summer show at WGDR and subsequently called on Damian to help him out. "We met in the early 1970s at a concert where Joel Cohen was beginning the Scott Joplin Renaissance," Kalvos remembers. Damian has a more colorful memory. "I was conducting Rorschach tests on whales at Casa Pagliano on the Italian Riviera when Bob, a beluga with acute borboyhmus, stared at one of the inkblots and, much to my consternations, chirped "Baaaaaathory…"
Their auspicious beginnings led to the birth of K&D's New Music Bazaar, which evolved into an invaluable outlet for musicians and music-lovers. According to Kalvos, K&D was one of the first radio shows to focus on new, NonPop (a term they coined) music that embraced the web when only a handful of websites existed at the time.
Their open-door policy of letting anyone and everyone, regardless of style or repute, appear on the show made way for beginning composers to share the same chair as established composers. "We wanted a show of the composers' personalities and music together, not one about stars," says Kalvos.
Not only did this grassroots outfit produce nearly 460 audio interviews featuring close to 280 composers, but they've also provided a forum for music lovers all over the world to chat, discuss, and even mentor one another through their website. They streamed live concerts, collected composers' essays online, and generated various local projects, including the extensive Ought-One Festival which allowed composers and performers from all over the world to gather in Vermont for what was billed as "the Woodstock of NonPop."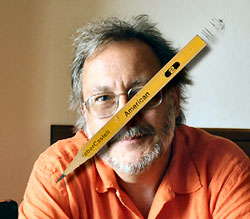 Dennis Báthory-Kitsz (a.k.a. Kalvos)
So why is the highly-regarded, Deems Taylor Award-winning K&D coming to an end now? It has come down to issues of time and economics. Both have day jobs and are in debt because of the show. "We were a radio show, not a nonprofit organization. We couldn't get grants. So, aside from the help from a few dedicated composers and listeners, it was a huge drain on [our] time and cash." (Contributions toward reducing the debt incurred by K&D can be made on their site.)
Although they've enjoyed meeting composers and performers across the globe (their K&D escapades included interview tours across the nation and in Europe), they've also had to put their own composing aside for too long. They realized they could no longer continue to promote other people's music and still be composers themselves. After a decade, they hoped to "put a little ribbon around the whole K&D package as a ten-year chronicle of the NonPop revolution." Anyone able to take over the annual maintenance fees (under 3K a year) will not be turned away.
Despite the completely understandable rationale for Kalvos and Damian calling it quits, K&D will be greatly missed. As someone who is guilty of taking K&D for granted, I certainly am grateful to have had them as a resource when I was starting my career as a composer. K&D served as a beacon of light. It gave hope to composers and conveyed the message that there is an audience out there who cares about new music. K&D also gave voice to composers of all backgrounds and provided a refreshing alternative to the standard radio playlist.
With the end of K&D, what does this say about the state of new music today? According to Kalvos, "The Golden Age of New Music had arrived, and it gave us a chance to bow out somewhat gracefully. Well, we're never really graceful…[There is] a whole generation of composers that didn't need us anymore…just seeing what's taken place in the past decade with the coming of age of thousands of composer and performers eager to play new music is a joy."
K&D's optimistic outlook holds true. With the emergence of composer and performer websites, blogs and internet radio shows (NewMusicBox, Sequenza 21, Brian Sacawa's Sounds Like Now, Marcus Maroney's Sounds Like New, Kyle Gann's PostClassic Radio, etc.) an increasing number of musicians are taking a proactive role in making their voices heard. The Internet gives access to anyone who takes the time to put up information about his/her music or create a journal online and continues to connect people across the globe with one another. I can personally attest to the impact a website can make in terms of networking and getting your music out there.
Fans of Kalvos and Damian can keep track of them on their personal websites. Current projects include a European tour of their music in October and several commissions for each of them from various ensembles including the string quartet Ethel, the Vermont Contemporary Music Ensemble, organist/composer Carson Cooman, and flutist/composer Su Lin Tan, to name a few. As for the invaluable content on the K&D website, it will remain in tact until they run out of money.
I know that I speak on behalf of many composers, performers, and music-lovers when I say that we are grateful to you, Kalvos and Damian, for your selfless contributions toward pioneering new music on the web. Thank you, K&D, for providing a forum for musicians and music-lovers to share their love of music with the world.