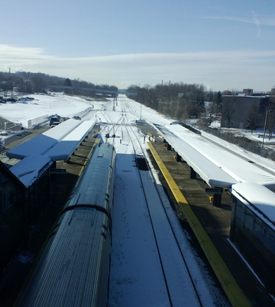 Sometimes it's more alluring to travel to an exotic faraway land than to get to know places that are proverbially right next door. I had roamed five continents before I ever visited Philadelphia (although I've been there countless times since) and I had spent time on all six habitable continents prior to my first trip to Canada in 2009. I've still never been to Far Rockaway, although I still hope to get there one of these days. Before this past weekend I had only spent a couple of hours in Albany, mostly to transfer between trains and buses. But on Friday, my wife Trudy and I got on what turned out to be the last train going from New York City to Albany-Rensselaer during the blizzard, and spent the weekend there in order to finally hear a live performance by the Albany Symphony Orchestra.
I've long been a fan of the Albany Symphony's recordings, since the orchestra, under the leadership of its music director David Alan Miller, has an extensive discography of American music, much of which is not available elsewhere—e.g. the second violin concerto of Paul Creston, the second piano concerto of Benjamin Lees, symphonies of Roy Harris, Peter Mennin, and Vincent Persichetti, and on and on. I've also long been impressed with the Albany Symphony's commitment to performing music by living American composers. As in previous years, every concert of the 2012-13 season includes at least one work by a living American. This past weekend's concert offered the opportunity to hear one of only three vocal works by Christopher Rouse that he currently acknowledges. Kabir Padavli, a fascinating 1998 song cycle for soprano and orchestra based on six poems by the 15th-century mystic poet Kabir, was gorgeously sung by Talise Trevigne, whose voice soared over Rouse's signature explosive barrage of timbres. They are recording the work later this week, so I suppose I could have wimped out and not trekked through the snow, but hearing it live in a concert hall is a fabulous aural experience.
The live experience was further enhanced by the remarkable acoustics of the Troy Savings Bank Music Hall, which is also one of the nation's more unusual venues. It was built in 1870 to house a bank on the ground floor with a concert hall directly above it. This was apparently commonplace in the 19th century, but this is one of the only specimens of such a dual purpose establishment to survive into the 21st that I know of. Over the weekend I learned that the bank closed this past year, which means that the future of the space is somewhat uncertain, but hopefully arts supporters will find a way to preserve what really ought to be a national historic landmark.
One of the most inescapable sights of the Troy Savings Bank Music Hall, apart from the all wooden walls and floors, which are only carpeted on the aisles (with miraculously unworn carpet), are the names of six composers which are emblazoned on the ceiling—Mozart, Beethoven, Handel, Haydn, J. S. Bach (so folks won't be unduly confused and think that it might be C.P.E.), and Chopin. I've long been fascinated by similar lists of names on the ceilings of the Tisch Center for the Arts at the 92nd Street Y in New York City and Amsterdam's Concertgebouw, particularly the latter since seeing it for the first time was my initial exposure to the Dutch composers Cornelis Dopper and Johannes Verhulst. Which brings me to my only pet peeve of the weekend. Though that list at the Concertgebouw is also filled with the usual suspects (including all six folks on the ceiling in Troy), those now lesser known local composers are there as well. Considering the Albany Symphony's reputation for championing the work of American composers, it's a shame that there isn't a single American composer listed up there. Then again, putting new names on that ceiling would somehow violate it. It is, after all, a pristine artifact of the late 19th century.
Indeed, as such, it is a very apt place to perform classical music which also is largely a phenomenon of an earlier era within which new components often seem to sit uncomfortably. The precarious balance between the past and the present in fact was brought home by the rest of the program on that Albany Symphony concert I attended. Despite featuring Christopher Rouse's song cycle as well as Zoltán Kodály's 1933 suite Dances of Galánta, the centerpiece of the evening was a performance of Beethoven's Emperor Concerto with pianist Yefim Bronfman. It was actually billed as the main attraction. The posters outside read "Bronfman Plays Beethoven" and so did all the ticket stubs. Not a word about Talise Trevigne and Christopher Rouse, let alone Kodály. It was actually a somewhat sad reminder that at the end of the day what got me to travel 135 miles north to attend this concert is not the same thing that brought most of the rest of the folks to the hall, at least if the way the concert was marketed is what drove attendance. (The hall was packed.)

Before I ever got interested in classical music, it baffled me that dead composers were more of a draw than living ones, but perhaps that's why classical music doesn't capture the interest of more of the general public. Had the signs and tickets read "Trevigne Sings Rouse Kabir Cycle" perhaps there could have been just as large, if not a larger audience, although many of the folks in the audience might not have been the typical classical music concert crowd. Admittedly, Rouse or just about any other living composer is not as big a name as Beethoven, which makes it a harder job to market. But shouldn't the marketing departments at all of our musical institutions be finding better ways to market the music of our time and place? Beethoven is championed the world over and doesn't really need our help at this point; but if we don't champion the music of our own composers, who will? And considering that the Albany Symphony has a better track record than most of our orchestras in that department, shouldn't that always be the message they put out front and center?
But ultimately this is a small quibble about what was otherwise a great weekend. Peering through the rest of the 2012-13 season, there are so many other Albany Symphony concerts that I want to hear so I plan to return as soon as I can. As I learned this past weekend, it's pretty easy to get there from here, even with feet of snow descending!