1. Ravinia's Beginnings And Now
FRANK J. OTERI: Well, Zarin, I want to thank you for meeting with me on this very hot Chicago day.
ZARIN MEHTA: It's sunny, though.
FRANK J. OTERI: It is sunny. It's very nice. Actually, meeting you here on the other side of town was a good excuse for me to get a walk outside of the hotel and to see a little bit of this wonderful city. Hot as it may be, it was great to walk by all of the fantastic architecture of this town. And as long as we're talking about the architecture of the city of Chicago, I really believe that Ravinia is part of the architecture and the infrastructure of Chicago and has been for over 60 years. So much so that people outside of Chicago are amazed to find out when they visit Ravinia, there's actually a train that runs—part of the Chicago Transit Authority—that takes you directly inside the festival, and it's a special train that runs during festival season, and unlike other transit systems in the rest of the world where trains run whenever they want, this train is designed to bring people back after the concert ends and not make noise during the concert while it's happening.
ZARIN MEHTA: Well, some musicians complain about the train and say: "Why can't we do something about the train because it goes by the park twice an hour?" And I say to them: "Look, if the train didn't go through, Ravinia wouldn't exist." Because it's the train company that started Ravinia in 1904, as a way of getting people out of the city into, what was then, basically, the country, and they created a family entertainment acreage, with carousels and baseball diamonds and theatres and steam calliopes and a Pavilion for concerts, and in the early part of the century, the New York Symphony [now the Philharmonic] played there for about 15 years, all the greatest opera stars came through Ravinia, and stayed for 2 months and sang semi-staged opera. I mean, major names of the past, like Giovanni Martinelli, Elizabeth Rethberg…It was unbelievable, the people that came to this little village north of Chicago to sing Lohengrin and Faust and things like that night after night.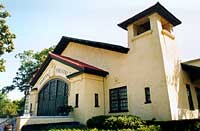 Martin Theatre
photo by Melissa Richard
FRANK J. OTERI: And, from almost the very beginning, Ravinia has had also a rich tradition of jazz musicians coming and composers and conductors. George Gershwin performed at Ravinia…
ZARIN MEHTA: When Ravinia, as we know it now, restarted after the Depression in '36 with the Chicago Symphony in residence, we engaged the Chicago Symphony to play — people think it was the home of the Chicago Symphony. The Chicago Symphony as such has nothing to do with the organization; it has nothing to do with Ravinia. They're two completely separate organizations. And we do 8 weeks of concerts with the Chicago Symphony. The rest of the time to keep the park busy and to, frankly, bring in as many different kinds of people with different tastes and so on as we can, we do jazz and we do pop and we do world music and we do chamber music. Gershwin played here; Benny Goodman did a repeat of his Carnegie Hall concert a couple of months after Carnegie Hall…
FRANK J. OTERI: Wow, this was the legendary 1938 concert…
ZARIN MEHTA: Right.
FRANK J. OTERI: …which goes down in the history books as the very first time that white and black jazz musicians played together. It's actually not true, because Jelly Roll Morton in 1921…
ZARIN MEHTA: Well, you know, at the turn of the century, white and black musicians played all over the place together. That was before segregation became fashionable, I guess! But in terms of jazz, for instance, last night, we opened our 64th season with a concert featuring Ramsey Lewis in the first half and Herbie Hancock and Wayne Shorter in the second half. And they, both their sets, impromptu, played tribute to two jazz greats who sang, I don't know how many times, at Ravinia: Joe Williams and Mel Torme, and they both did a tribute to them.
FRANK J. OTERI: Wow.
ZARIN MEHTA: Mel was from Chicago, Joe was from Chicago, Herbie's from Chicago, Ramsey's from Chicago, so it was like, you know, a very emotional period and they got a standing ovation for doing it.
FRANK J. OTERI: Does the festival begin every year with jazz programming? Is that the tradition?
ZARIN MEHTA: Well, yes, we started this in '91, starting with jazz, and we've essentially worked it out on the basis of when we think is the right time to do it. Last year we started with the Joffrey Ballet and then did a week of jazz. It depends on when people are available. This year we started with jazz; we're doing Joffrey next week.
FRANK J. OTERI: Right.
ZARIN MEHTA: So the following year, I think we're starting with jazz again.
FRANK J. OTERI: Now, you say ballet at Ravinia, I've been to a number of performances over the years, but I've never gotten to see any of the dance. You actually stage ballets outdoors in the Grand Pavilion.
ZARIN MEHTA: We stage ballet, but it's not ballet in the traditional sense, since we don't have any way to do scenery. It really is modern dance, if you like. One set, we can do lighting. There's not that much space offstage, so we have flats, there's about 10 feet on either side of the flats, so it's more static scenery type dance.