2. Introducing Music Through a Summer Festival
FRANK J. OTERI: We always talk in the classical music industry about how we are going to get more people into the concert hall and how to attract new audiences. What do we do about new venues? Well, Ravinia, for this entire century, has presented an alternative way of getting people to music. It's not just about sitting in the Pavilion, which, by the way, for anybody who's never been there, is perhaps the most amazing acoustic I have ever heard in an outdoor space…
ZARIN MEHTA: Thank you.
FRANK J. OTERI: It's phenomenal that this is outdoors and still has the sound of a great concert hall. But for many people who visit Ravinia, they don't even enter the Pavilion; they're sitting outside around the Pavilion having picnics with their children, their families, having a good time, having a bottle of wine and sandwiches and what have you, and getting introduced to a wide range of music from the great symphonies of Europe's past to jazz musicians, to world music, to whomever, and this is a wonderful alternative to the concert hall.
ZARIN MEHTA: Let me back up a minute and say that the raison d'être of the festival is classical music. Yes, we do jazz, which I think is classical music. We also do a lot of pop, a lot, twenty nights of it. But it's not because of the pop, it's because of the Chicago Symphony, the Martin Theatre, the chamber music concerts, the jazz concerts, etc. We feel an obligation in a way to say this is the way to get more people than normal used to listening to classical music. There are two aspects to it. First of all, there's the ambiance of the park. You say the Pavilion has wonderful sound: I agree with you. But also we have excellent sound out on the lawn. Now a lot of people don't want to come to a symphony hall in the winter and spend $60 or $70 listening to music that they haven't grown up with, and wonder if they're going to like it or not like it, and make that commitment. I think what we do and what other festivals ought to be doing is to encourage the young people to come out and sit on the lawn, picnic, have a glass of wine, socialize. . . At 8 o'clock, the lights dim. We put out signs saying the concert is about to start, people sort of keep quiet, and they sit down, lie down, whatever, some walk around a little bit, and they listen to music on the loudspeakers. Now you could say they can do that on the radio as well, but not in a convivial atmosphere with 6,000 other people. That's what makes the listening pleasure different than sitting in your backyard and listening to it by yourself.
FRANK J. OTERI: And not among nature…
ZARIN MEHTA: Right.
FRANK J. OTERI: One of the things that I found so remarkable when I came here last summer was I came to hear a performance of one of my favorite orchestral pieces, Olivier Messiaen's Turangalîla Symphony…
ZARIN MEHTA: Yes.
FRANK J. OTERI: …which, I would dare say, sounds better outdoors than indoors, because Messiaen's all about bird sounds.
ZARIN MEHTA: Nature.
FRANK J. OTERI: You really understand the piece hearing it outdoors in ways that you never can in a concert hall, or on LPs or CDs or on the radio. It's the ideal medium.
ZARIN MEHTA: And, you know, we also have to challenge the public. For that Messiaen Turangalîla, we coupled it with Itzhak Perlman playing Tchaikovsky, which might sound strange, but it got 3,300 people in the pavilion and 10,000 people on the lawn. At the end of Turangalîla, of the 3,300 I would guess 2,500 people were still there.
FRANK J. OTERI: That's wonderful.
ZARIN MEHTA: And if you remember, they stood up and cheered.
FRANK J. OTERI: Yes, they did.
ZARIN MEHTA: They never heard it before, I'm sure. Those were not Messiaen Turangalîla fans that were there. They were Itzhak Perlman Tchaikovsky fans. They stood up and cheered for the Turangalîla, and of the 10,000 people I have no idea how many people stayed for the second half, but I would think 80 or 90% of the 10,000 people on the lawn stayed. I think that's remarkable.
FRANK J. OTERI: That is tremendous. That is great.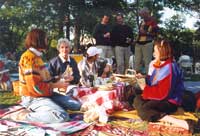 A picnic at Ravinia
photo courtesy Ravinia Festival
ZARIN MEHTA: That's the introduction we're talking about. They get introduced to Gershwin, they get introduced to Messiaen, they get introduced to Beethoven, and I think that our research is proving that once they get used to the concept of listening, and letting this great music wash over them, then they're going to start coming into the Pavilion, because their knees are gonna get creaky like mine and they won't be able to bend down…
FRANK J. OTERI: [laughs]
ZARIN MEHTA: …So they'll want to sit more comfortably.