Ed. Note: After the master class with Joan La Barbara, Molly Sheridan spoke briefly with Leighanne Saltsman about the experience.
Molly Sheridan: You did an amazing job. Was this the first time you've ever tried most of these techniques?
Leighanne Saltsman: Most of them, yeah. I've tried close approximations of them in my own playing around, but I've never known how to get exactly the same effects. I came here completely cold. I emailed Joan and she said no, I don't want to see you beforehand, and I was like, oh God, what do I practice?
MS: What were your expectations as opposed to what it turned out to be?
LS: It's so strange because I came here prepared to sing and be a singer on tape, and it's more exploration of the voice really than classical bel canto singing, which is what I've studied for years and years. It's really nice to realize that you can go beyond that. I used different parts of my voice than I did before with bel canto, and it's just a different approach in general, which is awesome. The voice can do great things, you know?
My goal is to use all parts of the voice to touch people and convey emotion and sometimes it's not done best through pretty singing, so to have access to something like what Joan is doing, you can really convey messages and touch the feelings inside people more easily.
MS: Is it hard to do these techniques?
LS: It's hard to relax into them but not technically hard I wouldn't say. But then again I've been singing for years.
Being classically trained hurts you in the sense that it gives you a very narrow path to follow and you don't tend to see beyond either side of that because it's not what your teachers are encouraging you to do. It helps tremendously that I'm now fluent with theory. I know the history of music and why things are the way they are. So if I can claim all of that—I don't know if I can claim all of that—but just to be fluent in the music world and have a base to jump from. That's why I did go to study, to lay down a solid base so I can explore more.
MS: Do you find that the people you're interested in working with end up having very similar backgrounds to you or something very different?
LS: They do have similar backgrounds because I'm more comfortable working with people who do read music. I tend to pick people who I can communicate with on that level. Something that I did a lot of at school was teaching composers how to write for voice.
MS: What was your advice to them?
LS: It's a question of range sometimes and strange intervals. If you're doing it for a certain style, fine, but too often composers would say, oh, can you make this sound like you're bored? It's hard to make that come through if their intervals are all over the place. You want to have the singer get the message through as easily as possible. As much as you want to treat voice like an instrument, you have to leave the humanity in it because that's what voice is.
***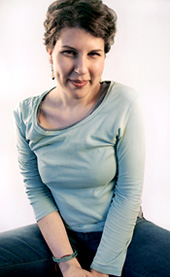 Leighanne Saltsman
Born in Rhinebeck, New York, Leighanne Saltsman has recently arrived in New York from Oberlin College and Conservatory, having completed both her Bachelor of Music in Vocal Performance and her Bachelor of Arts in Visual Arts. An exceptional young singer at the beginning of her career, Saltsman has already achieved success during the past year as soloist with New York City foremost unaccompanied vocal ensemble Cerddorion, directed by Kristina Boerger, premiering the works of Lisa Bielawa, David Lang, and Elliot Z. Levine.
As a vocalist, Saltsman's interest and expertise falls in the realms of early music, new music, oratorio and the choral repertoire. In addition to working under the auspices of Doner/Pierce Associates, Saltsman is currently in demand as a soloist in diverse projects ranging from early music to contemporary works, and has recently been commissioned to help reinvent Cavalli's La Didone with The Wooster Group.
She has participated in master classes with Pamela Z, Walter Thompson, and Paul Horn, and is equally at home on the recital and concert stage. She has appeared behind Thomas Quasthoff and the Cleveland Symphony Orchestra, Walter Thompson (soundpainting), and Olga Borodina and the Russian Chamber Chorus of New York. Her talent has carried her to the stage at Avery Fisher, Carnegie, and Severance Halls.