At the risk of sounding like someone who hyperbolically rhapsodizes about every new technological gimmick, the new Orchestra iPad app is pretty great. At the very least, it presents an extremely pleasant and novel way to listen to and/or learn about classical music, in the very capable hands of Esa-Pekka Salonen and the Philharmonia Orchestra. Thought of in a certain light, it's like a rather strange and ambitious compilation album. The featured pieces are carefully selected, spanning the history of the Western canon from Haydn to Salonen (naturally), and are performed with impeccable craft.
The presentation is similarly meticulous. For each piece we get video from three different angles (two of the orchestra and one of the conductor), a stage plot of the ensemble, a score that automatically follows along with the audio, and a mini-essay by veteran L.A. Times critic Mark Swed. The interface presenting all of this is impressively intuitive, making it easy to seamlessly switch between and resize these different views. My only complaint in this regard is that there are only two note size options with the score, with no ability to freely zoom in and out. In fact, most of the time it's not possible to see the full score on the screen all at once.
This may be part of the reason why we're also given a "curated score" view that only contains a few instruments at a time. Personally, I found the curated score frustrating, since it's not a true short score, merely omitting rather than compressing staves. But others may find it helpful in following along with the more important lines and themes. And if you don't read music, it's simple enough to switch to a piano-roll sequencer-style notation, or to minimize the score entirely.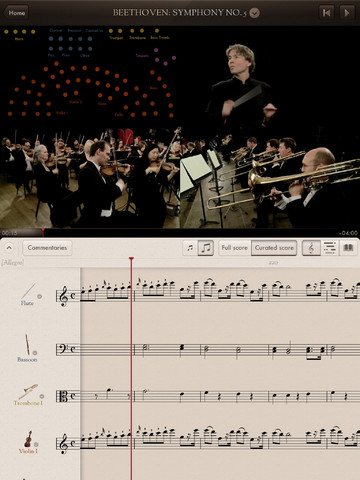 Besides, the video is entertaining enough on its own, with a musicians' view of Salonen swinging his arms about with ferocious facial expressions, and well-chosen close-ups of the musicians themselves, which allows me to play one of my favorite games, "Which celebrity does this orchestra member vaguely resemble?" (That clarinetist looks like Brent Spiner…and there's Rowan Atkinson on tuba….Hey, it's Toby from The Office on cello!)
Of course there's also ongoing commentary from both Salonen and the musicians, which can be toggled on and off as audio or subtitles. Salonen's commentary is generally insightful and occasionally witty. (I particularly liked his comparison of Debussy's music to something organic, "like a flower or a cat.") By contrast the musicians' banter is a little less focused, but still interesting.
But what struck me most about hearing the music in this context is how it subtly, almost casually presents an argument for the orchestra itself, as both an institution and an artifact. As a maker of new music it's easy to feel that the orchestra isn't as relevant as it used to be, a sort of behemoth of a bygone age, especially with the recent struggles that so many orchestras have endured. But encountering the music in this way, it's impossible not to feel that orchestral music is important, exciting, and vital. You see, very clearly, the effort and talent of everyone involved. And perhaps more importantly, you see them as people, with their quirks and mannerisms intact.
You can also see quite clearly the progression of Western art music, with each generation iterating on the innovations of the last. It's one of the most persuasive arguments for the Western canon's vitality and endurance that I've encountered, and it does so entirely in subtext, without any grandiose, pompous pronouncements.
For this reason I think the decision to include a breadth of styles and time periods was a smart one, even though it means you only get to hear movements or excerpts from most pieces. (Debussy's Prélude à l'après-midi d'un faune is a highlight simply because you get to hear the whole thing.) But in the end, maybe this is for the best anyway, as it acts as a sort of appetizer that piques interest to hear more. I, for one, would love to see more classical music presented this way. John Cage app, anyone?