As the artistic director of an ensemble that was built on a desire to connect classical music and fashion, I've often been asked to discuss the idea of challenging the status quo. My initial answer is a question: these days, what is the status quo? It's a complicated concept in our "everything goes" culture, but what I can say is that we are all aware of what has the potential to piss off versus please a certain audience. For example, classical music performances that incorporate elements of popular culture—in the case of my ensemble, fashion—are typically viewed negatively as counterproductive to the original concept of the composer. But I don't think of it that way. We aren't trying to subvert the composer's intention but rather color on the edges with young fashion designers creating original clothing that is inspired by the music itself. It brings a new perspective to the concert experience.
When I started The Nouveau Classical Project, I was less confident than I am today. The only classical music world I knew was the academic one; I was late in discovering the more open-minded new music scene. I was immediately on the defensive, imagining all sorts of attacks on my integrity, people questioning whether or not I was a "serious" musician and being accused of using fashion to hide something. As in: love of fashion=superficial=not serious about music because one spends energy thinking about frivolous clothes. I have no idea who these people were that I had imagined, seeing as I had zero public presence. Although my initial intention was not to push boundaries, I knew this was probably going to be a natural side effect of having an unconventional approach to a traditional performance structure. I listed reasons justifying my concept. I like music. I like fashion. Why not combine them into something interesting that hasn't been explored? Why not create a collaborative atmosphere between the music and fashion? We are, after all, watching the performers while they are playing the music. But ultimately this is not what mattered. What it boiled down to was that I was simply expressing myself creatively through the medium of a concert.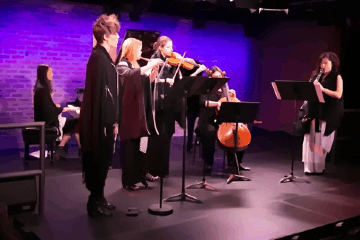 Flutist Laura Cocks, Clarinetist Isabel Kim, Violinist Marina Kifferstein, Cellist Kivie Cahn-Lipman, Pianist Sugar Vendil, and guest soprano Lucy Dhegrae. Photos by Misaki Matsui
And I think that that is what most of us are essentially doing when we allegedly break the rules—we are simply being creative with the form of self-expression we know best. So what if you are about to attempt something you think can potentially alienate those you want approval from? I may not have something new to add to recurrent TED Talk-esque favorites such as "do what you love no matter what," "stay true to yourself," and "ignore the haters," but I can speak from personal experience about what I've learned thus far from running a group that often takes a different perspective on the classical concert paradigm.
Staying true to your artistic vision is much easier said than done. After losing grant applications specifically due to the fashion presence, my group and I used to discuss how we could ensure that we weren't viewed as gimmicky or superficial. This was just a waste of time and breath. The truth is you cannot control what people think. I knew from the start that fellow musicians who didn't have a connection with or a remote interest in fashion would be unlikely fans, yet I still cared about their opinions. I also wanted to win awards that validated our place in the music world. This spurred a series of missteps on the artistic level, with us trying to recreate the success of other new music ensembles (i.e., participating in a concert series that they had been involved in, programming similar music, etc.). I completely respect these ensembles and what they do, but their activities did not fit NCP's artistic vision. Instead of nurturing that vision, I fell into the trap of spending precious time and energy on things I wasn't excited about in order to get ahead. Oftentimes, when we cater to what we think people will want instead of what we truly believe in (in actuality, we really know only one of those two things), time is wasted on creating mediocre work.
Instead of trying appeal to people you think have power over your career, I've learned it's more fruitful to cultivate an audience that really believes in what you're doing. What's been encouraging for us is that we have raised more funds from individuals than we would have had we only won most of the grants we applied for (although winning them in addition to these donations wouldn't have hurt!). This is because we have found wonderful people who really believe in us. You can find an audience for your unconventional artistic endeavors; trying to figure this out is time well spent. It could be the difference between a one-time attendee versus an advocate.
When it comes to the status quo, my instinct tells me that the best thing to do is to ignore it, whatever we think "it" is. We all know of accomplished artists who have already succeeded in challenging convention, and while we can look to them as examples, again, this is easier said than done. As an emerging artist, I can personally speak to the desperate need for both a sense of validation and encouragement that could influence our artistic choices. There's no formula for "doing it right." There's only doing. (Cue slow clap.)
Sign up for our monthly NewMusicBox newsletter