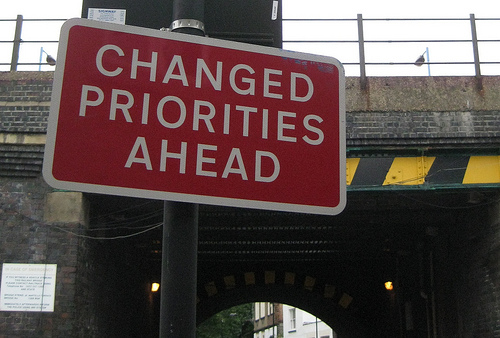 I just canceled my MySpace account, and I feel so…free! That clunky, cranky beast of a social media site has been a pain in the you-know-what since day one, and now I feel as if a weight has been lifted from my shoulders. Aaaaaahhhhh.
Perhaps some will say that erasing one's presence from MySpace is a bad idea, while others did this ages ago with no regrets whatsoever. In my experience, there is only so much social networking that one person can manage (that is, a person without, er, "people" to do it for her) and for me MySpace fell long ago to the "why on earth am I using this?" section of the list.
This is but a small part of a "clearing my plate" process that I am currently undertaking in preparation to begin a new musical project that will likely consume the better part of the next year. It is something that came up quite out of the blue, and I would never in a million years have suspected that I would ever do anything like it, and it will present challenges that are at once (in my opinion) fantastic and terrifying. And no, it is not an opera!
Anyway, said project got rolling this week, and in the midst of a meeting I realized that in order for it to work, changes have to be made that involve seriously cutting out the slack. Things that require an expenditure of time which do not bring anything to the table are gone. All other outstanding projects are nearing completion and will soon be finished. And the really hard part has to do with saying no. Some people are really good at this, and I am not one of them, but slowly I am learning. A dear and brilliant pianist friend once said, "there are points at which an artist just has to be really selfish in order to get the work done." Wise words.
The Ariels and the Savvy Musicians and the Beyond Talents all say that it is important to spend time engaging with one's audience, and while this is very true, it is also important to have a sense of how such activities contribute—or don't—to one's well-being as an artist and as a person. After all, social networking means nothing if there is not music being made, or if it takes the place of real-time interaction with family and friends, or of you know, eating dinner.
Google+ anyone? Not for me right now, thanks. I'm composing.