Amanda MacBlane: On the Future of Music and Technology
I do not love technology unconditionally. Just because something is in beta or comes from Goopple does not mean that I am automatically on board. But it wasn't always this way.
In 1999, I was 19 and Napster had just launched. Computers, old midi devices, turntables and lots of samples were the building blocks of many of our dorm room compositions. I came early to the blogosphere and the social networks, and I jonesed for a giant iPod. I was a true believer in technology: new sounds, new ways of making music, new ways of hearing it, new ways of talking about it and new ways of getting it. I would proselytize anyone who would listen.
But as the technology became ubiquitous, my enthusiasm waned. Perhaps it was overkill or, as a proud non-conformist, it was painful to see my "originality" boiled down to some market research figures. Maybe it's simply because I am getting fixed in my ways.
Don't get me wrong. I do love the discovery aspect of the Internet. I love that technology has inspired so many people to make music and share it, even if I am not a huge fan of the mash-up. Most of all, I love the possibility of having access to every piece of music ever recorded or movie made from my apartment without having to have shelves specially built.
But I also think Twitter is stupid, that the Long Tail is bunk, and that Pandora has no idea about my musical taste (once it actually told me it had no more suggestions for me). As I spend more time in conference rooms, I am always disheartened by the buzz phrases: Brave New World, access vs. units, monetization and the worst one of all—content. Art is taboo in these places.
Yet having spent time with people on all sides of the situation, I have gained insight into where musical life is headed and had a chance to meditate on my own musical values. Here are just a few of the thoughts that have been floating around in my head:
1/ Music will always make money, but not always for the same people. Whether it's the record companies or the Internet giants, we just need to make sure that the composer and the musician don't get cut out of the deal. Of course touring and merchandise will help, but other companies whose business models are founded on music—selling it, streaming it, sharing it, storing it, copying it—need to share their profits with those that create it.
2/ We desperately need flexible, worldwide licenses for music. The Internet has no borders, so why do our licenses? Because as soon as anything becomes worldwide, it becomes as wonky as the UN. Rights holder organizations have been working to achieve this, but a 2004 decision by the European Commission's Competition Directorate halted a first initiative for worldwide, blanket licenses for the entire world's musical repertoire. Another anti-competition decision (2008) against European societies spurred by powerful broadcasters looking for cheaper royalties has forbid societies from working together. It's hard to create a worldwide license for the world repertoire on a national basis. Until the EU is on board, this won't be possible.
3/ Let's not leave promotion or guidance to algorithms. Having access to every piece of music ever recorded is great but also very overwhelming. For musicians, how do you get noticed? As a listener without hours of free time, how do you find your next favorite piece? I don't think a computer algorithm can ever replace the human promoter or guide. We need to facilitate journalism, web radio, podcasts and well-constructed multimedia blogs as well as any new ways of talking about music. This goes back to the licensing issue in part—some of these outlets won't make much money at all and there need to be licenses available that do not make it impossible for them to operate.
4/ Technology can never replace the physical and social act of making music. Even in my technology-loving heyday, my professor of Electronic Music, David Borden, insisted that our final piece include a live performance element. Listening to music is great and composing for the computer can certainly be exciting, but the music that means the most to me is that which I have physically performed and shared with others. No computer or killer app can match performing Bach's B-minor Mass in Caracas with some of my best friends or playing 4-handed piano duets with my mom.
5/ Music education in our schools cannot be abandoned. We can't democratize production and distribution while limiting access to musical training. Not only will music education help lots of talented kids move past the mash-up, it also helps people appreciate the value of music and the work it takes to do it well. Whatever happens, one thing is for sure: People will always make music and that is very comforting to me.
***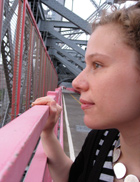 A member of the NewMusicBox team from 2001-2003, Amanda MacBlane recently moved back to New York City after spending 5 years in Paris, France. While earning her Master's in Political Communication, Amanda worked on the editorial staff of Louvre.fr and at IRCAM-Centre Pompidou (which was the subject of her thesis). She then became the Communications Editor for CISAC, the International Confederation of Societies of Authors and Composers, and Editor-in-Chief of their tri-lingual, quarterly review CISAC News. In this role, she has explored the technical, legal and economic aspects of creativity in the digital world and advocated for authors' rights in over 100 countries. She continues to work with CISAC from New York and still reads NMBx religiously.