Richard Gottehrer: Technology Triggers Change
I've been in the music business for nearly 50 years and have seen many changes; all the changes were triggered by technology. From 78 rpm to 45s, from EP to Album to CD, from mono to stereo, from AM to FM, from single track recording to multitrack to Pro Tools' endless full digital; with all the changes, nothing really changed. Great songs, unique performance, and artistry coupled with hard work is what creates hits and drives our industry. How people get music and where or if they buy or stream it is incidental to the value. Where we went wrong was when the music became corporate and the spirit of the entrepreneur became subservient to interests of big business. This is rapidly becoming a thing of the past as once again technology leads the way. The individual artist now reigns supreme as technology offers opportunities never before envisioned to reach a global audience.
When we started The Orchard in 1997, we envisioned the future developing as it has and in the process changed the way music was distributed. Along the way we saw MP3.com come and go, Amazon.com become the ultimate virtual department store, Napster change the way we shared music, Google become a household word, social networks like MySpace offer music as part of an ad-based model, value added by games like Guitar Hero, and mobile phone maker NOKIA offer music as part of a handset purchase agreement. And of course iTunes which singlehandedly led the industry into the future by carrying on the traditional sales model in a digital format while in the process developing new products like the iPod, enabling us to consume and store more music.
Over the next few years, more music will be consumed than ever before. Some people will still want to own music and will continue to purchase from iTunes, e-music, etc., while others will be happy just knowing it's available whenever they want it. As we find ways to monetize P to P, ad-based, and "feels free" models, the value of the business of music will grow. The challenge, however, is for leaders of the "new" industry like The Orchard to make sure artists and labels that create the music we love are compensated accordingly. We have to move forward and experiment with new models but never lose sight of the realities of maintaining a sound business model that ensures the survival of the industry as a vital source of revenue for the creators and owners of copyrights.
We know the future will be different—but as we look back thru history, what's so strange about it? Change is good.
***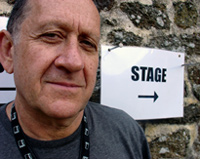 Richard Gottehrer is Founder & Chief Creative Officer of The Orchard. He began his career in the music industry as a songwriter, penning classics such as "My Boyfriend's Back" and "I Want Candy," and was an artist in 1960s pop group, The Strangeloves. He co-founded leading independent record label Sire Records with fellow luminary Seymour Stein in 1966. Sire was later sold to the Time Warner Corporation, and Mr. Gottehrer went on to make a name as a multi-platinum producer for well-known music acts, including Blondie, The Go-Go's, The Raveonettes and Joan Armatrading.