Missy Mazzoli: A Radical Opening Up
If, in 1999, someone had told me what new music would sound like in ten years I would have spent the next ten years trying to prove them wrong. I see hundreds of scores each year by young composers applying to the MATA Festival, and I know that if I dare make predictions about what they'll be writing in 2019 I will be proven wrong again and again. I love this rebellious streak in composers and I love that the new music scene is constantly unraveling and falling back together, constantly recreating itself in a different form, dying an unglamorous death one moment only to be reincarnated as the hip new thing within the hour. In light of this ever-shifting reality I can only write about my hopes for the future of new music.
In a general sense I hope that the new music scene will undergo a radical opening up in the next ten years and that the next generation will feel liberated, not confined, by the label "composer". Many composers grudgingly confine themselves to someone else's (their teachers', their colleagues', their mothers') description of what a "composer" should do. They often follow all the rules out of a sense of responsibility for carrying forward a specific musical tradition, when in reality it's the rebels and dropouts who write music history. Too many composers today feel that the only practical career path points to academia. They feel marginalized before they write a note. And they allow fear and doubt to suffocate their most daring and original ideas.
I see the beginnings of an opening up now, as more and more composers move towards a seemingly unconscious merging of their unique influences and passions. Very young composers never fully absorbed the previous generations' obsessive debates over genre; they are comfortable in a world where over half the rock bands on their iPods have string sections, clarinets, and the occasional orchestral arrangement. I hope these composers soon feel themselves to be an integral part of a broad musical culture instead of holdouts from a movement they had no part in starting and, according to many a hysterical headline, was on its deathbed before they were born.
I hope that a "DIY" scene flourishes around the next generation of composers, a scene in which they have more control over their art. I hope to see more independent record labels devoted to new music, more independent publishers who can help young composers navigate the increasingly complex worlds of licensing and distribution, more sound engineers who work directly with composers, and more composers who produce their own albums. It's shocking to me how much energy composers put into perfecting scores and how comparatively little they put into recording and distributing their works. Albums are the new symphonies! Let's do this!
Finally, I hope that the proliferation of genres and sub-genres ("post-minimalism", "ambient schizo pop", whatever) continues until these labels are truly meaningless. Maybe soon there will be enough labels to go around; each composer can claim a genre for herself, make her own rules, and finally write her own music without worrying about what it's called.
***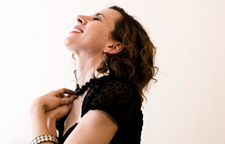 Missy Mazzoli's music has been heard all over the world in performances by the Minnesota Orchestra, the South Carolina Philharmonic, the Spokane Symphony, the Cabrillo Festival Orchestra, NOW Ensemble, the Da Capo Chamber Players, and many others. She's recently been commissioned by Kronos Quartet, eighth blackbird, the Whitney Museum and Carnegie Hall. Mazzoli is currently the executive director of the MATA Festival of New Music. She is also an active pianist, and often performs with Victoire, an ensemble she founded in 2008 dedicated exclusively to her own compositions. Mazzoli attended the Yale School of Music, the Royal Conservatory of the Hague and Boston University. Her principal teachers were Louis Andriessen, David Lang, Martin Bresnick, Aaron Jay Kernis, and John Harbison.