Mike Vernusky: Embodying the Future of New Music
As visionary composers, we must embrace the role we are playing in the unfolding of this new era by asking questions, taking risks, and linking these possibilities to tomorrow. We, as the creators of this music will determine how it is constructed, who hears it, and the distance it travels. Much like witnessing a stellar concert performance, it is how this music will be remembered in the future.
The 21st century model of composer is blurring the roles of craftsman, performer, and convergent media artist. New aesthetics in music are constantly being invented, as well as the kinds of media used in performance. In practice, we are faced with evolving performative challenges in physicality and space. And as artisans in a global music community, we have new demands to meet pertaining to awareness and intelligence in recent music and art. Being an informed and skilled composer now calls for deeper levels of cultural understanding.
Largely due to the internet, there has been a shift in expectations as far as how a composer interacts with her/his own music and audience. Destined to be obsolete are the days of the solitary composer, contentedly oblivious to the goings-on outside his musical world, who patiently waits to be discovered and celebrated. Times have changed. One can no longer rely on an audience finding you. Rather, it is becoming increasingly more complicated to keep up with, or manage the ways to reach them. This leads us to develop new strategies that will attract these listeners to our music and give us access to the widest audience possible.
As many predicted in recent years, a new type of composer skill set is needed to maximize our effectiveness in creativity: artists who can quickly adapt to new environments for musical creation, and maintain their own unique musical language inside of that environment. Further, there are duties required of this artist that may go beyond the established role of being a musician or a composer. The artist must balance creative work alongside the non-musical challenges she/he is now faced with. Of key interest are questions pertaining to adaptation, listener base, and the ability to publish music in visual ways that best represent the sound. After all, the musical experience is not limited to what is heard. We can now produce a professional-grade album, from scoring to recording, mastering to designing, and even manufacturing – literally in our bedrooms. It can then be made available for download or purchase from almost anywhere on the planet.
That being said, I would like to suggest one possible model as a point of departure for defining this new type of musician in the 21st century. Although certainly not limited to, it might consist of three standout traits:
1) Composer as Expert
This role applies to the ongoing refinement of composition, analysis of music, listening strategies, pedagogy, and performance. The 20th century represented a peak for this type of composer, and is the benchmark that we can strive to build upon when it comes to developing our craft in the current century.
2) Composer as Innovator
This role entails discovering new ways to put sound in the air, suggesting previously unrecognized relationships in music and/or technology, and working with innovators in other disciplines or fields to inform our musical decisions.
3) Composer as Auteur
This one is perhaps the least familiar to previous generations of composers, and is an area sometimes met with opposition or indifference. And yet, I suggest it is the one with the most potential for development and return. This pertains to creative exploration in various areas of production, distribution, and re-defining strategies to bring our music to the ears of others. In addition, it unveils the significance of adapting one's music to the artistic potential of technology – in particular, the internet.
Technology has always played a crucial role in the life and times of the composer. It helps convey or construct our music, connects us to society, and allows us to communicate more clearly with our listeners. Technology also encourages us to create new models, conditions, and modes of expression in our music. But where else can it be applied?
There are endless paths to progress when we not only use technology to construct our music, but also to share it on a global level. And the potential for exposure is undeniably significant, even compared to just a few years ago. Just ask Pauline Oliveros, who takes full advantage of the current social utility websites such as Facebook, Myspace, LinkedIn, and Plaxo. At the time of this writing, she has over 3000 online friends and 14,000 listens for a single work on a popular networking site.
It is my belief that in the coming decades, composers will need to diversify themselves in a variety of areas to express a clear vision of their relationship to the sonic landscape.
This will pose a new challenge for many composers, as it requires knowledge and experience in areas that fall outside the boundaries of a traditional musical education, as well as significant time spent away from the manuscript or studio. Progress can only happen in practice, and the results of each step inform the next. The only way of knowing what is possible will be by actually doing it.
***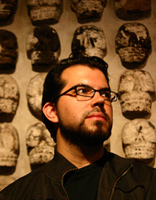 Mike Vernusky is a composer and sound artist. He writes music for concertized, theatrical, and filmic environments, primarily through the use of electronic media and live performance. His music is published on MIT Press, New Adventures in Sound Art, Capstone, and Spectrum Press. As a constant advocate for new music, Vernusky also serves as founder of Quiet Design Records. Currently celebrating their 11th release, the roster of composers consists of over 30 artists from around the globe.