Since 2013 started I've been working on a new piece through the American Composers Orchestra's "Playing it Unsafe" initiative, which allows composers to develop pieces that combine the orchestra with all kind of experimental approaches through a collaborative workshop program that ACO aptly calls "coLABoratory". The other composers working on "Playing it Unsafe" projects have been cooking up all kinds of phenomenal sonic ideas, involving unconventional instruments, spatial placement of musicians, and innovative use of video. It's been really cool to witness these pieces developing as the creative process takes the participants through all kinds of twists and turns.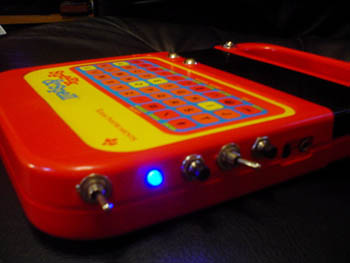 My piece will combine the instruments of the orchestra with the glitched sounds of obsolete electronics, all in various states of disrepair and several circuit-bent especially for the project. Below is a toy that many children of the '70s and '80s will remember, the Speak & Spell—an educational toy that's been modified to create maximal sonic mayhem.
One of the most interesting aspects of trying to combine the sounds of glitched electronics with the symphony orchestra is the clash of aesthetics. The Western orchestra is based on ideals of precision, balance, and unison playing, whereas the raw and frequently warped sounds of glitched devices are largely uncontrollable, as glitches are by definition unwanted mistakes. To elevate these sonic "mistakes" to desirable effects flies smack in the face of what the orchestra is all about: presenting tightly controlled and carefully rehearsed moments that in fact vary only slightly from performance to performance. By exploring musical beauty in the random and the transient, I'm hoping to at least momentarily break the orchestra from its normal mode of operating and default aesthetic point of view.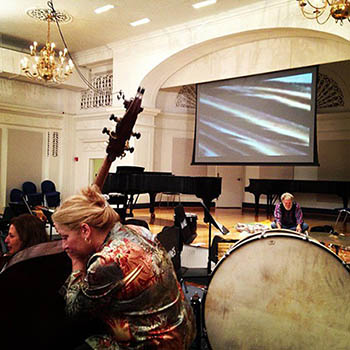 It's been interesting trying ideas out in workshop sessions, because trying to make a somewhat controlled outcome from an inherently impossible to control sound source is something of a fool's errand, the kind of doomed attempt at conciliation only a composer would suffer. Along the way, it's become clear to me that the piece will work best if I build in a certain amount of flexibility and freedom to react into the orchestra parts, trying to make the orchestra looser while controlling the wild glitching more closely in an effort to cultivate that narrow middle range where all the sounds can happily interact without sounding like some electronic sounds fused onto an unrelated orchestra piece.
Another part of the project involves a live video that will pulse and react to the rhythm of the music, the work of an experimental filmmaker who is figuring out how to get microphone input to drive certain kinds of changes in the video over time. Combining performance with projected images or video is such a nice balance, and it's fun to explore the ways the motion of the video can compliment (or run contrary to) the motions created by rhythmic bow strokes and other physical gestures from the performers. It's a wonder that more orchestras don't make an effort to include pairings of images and music, as it's one of the truly effective ways to help draw an audience into a new sonic experience.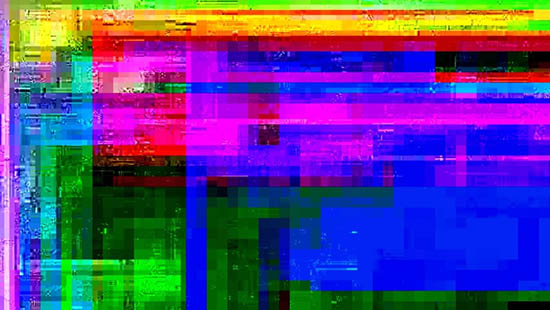 Seeing the carved wooden curves and traditional craftsmanship of the orchestra musicians' instruments against the abstract pulses of color and light on the video screen, I was reminded how one of the orchestra's greatest strengths is its ability to adapt to new approaches and ends for which it was not originally intended. There are few artistic institutions that would take the addition of so many experimental elements in such stride, and when given a chance the orchestra is absolutely capable of rising to the occasion, even in a straight-up collision with musical approaches and aesthetics that run quite contrary to the orchestra's traditional role.
If anything gives me hope for the orchestra's viability as a contemporary expressive idiom, it's that. I hope that this country's major orchestral institutions will pay attention to how much the orchestra can be expanded given just a little extra rehearsal time, and throw their immense budgets behind the kind of initiative that the American Composers Orchestra has bravely supported.
(The next coLABoratory session will be on January 22 at 10 a.m. at Flushing Town Hall, in case any NYC-area readers care to stop by; all session are free and open to the public).