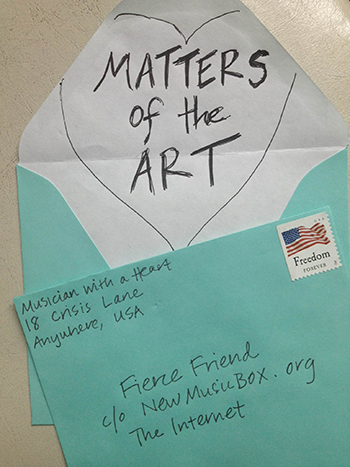 Too embarrassed to ask your colleagues for guidance on handling performance anxiety? Facing a problem so professionally complex your mom doesn't know how to help you? You need a fierce friend and NewMusicBox is here to help.
Whether it's issues with your fan base or your French horn, when the curtain comes down, real life dramas can trouble your practice time and cramp you new music style. Your city's alt-weekly advice columnist might not know enough about stand-sharing etiquette to understand your pain, but NewMusicBox's newest column, Matters of the Art, is ready to lend an ear, a shoulder, and a hand. Column author Ellen McSweeney explains:
Many of my most popular articles at NewMusicBox have covered broad hot-button issues for musicians, including health insurance for freelancers, orchestra labor conflicts, and how women are (and aren't) making progress in the fields of composition, conducting, and aesthetic tastemaking. And while I'm delighted to do a little rabble-rousing in the name of a more just and equitable world, I'm equally fascinated by what's happening in the hearts and minds of individual artists. I'm a big believer in the value of sharing our struggles with each other. My experience is that by shining a bright light into the dark, un-talked-about corners of our lives, we make things a little easier for everyone.
Worries large and small accepted. Anonymity guaranteed. Write to fiercefriend@newmusicbox.org today.