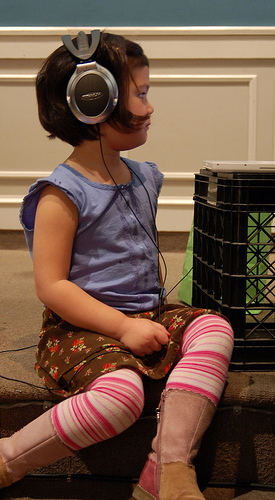 Earlier this week I heard a moving interview with the author Maurice Sendak conducted by Terry Gross, on the occasion of the release of his latest book, Bumble-Ardy. I grew up with the Sendak books Where the Wild Things Are and In The Night Kitchen, and they were among my favorites. Although I always found something ever so slightly—and indescribably—disturbing about them, I kept reading and re-reading them, immersing myself in the imagery, rhymes, and adventures, as no doubt many children did.
The interview contains not so much about the new book itself, but rather it is a poignant, sad, and sometimes amusing portrait of an artist in his later years. The reason I mention it on these pages is because of a statement he makes about living with his late partner of over 50 years: "We lived together for all of those years so we could make trips to our favorite places in Europe, so that we could read our favorite books, so that we could—and this is most important—that we could listen to music."
Sendak goes on to say that although he couldn't begin to really deal with the anniversary of 9/11 this year, he completely lost it that evening upon hearing a performance of Mahler's 2nd Symphony. Even for creative artists in other fields—writers, painters, poets, architects, etc.—the experiences of art that have the strongest and most direct impact are so often musical experiences.
As David Smooke states in his excellent post The Audience Does Not Exist,"music directly imposes itself on our emotions without any mediating necessity for extra-musical meaning." It seems reasonable that whether or not "an audience" is being considered during the process of creating music, if a work of music is performed out in the world, chances are it will resonate with someone, somewhere. It's important be open to that and respect the experiences of those people, even if the specific intention (if there was one) of the music was missed or misconstrued. Given that music affects people in such a pointed, visceral way, you just never know how that is going to manifest. As far as I'm concerned, an audience is everyone until proven otherwise.
So when my neighbors, to whom I somewhat reluctantly gave a CD of my music (thinking they were not my audience) tell me that it is the only thing which currently soothes their ten-month-old son when he is melting down, I can think, "New young audience member—score! Just wait till he's a teenager!" Maybe when he's older he will remember those funny sounds (and he does find them funny), just as I will always remember Maurice Sendak's stories.