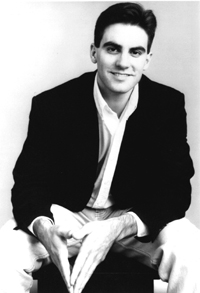 Kevin Puts
On becoming a YCA composer…
The best thing a composer can be is busy, and that is what I have been since I joined the YCA roster in 1996. It is absolutely incredible what they have done for my career. Most composers have to take the huge responsibility of finding commissions and performance opportunities for their work on their shoulders in addition to the enormous task of actually composing the music. YCA has made it possible for me to concentrate almost exclusively on composing and developing my voice. They have provided commission opportunities and performances I never would have imagined would come my way.
On writing for his peers…
My first project with YCA was a commission for former YCA marimbist Makoto Nakura, the first marimbist ever to win the YCA international auditions. The piece I wrote was Canyon, a five movement virtuoso suite. He took to the piece immediately and plays it everywhere. Since this first piece in 1996 we have worked together on a total of five compositions, all of them prominently featuring Mr. Nakura's dazzling playing. He has played a concerto I wrote for him with over a dozen orchestras, and we have played concerts (with me on piano) in the US and in Japan. It is rare when such a collaboration works so well, when two artists can respond so positively and genuinely to each other's abilities.
It was also through a YCA connection that I met and was commissioned by the violinist Chee-Yun, an extraordinarily sensitive and innate musician. I wrote Arches for solo violin for Chee-Yun and she premiered it at Seoul Arts Center and at Spoleto USA. I learned so much about the violin and how to write not simply idiomatic music but idiomatic virtuoso music, stuff which when practiced would yield favorable results and inspire the violinist to pick the piece up again. This is rare in new music. It's considered a no-no to do anything cliché, the problem is that these "clichés" often involve the techniques that work best on the instrument. I was interested in learning about these and getting to point where I could almost imagine what it feels like to execute them on the violin. Chee-Yun is the consummate teacher for a composer–she knows what she wants and she lets you know about it! This is the only way to have a successful collaboration, to find a way to get everything on the table so that both parties, composer and performer, are happy.
On speaking to today's audiences…
When I compose these days, it is strictly for the purpose of communicating very directly with Americans about issues and events relevant to our country and the experience of living in it. I hope very much that the experience of hearing a piece of mine communicates and I hope I am saying something vital and important. I can't think much about this fear of the death of classical music. I am too wrapped up in the projects I have, the love I have for the orchestra, and the need to say certain things in music that I feel I need to say. When I look at the orchestra on the stage it does seem antiquated, all of these people dressed up in tuxedos playing ancient instruments made of wood and metal, but I love it all the same. I love the idea of constructing a chord just right so that it sounds balanced and warm and you really can't tell who is playing what note because it blends just right. And I love the whole string section playing in unison, all of the bows following the same path and a kind of sound that can't be described. I don't know if I have the energy to be a spokesperson for this cause. I know that I do have the energy to try to say something that really matters to an audience of the early-21st century, and I think that is the best advocacy.