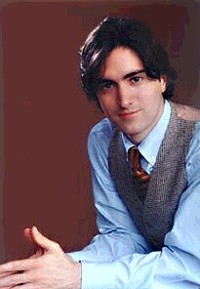 Mason Bates
Photo by Christian Steiner
On what YCA has to offer…
The vast majority of composers do not deal with management organizations, which are traditionally perceived to be useful to performers only. Perhaps some composers even look disdainfully on the promotional side of management as somehow invasive of their protective cocoon-composers who think they should be kept out of daylight and remain aloof to the world around them. But composers need to be connected with communities, and YCA is smart to realize that. By linking its impressive roster of performing talent to a handful of composers, YCA benefits both the performer and the composer. The player receives a tailor-made piece for his or her recital program and gains insight into the creation of new music and the composer has the good fortune of working with some of the best young talent in the world. These relationships are important in a field that can only benefit from more composer/performer interaction.
On writing for his peers…
The working relationship changes from artist to artist (the composers in YCA's program work with two artists each). If one performer seemed blissfully unaware of how to work with a living composer-at one point suggesting that the composer dictate the improvisations-the other was a dream, invigorated by the conceptual discussions in the early stages of the work, and suggested ways of approaching the work that would not have occurred to me otherwise.
On making a good thing even better…
The program is already an incredible service to a composer-truly one of a kind. Some of the developments I would have suggested a year ago-such as organizing performances of all the YCA composers' music on concerts around New York-are already happening, thanks to the creative folks there. Perhaps YCA could be in touch with other residency programs (the Chicago Lyric Opera's, for example) and make more commissioning organizations aware of its composers' music.